Anne Schwegmann-Fielding
Posted by Anne Schwegmann-Fielding on 5th September 2008
Monday 24/03/08
Nek Chand - The man himself
I wake up early and phone Roohi to arrange my visit…I can barely wait. I meet Nek Chand and show him what pictures I have left and the spoons I have been working on in Ahmedabad. He really likes them so he chooses his favourite, which is also mine. I am happy it will remain at the rock garden – after all he has been a real inspiration for me. We chat about materials, working methods, commissioning and our December birthdays! He asks me if I would like to make something for the rock garden, I told him to try and stop me! I begin tomorrow.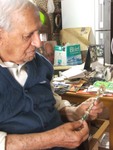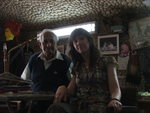 I meet with my new "Holi" friends and go to a bar where I am the only woman. It is strange to be drinking alcohol again. We have fun talking about the differences between our two countries – their English is so good, they work in calls centres in Chandigarh my Punjabi non-existent. I visit a genuine Corbusier flat – rather basic and slightly prison like inside but it is just a flat…
Tuesday 25/03/08 – Wednesday 26/03/08
Making, Talking and the Paparazzi
I am in heaven. Each morning I walk in here I catch myself with a huge smile on my face – this is where I belong. This is what I would like to achieve in my own sculpture park. The garden is full of animals and figures made from broken crockery, bangles and rocks. They greet me each morning and every day I see a new face and pick up small details like a bottle on a tray or an extra layer of teeth which I had missed before.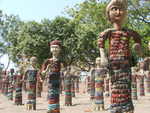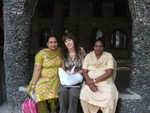 There are waterfalls and streams, windy pathways and steps, tiny doorways, high walls and covered areas. It keeps all your senses hungry for more. The animals and people are clustered together on raised concrete looking like armies waiting to descend upon you. Yet despite their often staring eyes they are friendly and welcoming. There are always hundreds of colourful people around.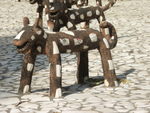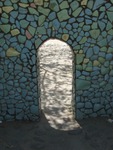 I am making a water carrier. The assistants make up the base for me, which I am initially surprised about as expect to make my own, but quickly realise they have a set procedure they work to. A certain shape from bent and tied bits of scrap metal then concreted over to form the crude shape of a figure. Even the mosaic is crude. Rectangular lengths of white tile are cut and placed quickly along a leg as a demonstration. Once they are happy I know what I am doing they leave me with an ample supply of crockery and are gone. I collect up the made in India cups and put them aside. I begin my work. It is good for me to have to work so fast – I get quite obsessive in the way I work – cutting to very specific shapes it is useful for me to let go of my perfectionist tendencies and to "speed mosaic".
Working under one of the covered spaces looking out on the huge white horses I am sheltered from the intense heat. But it is lovely to work outside. Near me are a few friends – sculptures looking a little sad in need of repair. When I was just looking around the rock garden I was continuously stopped and my photo taken. Now I am working here it is verging on the ridiculous. On average I was having my photo taken every 10 minutes – groups, couples individuals – whenever I looked up from my work there were groups huddled and staring – bit like being in a zoo, but quite comical. I was also constantly being called beautiful – that bit I could get used to! Many of the people thought I had built the park – tempting to take credit but informed them in great detail about Nek Chand and his vision.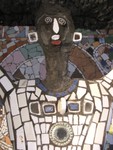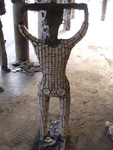 That is one thing that seemed to be lacking, little information and no tour guides This is something I would love to do – just for a season maybe? And no postcards or souvenirs – but maybe that just isn't what it is about. Plenty of people know about the garden, it being the second most visited place in India after the Taj Mahal. I meet so many interesting people from all over India and a few Europeans whilst working in my special studio.
In the early evening, I drink chai with Nek Chand and we chat. He shows me different areas of the park. The conference area – a new part being developed has the most sweet smelling white flowers which neither of us know the name of. The view from this area is stunning. You can see the cascading water with the water carriers standing at the top of the waterfall. It's hard to imagine creating such a world. He has a twinkle in his eye as we talk about his vision. We chat more about my commissions and exhibitions, he even suggests coming to work for me, something I really should have got him to put in writing!!
My last day arrives and I need to go. We hug and I feel overwhelmed with sadness to be leaving such a beautiful place. I promise to stay in touch, send photos and most definitely to visit again.
Thursday 27/03/08
Back to Ahmedabad
The Journey back Reluctantly and sadly I go to the train station and journey back to Delhi. This journey a huge contrast to the way there. I read a bit but mostly stare out of the window at the strange architecture, the circular piles of dung mounded up to look like bee hives, the passing trains with people packed into open carriages sitting on one another – poverty in their eyes.
In Delhi I consider going to the museum and seeing a bit more of the city, but my old pain has worsened, combined with the outrageously pushy rickshaw drivers trying to take me to their friends shops – none of them knowing or caring where the gallery is that I want to go to. I have had enough and book an official taxi and head straight to the airport where I can sit, eat and begin reading The Alchemist. Arrive back in Ahmedabad around midnight and greeted by Rosa – whom I chat with until after 2am. Exhausted!
Friday 28/03/08
Birdcage Friday
Over tired and the birdcage workshop has started without me realising it had been confirmed….really exhausted all day. The plan is for Tanvi and I to design a mobile for local smart and very popular hotel and eatery the House of MG. A very young and beautiful couple who specialise in birdcages made from wire, sit on the floor bending and shaping metal wire into our utensil designs. We will not see this completed which is a shame.
We go for a meal in the evening – a diner type place – really unimpressed by the food – but good to be out with friends.
Saturday 29/03/08
Shopping and Dharpana Academy
Spend my last day out with Rosa – eating lots of ice cream, cake and just buying up final presents at nice stores. The evening I had arranged a few people to get together, to visit Dharpana academy for one last time. This would be a dance performance about Ganesh. It is lovely to see everyone in this amazing venue but sad to be leaving them.
Goodbyes are said to all at Arts Reverie who have been so great during my stay – what a warm and lovely group of staff. I continue packing until the early hours of the morning.
Sunday 30/03/08
Back to England
On the plane –I Finish "Life of Pi" – the book I have been reading throughout my trip. Surprised it took me so long – just didn't spend much time reading. I always feel sad when a good book comes to an end I almost make the last chapter drag on so I can keep going. It feels a bit like saying goodbye to an old friend.
I also finish "The Alchemist", the book I began reading at Delhi airport – really beautiful, meaningful and totally appropriate after the journey I have been on. I will encourage everyone to read it if they haven't already – it gives you hope, faith and a belief in your dreams.
I had little choice other than to read on the plane as I had no headphones and according to the rather unhelpful hostess there were no on the plane! So I dive into my books and occasionally look longingly at the dvd screen showing various bollywood films full of song and dance and amazing outfits – I get the basic story despite no subtitiles and no sound!
I can also detect the funny parts as next to me was a giggling dolphin. I have never met anyone who laughs so strangely and so constantly so much so that the other passengers around me were giving me that sympathetic grin – amused by her laughing but glad the nutter is next to me! I eat my last Indian meal and wash it down with a delicious and warming red wine.
Staring out of the window – I see the most beautiful clouds I have ever seen. They are huge and more fluffy than any I have noticed before – real cotton wool buds. In my sketch book I record a few memories, doodles.
I pass through customs wondering what will happen if they find my appendix and cyst in the birdcage I have brought back – well it is mine I think – it came with me on the way out so I may as well bring it back!
David is waiting for me in the arrival lounge with a big smile and drives me home in my good ole white van. He has brought me blankets and munchies.
I drift in and out of sleep noticing the first sites of England: the tree lined streets with shrubs of varying greens and a mixture of textures, the silent roads – where is all the beeping. The polite and patient driving, sticking to one side of the road, neatly fitting in between the painted white lines.
The people look pale, plump and pinched. They move with a speed like mice and a stressful look on their faces, there are cats, lots of cats on the smaller streets, fluffy and smug, the dogs well fed and clean. My first taste of home cooked food is delicious. I rest and rest and rest.
Posted by Anne Schwegmann-Fielding on 12th July 2008
17/03/08 - 22/03/08
Monday 17/03/08
Thinking and singing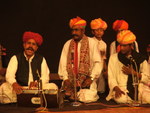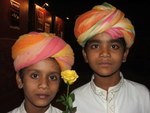 Spend the day making notes – thinking through all the things I have learned and experienced so far. It is strange that we often don't allow ourselves the time to just be - almost seems like a luxury, but is so crucial to the understanding and development of your work – and your person. This is something I really need to do more as it leaves your mind open to the possibilities…. The evening brought me back to the Darpana Academy – my new favourite venue to see some Rajasthani singers. They were a group of around 8 boys singing along with 5 adult musicians. The boys were amazing – their colourful turbans sat overwhelmingly on their heads, they looked like they might topple over with the sheer weight of them! The facial expressions varied from engrossed with determined shouting and expressive hand gestures to leaning on their hands – almost bored, silently waiting for their next part. The men are the extreme – only one of them smiles. One might think their life depended on it! The two young boys, who look like brothers (turns out they are) begin to dance – one with great shoulder moves, the other bellydancing hips. The evening develops into a paparazzi style photo shoot as we are about to leave – the boys loving the attention. A truly wonderful evening.
Tuesday 18/03/08
Sat on the beautiful Arts Reverie terrace with Jeremy and Barney (fine line managers) to discuss our ideas and discoveries thus far. Good to share thoughts and ideas as not really had chance to do this. Helps clarify my desire to produce a new body of work – and develop the way in which I use my materials.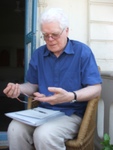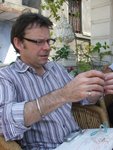 Visit the pineapple juice stand for another gorgeous glass of juice – I will miss this place – Astodia juices if you ever go to Ahmedabad, in my humble opinion is THEE best pineapple juice ever tasted!
Wednesday 19/03/08
Arts Reverie dinner
More writing and visit to a nearby haveli which is being converted into a café. Gorgeous building with typical wooden carvings found all over the old city. The terrace is mosaiced – would love to do some work here!! Pass by a school and we have a quick look around. Again a converted Haveli – the house was handed over and now is a wonderfully quirky (by my standards) school – classrooms around the inner courtyard, dark wood, crumbling stairs, basic resources – happy children, stern looking teachers. It may seem run down to them – but it has a beautiful simplicity and rawness that we don't often see.
An evening dinner was organised to discuss partnerships between the two cities of Manchester and Ahmedabad (the Manchester of the east). Both strong textile industries, a group of art world movers and shakers discussed the parallels and possible links to be made between the two changing cities. Reminds me it is a long time since I went to Manchester and also reminds me that my German grandfather studied textiles near Manchester. Food was served on the terrace in wonderful earthenware dishes and tasted as good as it looked.
I leave the discussion to do my final packing. Trying to contain my excitement as in just under a day I will be in Chandigarh and meet my hero – guru Nek Chand…
Thursday 20/03/08
And she's off to Delhi!
Early start and plane to Delhi – I know, not great on the old footprint. I really wanted to get the train but didn't think the old appendix or rather recent removal of it would be able to cope with a long and maybe uncomfortable journey.
Delhi was interesting. I have a postcard, somewhere, of a street scene in Delhi which I have had since my late teens. Finally I am here and it looks very different. It is Cleaner, wider roads, dark pink blossom, tree lined boulevards, less staring, no cows and some Sikhs! But really busy.
Delhi crafts museum – rickshaw driver said I would spend up to an hour here then we could go onto the modern art gallery and then some shopping. I was in there for around 4 hours. So when I say Delhi was interesting – I mean what I saw of it. By the time I came out of the museum, I had to get the train! The museum was fascinating. The walls of the museum and outbuildings were decorated with detailed elephants and mud and mirror figures dotted about. Inside, a lot of tribal work, large dark wooden carved animals, stunning intricate metalwork, embedded with textures – want to take them home. Upstairs were huge folder like stands encasing textiles from different regions showing the varying embroidery or woven techniques used by specific peoples.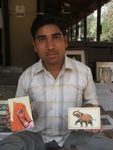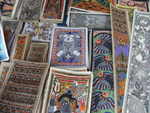 Outside were dozens of artisans working away and selling their wares – probably at hugely inflated prices. I am getting better at haggling, but think I need to take a course! Nevertheless, the work was as ever, amazing. Labour intensive, decorative, detailed, intricate – all the things I love about the art and crafts that I have seen here. I chat for too long with many of them – discussing possibilities of working with a couple of them on commissions in England. It would be good to work in collaboration with them. I learn a bit more about the symbolism behind all the animals – the elephant bringing good luck and remover of obstacles – Ganesh in particular. I seem to have been surrounded by elephant pictures and gifts since I arrived.
After entertaining the luggage men whilst trying to photograph a rat amongst the bags I collect my rucksack and finally take my first Indian train journey to Chandigarh!!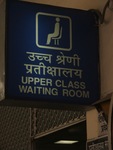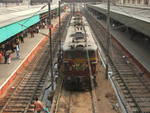 I get chatting to a dutch law graduate who is lovely, the conversation flows energetically the whole journey. She has been travelling all over - Local Chandigarian's listen in to our conversation and enthuse about the city giving us tips on places to go. As we step out of the train station we are greeted by huge Nek Chand sculptures I have arrived. We spend several minutes arguing with rip off rickshaw drivers and I end up in a seriously dodgy hotel above a club – hmmmm - unfortunately I had already booked and paid as I was drawn by the hotel's name "Gravity", that'll teach me. Still – got some sleep.
21/03/08
The Rock Garden of Chandigarh – a dream realised! Wow, wow and WOW!
I realise I have been consistently going on about the rock garden and some people reading this (does anyone read this?) may not know about it. If this is the case – you will wonder how you could have ever lived without it! Courtesy of Monty Don's world garden series a few more people know about it after his visit, so the word is spreading.
The rock garden is a unique sculpture/fantasy garden created by a former road inspector entirely from discarded city debris, industrial waste and natural fossil rocks collected from the nearby Himalayan foothills. He began over 30 years ago working initially in secret until one day some few thousand sculptures were discovered. The garden continues to grow and Nek Chand now in his early 80's is continuing to develop the next phase. I don't want to give you the whole history here, but it is fascinating the way it developed so do look at the Nek Chand foundation's website: www.nekchand.com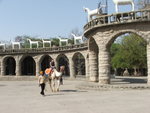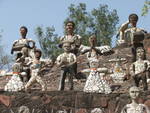 Back to my visit…..I cannot stop smiling as I walk around. I am finally here, after being taken to the rose garden first! (Apparently a common mistake I quickly learn to pronounce things with an Indian accent so I can be understood). But the garden – where should I start? I could barely contain my excitement, looking at every inch of the garden. The early beginnings, the hut he worked in secretly for all those years, walls of stone, fossils, electrical bits, water carriers. The garden is filled with curiosities, figures, plant life, buildings and people from all over India.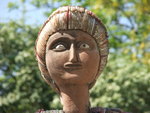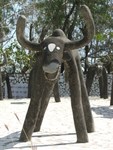 This was a day of firsts: first time at the rock garden, first camel ride, first cycle rickshaw, first motorbike ride…
Chandigarh is lovely; clean, tree lined streets with stunning pink blossom, turban wearing motorcyclists, clear cloudless blue skies and wonderfully modern and simplistic buildings. I was surprised how much I liked it, I didn't think I would be taken by le corbusier's buildings, thought I would find the whole place a little stark – but I don't, it is a truly beautiful city Both of them! I have seen pictures of the city in books which left me cold, but in reality they are quite hard and rigid buildings, but there is something about them that has warmth, the trees around them soften them.
After a delightful cycIe rickshaw ride, I wandered around the city centre, window shopping. quite unimpressed by this part of the city. Bump into a local sikh guy who tells me a bit about the history of Chandigarh. He takes me along to a conference which is just finishing, as suggested by Roohi, Nek Chand's assistant and meet the man himself. I show Roohi my small portfolio but leave showing this to Nek Chand until I meet him again as arranged on Monday. Only these photos are lost that evening – somewhere in the rock garden, never to be seen again!
I also meet Narinder at the conference, an elderly sikh man who just seems to love showing tourists around – he was mentioned to me by a couple of friends who travelled here a few weeks earlier. Not an official tour guide, he travels about on his bike and accepts no payment just revels in conversation with all who make the effort to travel to his city. We go on to a restaurant near the main tourist hotel (where I should have stayed) and meet a few other tourists.
22/03/08
Holi
Holi – also called the "Festival of Colours" is a popular spring festival. People spend the day throwing coloured powder over each other – meant to have medicinal significance they are traditionally made from Neem, Kumkum and Haldi.
Spent some time filming and taking photos from the safe distance of my hotel window…couples smothering each other with colours. Even the poor children are getting involved, – forgetting for a day. Like carnival in Brazil.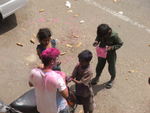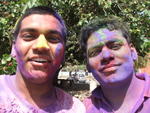 I meet a group of girls amused by my daring to venture out – they are quickly covered in colours by a group of boys who then take me under their wing and we go off to Sukhna lake. It seems almost everyone has colour on them – few people are colour free – but there is a kind of unity in the air, everyone is smiling. I feel happy and refreshed. Returning to the hotel, I am happy with my meagre colouring and tune in to some American tv. Really looking forward to my next rock garden visit. I sleep with the rhythm of the Punjabi beat vibrating through the floorboards and into my ears.
Posted by Anne Schwegmann-Fielding on 17th March 2008
10/03/08 – 16/03/08
Tuesday 12/03/08
Birthday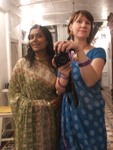 Tanvi's birthday. We had a wonderful time eating ice cream, shopping and visiting "scary house" an Indian equivalent to a ghost train. This was more funny than scary – no ride just being led in the dark by young men in wigs directing us around and explaining what they were – in keeping with the whole – hand made experience of most things I have seen here, it was most entertaining. The evening was wonderful. Mancy our lovely cook loaned me a sari and with Tanvi in her beautiful new sparkly one we joined 4 others for a meal at le meridian restaurant.
Not sure if I have mentioned before but I have really grown to love the whailing from the mosque. Not sure if that is the right term but it is strangely comforting.
Wednesday 13/03/08
Matanipachedi Workshop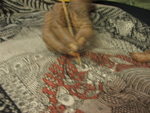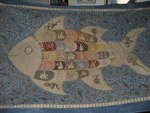 With the Indian hospitality I have come to love, we visited the home and workshop of Sanjaybhai Manubhai Chitara. He creates amazing drawings using iron and water on cloth and colours from various spices and vegetables. He was on one of the HAT projects at Harley a few years ago.
After a demonstration and a pleasing purchase, Tanvi and I got to have a go. This is a technique which varies slightly both in name and style across India. I have been looking at Matanipachedi, Mithilla painting and Kalam kari. All really detailed work with the quill. Whilst recuperating I have been working on some detailed pen and ink drawings of my spoons – inspired by the detail and decoration in these works.
The technique is really intricate. Using a sharpened quill from a stick of bamboo, the nib is dipped into a mix of iron and water and worked in upright position onto the cloth. It is like invisible ink as it takes a few seconds for the ink to show on the cloth. Outlines are drawn and pattern is worked in. I am hooked.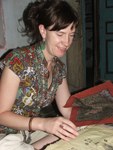 Barney and Jeremy (arts reverie management) arrived and we have time for a quick catch up before they leave for Bhuj in the early hours.
Friday 14/03/08
Calico Museum/Gandhi Ashram and Paper factory
A busy day taken around by Mohammed, the rickshaw driver – was good to see him as the last time I saw him was having all the tests at the hospital. We had breaks in between our visits of ice cream and lassi.
The morning tour of the Calico museum is quite different to the afternoon – more centred on textiles – beautiful work, a real range and some really ancient pieces colossal both in scale and in detail. My memory of the tour is shades of red in dull light and huge variety of technique. You don't need to be a textile artist to appreciate the workmanship and time that must have gone into creating some of these rugs, fabrics and clothes. Met a woman there who is a dancer and performing on the Saturday night in Ahmedabad – finally I will get to see some classical dance.
A repeat visit to the paper factory allowed me to top up on more handmade paper for the spoon casts I have been experimenting with. And then onto Gandhi's Ashram – where I am thrilled to discover that Gandhi too had appendicitis!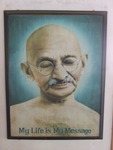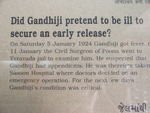 Finally – a successful visit to the wonderful art book centre. Discovered the joys of credit card and shipping in one go! More beautiful books for my collection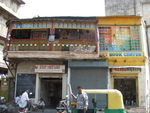 Think I may have over done it as in quite a bit of pain by the evening and decide to take it easy until sat eve as really want to go to the performance. Book my flight to Delhi for my rock garden trip next week (hoorah – am finally going) and watch the mistress of spices – a rather weaker Indian/American version of Chocolat, based on an Indian woman in America who uses spices to help people.
The weekend 15/16/03/08
Rest Khatak dance Step well
Definitely over did it as had quite a bit of pain through the night so decided to take it easy to make sure I was well enough for the evening performance.
The dance was wonderful – in a great rust coloured amphitheatre at the Daparna academy. Met a lovely couple prior to the performance, Preeti and Neeraj and got chatting about sustainable housing and straw bale building.
Shila Mehta, the dancer was in full outfit and danced Kathak, an Indian classical dance – full of stories and descriptions. The five musicians, all in white sat to the side. As she danced the musicians watched her intently – her stamping feet, her expressive hands. My eyes switched frequently between them, mesmerised by one or the other.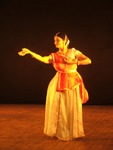 After the show, Preeti and Neeraj give me a lift back to the pol, have a quick tour and invite me for Sunday lunch and visit to the step well.
Go along to lunch at Preeti's with Kate – a new arrival at arts reverie and daughter of Jeremy. We visit the ancient step well Adalaj Wav. Built 500 years ago by Queen Rudabai it is an octagonal well, five storeys deep with intricate stone carving. Easy to imagine a colourful scene of people coming here to bathe and collect water. The heat intensifies and we head back to Preeti's for a true Indian lunch and glass of beer! Lively discussions about architecture, marriage, past lives, books and meditation. I will catch up with them at the end of my trip to see a performance about Ganesh – remover of obstacles and symbol of good luck. The first thing I bought on my arrival here was a brass Ganesh – and am feeling quite lucky!
Will spend the next week drawing and writing – in prep for my trip to Nek Chand's Rock Garden on Thursday. I can't wait.
Posted by Anne Schwegmann-Fielding on 11th March 2008
Week Four 25/02/08- 09/03/08
If you have read the last text about my week in Kutch, you will know that all was not well. I was totally exhausted and the pain I was enduring was worsening with each day. It is during this week that I discovered some wonderful Doctors to restore my faith in health professionals. If you don't want all the test details then scroll down to Friday 29th. It is just that for me the detail really matters – the people, the process, the understanding…
Tuesday 26/02/08
Spoons and Doctor
Despite the pain I manage to work on some more spoons I started before leaving for Kutch. There are utensil shops by the dozen nearby in the busy Manek Chowk area. This links so well with my current practice, working on functional objects – this coupled with the endless stalls selling bindis and bangles has begun a whole spoon project in itself. The small scale also makes them manageable as experimental pieces – sketches to be elaborated on when I return to the uk. The spoon drawings I am producing along side these are inspired by the mithila work and matanipachedi detailed drawings I have seen.
In the early evening I visit the doctor who on brief examination suspects appendicitis. I explain that over 2 and a half years ago they x-rayed me for this and said all was ok. He says you can't tell with just an x ray….
Wednesday 27/02/08
Nil by mouth Hospital Diagnosis
Early start to the day with blood and urine tests and continue to ultrasound and barium test. The ultrasound was so thorough – checking the whole abdominal area and even looking at my back when I mentioned pain there. This was an experience in itself –actually listening to the patient rather than just going by what it says on the form. He lets out a sigh as if he has discovered something and asks me if I have a fever. I have had one for three days.
The barium test was quite surreal – the receptionist proudly became chief interpreter despite her minimal English. But she was lovely and between us, the doctor and his assistant, we managed to communicate when I was meant to swallow or not, breathe and lie "prone". The words were shouted at me but at the same time they were gentle and reassuring. Several cups of so called strawberry flavoured barium later I am back on the table having more xrays – Between tests I am allowed my own room where I have to lie on my right side underneath the air conditioning unit because I am "foreign" and am given a cup of chai. I feel like royalty. Never have I been treated this well by any health professional.
Nobody wears uniforms, there are no badges and the doctor who owns and runs the clinic actually performs the test, not a nurse or assistant but him. It all seems so strangely but wonderfully personal. The tests go on until late afternoon when I have another ultrasound scan performed by who I think is the father of the practise. My concern grows as does theirs. They announce acute appendicitis and suggest I go straight to the doctor to discuss the operation. With no time to think I am at the doctors. He again confirms acute appendicitis and suggests an operation asap. I need to go back to Arts Reverie and have a think. Travelling to the uk doesn't look like an option and to be honest I feel more confident in it getting sorted here.
In the rickshaw back, I am bewildered – I have had all these tests and receive the results and diagnosis all in one day in India. The doctors in the uk still couldn't find diagnosis after for two and a half years!
I arrive back and breakdown with relief and shock more than worry. I speak to various friends and family and all feel as do I that I should have the op here asap. All concerned about it rupturing. The other artists here feel the same and are really supportive – we rearrange furniture for more comfort and have an evening of munchies watching "Love Actually", god bless Richard Curtis!
Thursday 28/02/08
Admitted to Maniar Hospital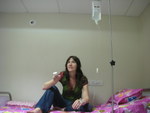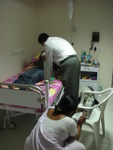 The doctor is reluctant to say whether I should stay in India or travel back and it is for the surgeon to decide. All the surgeons seem to be in Bombay so we visit a nearby hospital, Maniar hospital and meet Dr. Bhauman Maniar. My saviour! He confirms yet again acute appendicitis and explains that I am 2mm away from it rupturing which is likely to happen in the next 24 hours. He talks me through the results and the procedure with a reassuring calmness. I have to stay at the hospital so they can start administering drugs. My operation will be in the morning. Tanvi, the other artist becomes my nurse and fetches all the necessaries from Arts reverie and stays with me throughout. She is a darling. The doctor even allows me the use of his mobile to call my parents and boyfriend! Tanvi and I settle down in our room for the night. I feel totally calm, happy and an immense sense of relief that this will all soon be over.
Friday 29/02/08
Operation
8.30am I walk around the corner to the operating theatre. The hospital is one floor of a tower block and has a mere 6 beds. Sometime later (which turns out to be about an hour and a half) I return to my room. Gaining consciousness it feels as though my insides have been ripped out and I can hear myself groan and scream. I fall in out out of consciousness. By early afternoon I am more aware and am greeted by the offending appendix in a jar. I am thrilled. The nurses are wonderful – constantly checking on you, friendly and helpful I feel completely safe and confident. Turns out there were 3 problems; along with the appendicitis I also had a haemorrhaging cyst on my right ovary and cluster of adhesions surrounding the appendix – all now to remain in India.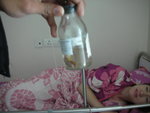 Saturday and Sunday    01/03/08-02/03/08
Home
I am finally allowed to eat which is a relief, even if in small amounts. I am improving but still feel weak and my stomach groans with every move. I look paler than ever but am happy. The surgeon shows me a dvd of the operation, removes the staples from my belly and sends me home to recover. It is good to be back at Arts Reverie.
Week Five
03/03/08 – 09/09/08
Convalescence
The week is spent resting and slowly catching up on emails and continuing with my spoon drawings. I make sure I move around a lot, venturing out to a nearby stall selling deliciously fresh and cold pineapple juice. Each day I can do more but the pain although different is still quite bad.
Friday 07/03/08
Plasters and Vishalla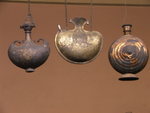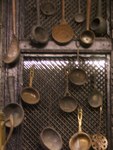 My plasters are removed exposing my bruised belly for the first time. To celebrate I travel with Tanvi and the dutch girl, Rosa who is also at arts reverie to Vishalla – both a utensil museum and a restaurant. This is a truly amazing place. You are led to the restaurant by oil lamps and whilst you wait for a table you wander around the adjacent museum. This is filled with decorative pots, urns, swords and spoons – decorated to the extreme, they are more like ornaments than functional things. Quite beautiful. Our meal is served on a low table – like a big slice of tree – almost the same as my coffee table back home. We sit on soft, velvety rugs as our food is served from various clay and metal containers directly onto our mats made from leaves. Wonderful food and atmosphere. The evening continues with a puppet show and musicians followed by a memorable ride in a rickshaw – the equivalent of the boy racer with its huge speakers, plastic flowers and neon strip light.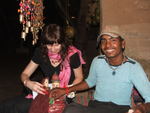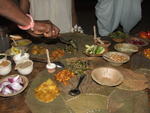 The weekend. 08/03/08 - 09/03/08
Lunch and the movies
Meet Lokesh and his colleague Ravi at the House of MG for lunch. A popular spot for tourists, the most I have seen since I arrived. Nice to be outside. We wander back through a busy market area where I purchase a few more spoons for the collection. The evening brings me my first Hindu film – Jodhaa Akbar. Wow. I wondered what sitting through what must have been nearly three hours of a language I know nothing of would be like. But it was great. Beautiful colours, music and acting. It is amazing how much you can understand through facial expressions and tone. Still would like to see it with subtitles next time – just to get the detail.
Sunday was spent resting, reading and a little walking.
Posted by Anne Schwegmann-Fielding on 10th March 2008
The lush green Banni Skirting the Rann of Kaachchh.
Where wells burst with water,
Green grasses bloom in heavenly gardens,
Robust, muscular are the cows and the buffaloes,
No dearth or milk and butter, Where the sun rises
With the churning of buttermilk
Poet Duleray Karani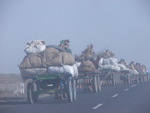 Monday 18/02/08
Journey to Bhuj/ Shaam e Sarhad
7am start and a 6 hour drive. Leaving Ahmedabad the streets are a little less busy, women on the outskirts carry huge pots of water on their heads – and families warm themselves by small fires on the roadside. Interspersed with this are huge hard edge grey houses, all walled with elaborate and rather menacing gates. With each sits a flashy white car. As the day begins dusty black buffalo increase in their numbers along the roadside, I drift off to sleep.
At the first stop a sign for "Jents" makes me smile – should document all the amusing mis- spellings I have seen. Then a young man drags his bent leg along the ground, pulling himself along by his hands, sadly a familiar site but still shocking to think this poor guy is destined to a life where he has to drag himself through the dirt and dust.
Unfortunately the driver speaks practically no English which proves to be very frustrating as the week continues….
We pass by fields of cotton, cotton pickers – huge salt mountains and castor oil plants. The temperature is rapidly increasing. The horns of the lorries becoming more tuneful – one is turned right over, its load of clay roof tiles scattered across the road.
I finally realise that they actually drive on the left here – all this time with the rickshaw driver sitting in the middle and traffic coming in all directions there doesn't seem to be a "side" in Ahmedabad. We pass a checkpoint where the policeman doesn't even raise his head as we pass, a little further are dozens of sweet chalet style buildings – called bashau? All built by the government following the devastating earthquake of 2001 which killed around 15,000 people in Bhuj alone. I continue to see the results of this disaster in various villages.
My first visit is to a palace, Prag Mahal, partially destroyed by the earthquake – deserted but looks like a setting for any good ghost story as still has signs of inhabitants; the rotting and pigeon poop covered heads of stags and hippos stare out at you, the chandeliers look like they have survived a shoot out and the ceiling is coming away in chunks. In one room a huge velvet red sofa awaits the return of the king. All very surreal. As is the museum next door – full of beautiful glass work and engraved/embossed metals.
I need to obtain a permit for visiting the various villages – as kutch borders with Pakistan. The permit office is a very male, authoritarian government building, strange experience but all over very quickly and then it is off to meet Abdul Mara of Kutchi mud art – or rather Raffiq his son as I later find out. He agrees for me to come along and work with them on Wednesday. Great workshop. About 5 family members all working on the floor, on their laps, on little low tables. There are about 13 people working in total – a real cottage industry.
We begin another journey along remote dusty roads – I get the feeling I have been here before – strange sense of déjŕ vu. Much to my surprise we arrive at Shaam e Sarhad www.hodka.in – when I think we are meeting Meera, a contact who may help me set up a real mud and mirror workshop. One of many misunderstandings… After initial disappointment, I settle for the evening. This resort is beautiful. In the village of Hodka – it is along a deserted track and is a cluster of bhungas – the traditional circular mud and dung huts with tents. Shaam e Sarhad means "sunset on the border" and the resort is owned, built and managed by the very welcoming Hodka commumity.
My room is a tent built half way with the mud construction – the ensuite showeroom is an adjoining tent with mud and mirror work all around the sink. This place is heavenly. The restaurant is outside but under cover – people are painting everywhere in anticipation of the arrival of the chief minister. There is mud and mirror work and the typical terracotta patterned paintwork of the area – slightly aboriginal in appearance. Dinner is served over clay pots filled with hot coal. All looks and tastes good but I will suffer later – all that wheat and nightshade! Following the meal Is entertainment – singing and music by local musicians whilst lying under the stars in cushion covered bed.
Tuesday 19/02/08
Tera via Nirona/Kala Raksha…
We pass by dozens of camels carrying heavy loads of fabrics wrapped in Hessian sacks – one or two men sitting in each cart – all on their way to the craft festival at Dhordo. We visit the small village of Tera via Nirona and visit the copper bell maker, as I sit watching him work a baby goat appears at the window – only 5 days old! I realise my bargaining skills are non existent as the grins indicate they have a good deal and then when the son suddenly appears at our car sneakily giving the driver a wad of notes I feel really uncomfortable – but guess this is how things work here – give the driver a cut if he has brought a dumb tourist to you? Hmmmm
Then onto see the last remaining family who work on the art of rogan painting – using castor oil and pigment it makes a permanent fabric dye. It is a wonderful process to watch. The palette is one colour on the hand – a stick is twisted into the pigment and it is drizzled into the design directly onto the fabric. The next stop is equally fascinating to watch – laquered wood work on a lathe operated by hands and feet. By using pieces of coloured tree laq intricate designs are worked onto the wood – giving it an enamelled quality which is instantly permanent and waterproof. Unfortunately had a big spasm giving me a lot of pain so we had to leave rather abruptly – much to the surprise and confusion of the people.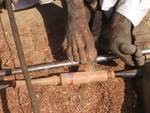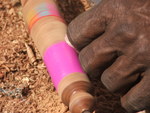 Then move on to Kala Raksha – there are police everywhere – they look like Stalin with the heavy moustaches and austere look. Kala Raksha www.kala-raksha.org at Sumrasar Sheikh is a trust promoting and preserving the arts of Kutch. Here I see all sorts of embroidery – rabari, Garasia jat,and Suf. Beautiful quality work.
Then onto Gandhi na gua – although not totally sure it was – could have been another misunderstanding! Go to my first proper Bhunga – totally decorated with mud and mirror work – the cooker, the walls, the doorway. The whole building is beautified with colour and texture. Where the mud meets the straw roof is a shelf holding copper and brass water carriers and other pots. It seems the woman is selling practically everything in the house – she is quite bossy which amuses me and when she thrusts a bangle onto me which I announce is heavy she merely retorts no this is heavy and thrusts her ankle at me with an anklet that must feel like she has a can of beans on her foot! She has beautifully embroidered clothes on, huge gold earings and bangles up to her elbows which tinkle as she moves. There are also several policewoman with me to add to the entertainment – all dressed in tan sari's they try to encourage me to part with my jewellery as gifts to them.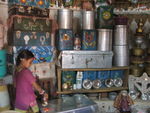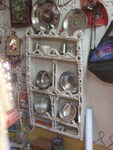 Still finding it difficult to explain my food allergies back at the resort – again driver doesn't understand and feeling more like I should have travelled by bus and got a guide in Bhuj who speaks a bit more English – am trying hard with my gujarati but realising it is not actually the language that is making it difficult to communicate. Chat and share jokes with Susie Miller and husband Elon back at the resort – who share the same problems with their driver. The staff are all frantically painting to prepare for the chief ministers visit. I get the chance to paint on the wall which I love – they let me paint a whole side but under the watchful eye of two of the men. Think they are bemused by the idea that I should want to do this but it makes my evening!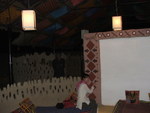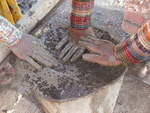 Wednesday 20/02/08
Bhuj Abdul Mara – Mud/Mirror workshop
Leave the resort after seeing the women mix mud and dung to re – prepare the flooring. They mix with their hands in buckets of dung their coloured bangels covered in the stuff. – No aprons or anything! Arrive at Hotel Prince only – my booking was not confimed and after half an hour of waiting I end up at Hotel Ilark – which turns out to be a blessing – much nicer hotel and fantastic food!
At the workshop, the Mara family www.kutchimudart.com are all really helpful – showing me techniques. Although not the real mud and mirror materials it is a similar process, just using white clay and is rather more commercial. Instructions are given in gestures which works fine – later when Brer, the grandson arrives I have instructions in English – which is a great help. On seeing my work Abdul whisks me off in his jeep to visit some of the sites he has worked on. The first, named "The Farmhouse" is a guesthouse for business people. It is decorated throughout with mud and mirror work along with carefully selected antiques – a bit of a luxury villa let out to guests and people in the firm. Outside is a fountain, camel bench and lookout tower. Turns out this is the guy responsible for the giant tap fountains I see dotted about. The next stop is a huge fountain in a back garden. This place is a mansion. The fountain is clusters of coloured stones built up quite crudely looking like some kind of volcanic structure. The walls around the garden are high and the tops covered with broken glass. Hamid, the owner is a politician and he invites us into the house for chai where I meet his wife Tara. She is the daughter of an Irish nurse and Indian doctor and she shows me family photos whilst giving me a tour of the house. I feel so welcomed. It is like that with everyone – people cannot do enough to help you! The house has ceilings decorated with mud and mirror and uses colours seen on many saris.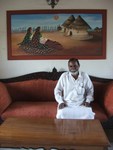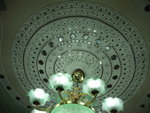 The remainder of my evening is spent at Hotel Ilark. Wonderful food followed by relaxation in the form of a good old chick flick on the telly,"You've got mail"… before another sleepless night.
Thursday 21/02/08
Workshop and Khamir
The morning is spent continuing with my two panels. I visit Meera at Khamir – and feel disappointed we didn't meet on the Monday as planned – it has been hard to get together since that first day. The set up at khamir is good. They have a new venue a shop and workshop space with looms and dyeing facilities,sorting rooms – it is still growing as they only moved to this site a few months ago. Useful chatting with Meera about possible ways of working together – meet with some of the workers there and engage in a lengthy and interesting dialogue about keeping tradition going. People provide beautiful photo opps for the tourists, they in turn buy a few things and off they go. The villagers are still poor. Is this right? Should we protect and retain the culture and tradition at the expense of the people who hold that tradition by the work they produce with their own hands. There were no answers just lots of questions and we ran out of time. It is a discussion I would like to continue and one which is close to my heart. The objects I build on – are often handmade objects or tools used to create such things, by making these objects decorative I play with the notion that the handicraft is lost – from our society more so – it is something that I have grown to love in Kutch. So many craft skills are here – so many things are made beautiful – initially making things for themselves, their dowry, their family –clothes, utensils, toys – even the Lippan kam – the mud and mirror was used to reflect light into these dark circular homes. Everything is decorative but remains functional. My work is the opposite – it was functional and is now decorative. I need to think more on this as there may be a link just in this aspect……….time to drift…………….
Get taken to Nature cure clinic by Abdul when he hears of my ongoing pain. The ayurvedic doctor there suggests I get an ultrasound scan quite soon and that I may have 3 things wrong – wasn't quite right with diagnosis but was with the number of things as I find out in a weeks time…
Following this Brer and Akim show me the alladin's cave where I can but mirrors from. This will be used with ideas I want to experiment with in Ahmedabad as well as taking back to the uk. They have tiny circular mirrors – hard to locate in the uk.
Back at Hotel Ilark I bump into Susie and Elon and catch up – they sacked their old guide and have a new wonderful one – think I might trade….
Friday 22/02/08
Kutch craft festival (not) and Khamir
Head off to dhordo for the craft festival bright and early. Wondering why all the cars and police are going in the opposite direction. We arrive and it is all over!! The main reason I came in this week was because of the craft festival and I missed it. The driver tells me (I think) I should have gone yesterday and goes on about the itinerary – my frustration is too much – why did he not tell me this if he knew it was finishing early. I feel sick in my stomach at the thought. Even the villages we visited hardly had anything there for me to see as they were all at the festival and now I am there it has all gone. Visit a few other artisans nearby– and I arrange to meet Pankaj from Khamir www.khamir.org – again a regret that we weren't in touch earlier in the week.
Pankaj and Meena are really helpful. We discuss their work, my work and possibilities for working together again with the mud and mirror work but on visiting the hindusthan craft village meet other makers and realise potential for collaboration is much greater. Spend much of the money I was saving for the craft festival, so feel the day has not been wasted as this was much more beneficial.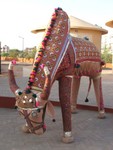 The day was a long one and with my driver frustrated once more – I too had had enough. My pain was aggrevated by the endless bumpy roads and speedy driving. Felt like my insides would explode so by the time we arrive in Tera it is pitch black and I am hanging onto my stomach. All I can see are endless winding narrow paths, a huge gateway and high walls, looking like a fort. All I know is that we are in the far north of Kutch. On arrival I practically fall out of the car and can barely walk with pain and exhaustion. I am lead to my room by a really kind guy who brings me pain killers, ayurvedic balm and chai. I break into tears exhausted with the pain as the door closes. I rest for a while then venture into the compound. I am at KERC Kutch ecological research centre in Tera. www.corbettfoundation.org
The guy who greeted me earlier, Dharmanad tells me all about the centre, asks about my work and my pain and puts me at ease. I have a delicious dinner with lots of vegetables followed by paan? a sweet I grow to love and head for bed. On finally falling asleep I am woken by two singers – sounds like a serious pa system. It starts around 2am and continues through the night. It is really good singing as well – and I wonder if it would be ok to crash the party only can't quite drag myself out of bed.
Saturday 23/02/08
Tera to Mandvi and beautiful beach
The morning brings a much lighter day. My body is on slow down and I feel incapable of doing anything remotely demanding. Darmanand shows me and my driver around the village. We see the old palace – another dwelling ruined by the earthquake, now a luxury home for bats. We see a four hour old baby cow and its mother – a woman appears next to them – she is the queen of Tera (More amusing when said out loud). So this is the queen's cow, I feel pleased. The village is 500 years old and used to be a busy port – now a heritage village it is slow getting back on its feet.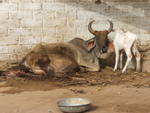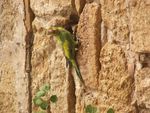 We pass a boys primary school and after expressing an interest we are invited in by the headmaster. I enquire about their art activities, and am shown a range of books – lots of collaged images of gods and Indian symbols, stamps carefully arranged in the shape of letters. Interesting as this is the age when in the west art is so free – children draw before they write – it is the ultimate in personal expression yet that doesn't seem to exist here. I am then taken around each classroom. Rows of smiling, staring boys sit on hard wooden benches clutching liitle slate blackboards on their laps. There are no tables, all the resources are made by hand. I am given a beautiful orange garland made from sweet wrappers. After I point out some drawings of yoga positions I am then given a demonstration by the students outside – there is no hall. What a wonderful school. We drink chai and I take their postal address, no email as yet. I want to keep in touch – they seem such a happy school, yet have so little. I am moved.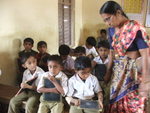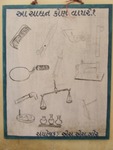 Back at the centre, I meet Bhjavesh, the director – who also spends time telling me about the centre, discussing my work and health. KERC is involved in all kinds of activities from medical programmes to eco tourism, they have a vet and seems v popular with ornithologists.
We discuss a variety of topics, including re using, recycling and natural adhesives. As a result of this, I am given a pot of neem gum – collected off the tree in front of me. I have yet to try it out.
We drive onto Mandvi at a much calmer pace. This "luxury" tented resort just by the beach is my bed for the night. The tents are quite grand, the staff are friendly – it is suggested I visit the palace – should have just gone straight to the beach! I decide to walk to the palace – Vijay villas. What a waste of time! A strange set up where it seems the ground floor is open to the public and prince or king live upstairs. The ground floor is not terribly grand with not much to look at and all looks a bit run down – I hunt for something of interest. I find what looks like a bullet hole and endless photos of moustacheod, turban wearing or capped men standing over one kind of dead big cat or another. Each stands proudly holding their gun – I begin to wonder if it is the same tiger in all the photos…I walk up to the roof – with its "intoxicating view" and head back to my tent.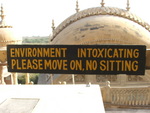 I walk along to the beach where a large Indian family are playing catch. I walk straight to the water, as being from the coast it is something I am unable to resist. I roll my trousers up as high as they will go and walk through the water until I am out of site. But this is not enough – I need to swim! I head back to the tent and change – I figure if I get out of sight the staring will be less. When I return to the beach it is deserted and the tide is going out. I get straight into the water and stay in there watching the sun set. It is now early evening so the water is not warm but not as cold as our british waters. I have the whole beach to myself, It is divine, I cannot stop smiling – I want to stay in the water forever but start to get cold. Dinner is at the restauarant on the beach, I eat meat for the first time in nearly two months. On returning to the tent, my bedside light has been switched on and there is a bulging hot water bottle in the bed – how wonderful! The pain still keeps me awake but I feel happier after my swim. I text my parents – they have been married 45 years today – Happy anniversary!
Sunday 24/02/08
Judy Frater, Kala Raksha Design School, Tundah and home……………..
I meet Judy Frater – bit of a legend in the area at the design school. There are visiting artists running workshops also there and two other women connected with textile museums. We watch Lakmirbhai as he spins by hand black sheeps wool. We all watch for what seems like hours as he spins and spins – his necklace also is made in the same process. We then have a line up of the three generations of suns – all artisans and we promptly turn into paparazzi.
We visit Tundah and see some really marvellous mud and mirror work – much thicker than previous things I have seen, better quality, more sculptural with the little krshna heads on top of relevant points. The women are welcoming and perform for us showing off their various embroideries and outfits. I try on a choli a heavily embroidered rabari top. With stars over the boobs – It is gorgeous but a little tight around the chest. Much to my surprise I am helped into it by one of the women after a small yelp of shock is released from my mouth we all erupt in laughter! Girls the same the world over…I buy it and I love it. It is perhaps my most treasured purchase yet.
We visit the pot makers and are given a lengthy demonstration of making – again all very low tech – but so fast and with such ease and good humour. I would love a water pot but they are huge so I select one as a gift for Arts Reverie.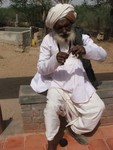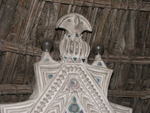 I have to ensure to the driver I would rather stay here than visit the metal worker he wants me to see – probably to get another cut of money, but this is far more useful. I talk with Judy about possible collaborations – it would probably be in Tundah. Really want to work on an actual building. We head back to Ahmedabad – a very, very long and uncomfortable journey home. Kutch has been amazing – I am ready to return and digest all I have seen and learned I am also ready for some rest and to be in one place for a while. I am exhausted and know I need to sort this pain out once and for all!
Posted by Anne Schwegmann-Fielding on 16th February 2008
Week two - More meeting people and seeing beautiful things.
Junk shops, birdcages, bangles and utensils 11/02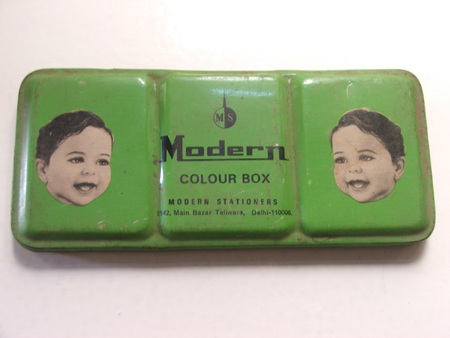 Started in an old furniture shop - warehouse really and saw some ancient paint pots, milk churns, tea kettles, enamel matchbox holders, wooden shoes and just amazing little objects. wasn't given much space though to look as had at least two men following me round wanting to mark everything i had looked at to price up and I mean UP! ended up just getting a beautiful childrens paint set - gorgeous 50's font and wonderful green - but will go back as i think the utensils may play a big part in any work i might make. Saw the first slums on returning - homes made from hessian, string and tarpaulin with a bamboo framework and out from them emerges colourful women, half dressed children and rocking men sitting around staring into nothingness.
The afternoon was really packed - and quite hilarious - think there was some kind of funny drug going around only issued on a monday...Met a group of weavers who entertained us, one suggesting she should return with me in my rucksack! Wandered round Manek Chowk area and saw all the wonderful utensil shops - sparkling aluminium next to dulling copper. Everything is right out in the open which I love. The electrical repairman has what appears to be a big cupboard in the wall from which he operates. People stitch and peel, chop and grind, repair and alter all in full view of anyone passing by. It's so industrious! But then people also sleep just about anywhere - in their shop, or rickshaw - on a cart along the busy streets...
We got rather obsessed with the bangle and bindi stall and the owner kept giving me gifts - i did buy quite a bit - very plastic and tacky - but in a good way!? and some wonderful birdcages - watching them make them along the street...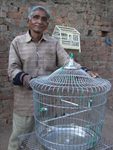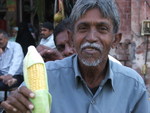 Then were the huge red carrots and the corn on the cob with windows in - chap kindly posing for a photo - much to the amusement of everyone around!
At Asal - the organic shop where the smells were beautiful, oil lamps hanging from the ceiling in the electricity free shop. wonderful things and my first health advice from ayurvedic cook!
Exhausted for the first time.
Health, NID and the Gufa 12/02
Discussed my bowel movements with what seemed to be half of Ahmedabad at an early morning trip to an ayurvedic doctor! Never had such a public consultation before - in the flat, with the door open Tanvi, the other artist and our driver Johnny with about 6 other patients all now knowing the history and extent of my pain and digestive functions! Mmm - going to live on ghee and non-basmati rice for a few days - will see if it helps.
Ok - back to the art...went along to the NID very formal, met a couple of tutors - spent quite a bit of time with Errol Pirez - and amazing weaver - look him up - and he has actually been to my home town of Colchester - which I found quite amazing. Turns out he knows fellow weaver, Nayland's Peter Collingwood. He had some really good suggestions of where to look for inspiration.
Then onto an amazing place - out in the wilderness somewhere called Platypus - ex students from NID have set up an amazing place - lovely design of curved metal roofs, shady outdoor work spaces for looms and other work and workshops separated by trees. all kinds of activities going on but really resourceful - reusing the plastic sheets of industrial offcuts as well as street waste to make all kinds of accessories.
Johny our driver was fantastic - speaks really good english and more of a guide really - on seeing my postcard he drove us to Gufa - cave by architect doshi and painter MF Hussain. This is a Gaudi meets Niki de Saint Phalle type structure. White ceramic Mosaic on the outside, cement curving pillars on the inside with primary coloured paintings covering the ceiling - hints of Miro. A really packed day and then off for a delicious dinner at Anupa's and conversations of art, food and discrimination.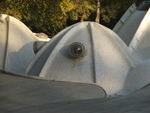 SEWA 13/02
A morning visit to the SEWA factory - self employed womens association - interesting organisation which is a union based on the idea that poor women need organisation not aid - bought a few gorgeous things from the shop including a copper bracelet - which resembles a richard serra sculpture!
An afternoon to relax, catch up and take stock. Then an evening visit to Arts Reverie by painter Shanti Panchal and a few family members. Really good to catch up with him - check out his website, beautiful work www.shantipanchal.com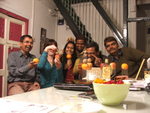 NIFT, Blockmakers and Kurmarao 14/02
Met up with Lokesh again this time a trip to Nift in the gujarati capital of Ghandhinagar, where we met and chatted with fashion and textile students. Went on via some truly amazing roundabouts (Britain can learn from here), to visit an amazing blockmaker - the highlight for me seeing hime drilling the holes using a rope wrapped around his leg, a bradawl and piece of wood to make a drill.Great workshop too and really beautiful intricate designs.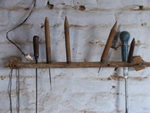 Then met an amazing weaver. He has several looms and uses thin paper sheets, plasic, newpaper to make divine hangings for screens and room dividers. Really talented - beautiful colours and the edgings are all unique. With the quality of weaving i have seen - wonder if i will turn into a weaver before my return!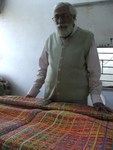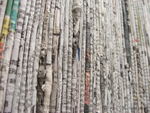 Brief visit to a beautiful mosque and then quick snack at swarti - happy valentines day to all!
Day of rest, writing and experimenting and my first Indian Preview 15/02
Have seen so much in just a short time and still have a lot more to see - and do.
Ideas have already started - looking at the space where a building once stood outside arts reverie - playing with the idea of line and space - outside and inside solid and empty - also interested in the utensils - the old and new, functional and decorative.
Ceramics private view in the evening curated by sculptor Trupti Patel. Lovely evening really interesting work from a range of era's and even bigger range of artists. From quite functional to sculptural - some lovely pieces - works by one whole family - whose name i forget - but lovely people - beginning with A! Much the same as the British private views - lots of well dressed slightly arty looking people talking lots and occassionally managing to see the artwork amongst the throng of people. Only difference is the chai and biscuits compared to our wine and nibbles!
Off to the villages - from 18/02
Am off to Bhuj next week for one week to meet with various people during a crafts festival. Have booked a mud and mirror workshop which I am really looking forward to - reminds me of the old essex pargeting technique, (without the mirror). will be a big and inspiring week so lots of photos and notes to come.....
Posted by Anne Schwegmann-Fielding on 8th February 2008
Monday 4th Feb:
I finally arrived in Ahmedabad Airport early on monday morning- with all the delays and seemingly endless queueing I had the feeling i was never going to quite make it to India - but here I am!
My first day was one of recovery - totally exhausted - trying to absorb the fact i was here - i dump my bags and head straight to bed. I ventured out later that day, just walking around near the building - saw my first cow and camel! So busy everywhere.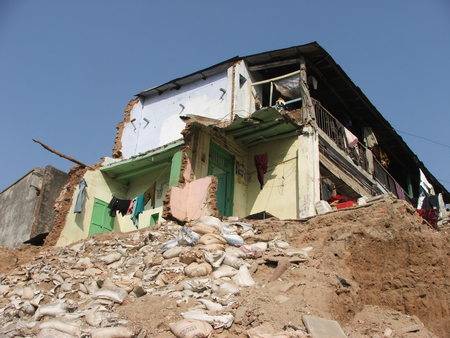 First sights of India:
Aerial view - red chimneys like lighthouses. Green and Grey plots. Slow progress at airport. Children greeting with flowers. Unfamiliar birds. CONSTANT beeping. Rickshaws and cyclists and pedestrians - who owns the road? Death wish! Colourful yet decorative, crumbling buildings. barber shop with no front of the building - open all hours!! My first cow. My first camel. Shutters. What is your namey? Birdcages. Dust and rubble. Incense and wee. Saris, fabrics. Beggars. Smart school boys - white and cream. Smart schoolgirls - plaits.Sleeping dogs. Seeds, garlic, ginger and rice - big bowls. 1950's barbers chairs. Tailor shops and sewing machines. Winding streets. Warmth. Goats. Piles of rubbish in the road like mini roundabouts. Building work. Newly refurbished next to the falling down. Newspaper story - hotel collapsed - lots of earthquake damage. NOISE - beeping shouting banging crying howling cleaning - staring.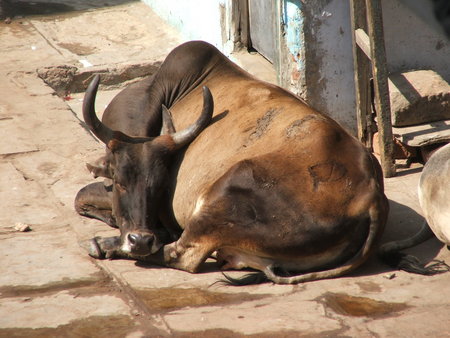 Tuesday 5th Feb
By now I was itching to get out but needed to speak to chirag. I spent the morning catching up on some admin stuff and feeling quite leisurely. Then before i knew it, i had a chat with Chirag and i was off in a rickshaw to the calico museum. This was an amazing textile place - with a rather impatient tour guide who rushed us so much it was almost comical. Met an equally amused artist from london doing a residency at a london uni geography department, interested in pattern and context. Then i went off to a couple of other museums which had mainly moghul miniatures.
The rickshaws are mad! You really feel like you are taking your life into your hands when you get on the roads - pedestrians, cows, bikes and tut tut's and all the beeping! But that was then- I now am a bit more relaxed even though we were driving at high speed into incoming traffic! Mohammed, the guy who has been taking me around, knows everyone and everywhere and speaks pretty good english. We then went off to the night market - I met up with the english artist and japanese woman from the calico museum - nice time but was shattered, The textiles were amazing all glittering in the night light - it was like being in a sweet shop - but then mohammed kept telling us - it was all just plastic, he will show me the real textiles from kutch and rajasthan - the quality stuff. Even so, I think i will get my next private view outfit from there!
Wednesday 6th Feb
Had foolishly agreed to going on the heritage walk - Foolish - as in have barely slept and needed to be picked up at 7.30 - my alarm went off just before 7 and i promptly fell back to sleep - meaning i was late, tired, unfed and under dressed (as in it is a lot colder than i thought) But i soon woke up and had a great day - Amazing walking around the old city: saw monkeys, squirrels and eagles. These huge structures i keep seeing i finally found out are bird feeders. Wow - they must love their birds. Apparently when all the trees were chopped down there was concern for the birds so they built these enormous, colourful and decorative structures to feed them. More like sculptures really - they even have special holes in the wall for the nesting.
The folk museum was pretty good to. Much more relaxed than the calico - I was the only person there but felt i could wander around in my own time. They do open up the whole place for you -as you walk out of one area, off go the lights and the doors are shut and you are guided to the next area. This museum has such a range of objects - textiles, sculptures, fabrics and metal. The detail and workmanship in what i saw was really amazing. Could have spent a lot longer looking around. Couldn't stop drawing - recording all the pattern and detail in what I saw.
Mohammed took me to a couple of amazing textile shops - the art book store where luckilly i did not bring enough money - would have bought everything. Had some lovely spiced chai there, which i have been waiting for. The entrance is concealed around the corner in a back street - but looking up you can just see a cluster of red and gold hangings and ornaments. An old family shop - they really know their stuff - will go back. A shop selling metal ornaments, gods and trinkets.
A trip to the Gandhi Ashram paper factory equally as inspiring. Just seeing how fast people made these enormous, beautiful sheets of paper - watching the whole process, from cotton and paper scraps, then over to the shop with the wonderful shop keeper - who reminded me of the chap from mr.ben! Shelves of beautiful paper of every hue and differing flowers or textures.
Thurs and Friday 7/8th Feb
Time to absorb
Have spent the last couple of days trying to absorb all that i have seen so far - really felt I needed to rest a bit and let everything digest. Plus still not really slept until last night when i tried out the new earplugs. They worked! Feel like i have dogs and half of the area in my room when i go to sleep - so put a bit of Yann Tierson on the laptop last night - really helped.
There is so much to see here, not quite sure where it is going to take me - but at the moment just the textiles alone have made me quite obsessed with pattern. Also feel like noah collection images of all the animals i keep seeing.... Ok - so am now blogged up so think i will go and get some sunshine - will be meeting Lokesh and various artists tomorrow, which I am really looking forward to.
The weekend
Met a young designer - Lokesh http://www.lokeshg.com who took us to a family who made applique. It's a real cottage industry here. Just sitting in various parts of the house they cut and stitch the whole family are involved - they took us to another family who were working on paper clay mosaic style - kind of kitsch but quite beautiful in its white simplicity. Lokesh's studio showed his devotion to quality finishing and fascinating stitching work and block printed pieces. Had my first meal out to - the green room - delicious. It is so much easier to eat here than in England - Everything is so wheat based there so the luxury of having the choice of rice flour chickpea flour has returned the joy of eating out and choice!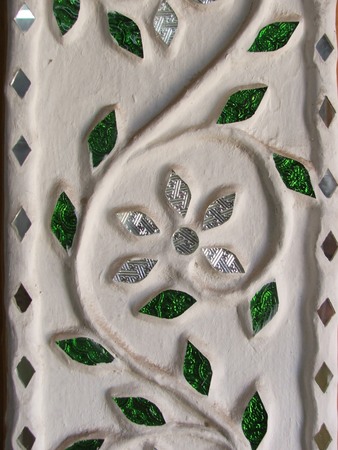 Now time to absorb once again and do some thinking. Having seen a few things I need to think about what I really want from this residency and where I want it to take me. I do know that I need to come again - I came with no expectations. Just to be led by what i see and if that means just recording and sourcing materials for the uk fine - I still might make something - too early to tell yet. Watch this space.......