Anne Schwegmann-Fielding
First Few days.....
Posted by Anne Schwegmann-Fielding on 8th February 2008
Monday 4th Feb:
I finally arrived in Ahmedabad Airport early on monday morning- with all the delays and seemingly endless queueing I had the feeling i was never going to quite make it to India - but here I am!
My first day was one of recovery - totally exhausted - trying to absorb the fact i was here - i dump my bags and head straight to bed. I ventured out later that day, just walking around near the building - saw my first cow and camel! So busy everywhere.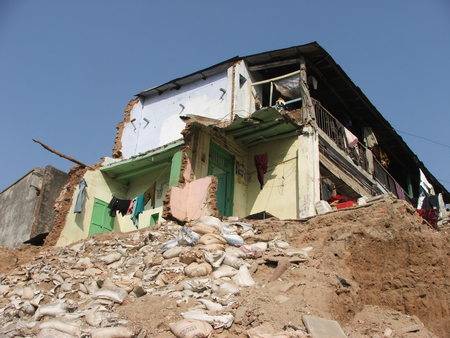 First sights of India:
Aerial view - red chimneys like lighthouses. Green and Grey plots. Slow progress at airport. Children greeting with flowers. Unfamiliar birds. CONSTANT beeping. Rickshaws and cyclists and pedestrians - who owns the road? Death wish! Colourful yet decorative, crumbling buildings. barber shop with no front of the building - open all hours!! My first cow. My first camel. Shutters. What is your namey? Birdcages. Dust and rubble. Incense and wee. Saris, fabrics. Beggars. Smart school boys - white and cream. Smart schoolgirls - plaits.Sleeping dogs. Seeds, garlic, ginger and rice - big bowls. 1950's barbers chairs. Tailor shops and sewing machines. Winding streets. Warmth. Goats. Piles of rubbish in the road like mini roundabouts. Building work. Newly refurbished next to the falling down. Newspaper story - hotel collapsed - lots of earthquake damage. NOISE - beeping shouting banging crying howling cleaning - staring.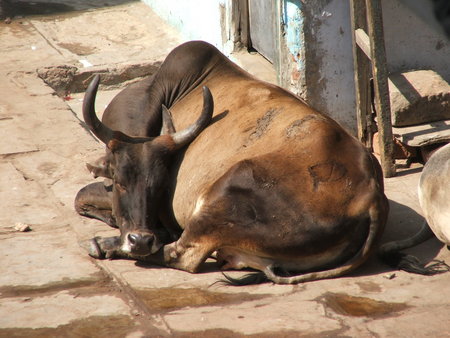 Tuesday 5th Feb
By now I was itching to get out but needed to speak to chirag. I spent the morning catching up on some admin stuff and feeling quite leisurely. Then before i knew it, i had a chat with Chirag and i was off in a rickshaw to the calico museum. This was an amazing textile place - with a rather impatient tour guide who rushed us so much it was almost comical. Met an equally amused artist from london doing a residency at a london uni geography department, interested in pattern and context. Then i went off to a couple of other museums which had mainly moghul miniatures.
The rickshaws are mad! You really feel like you are taking your life into your hands when you get on the roads - pedestrians, cows, bikes and tut tut's and all the beeping! But that was then- I now am a bit more relaxed even though we were driving at high speed into incoming traffic! Mohammed, the guy who has been taking me around, knows everyone and everywhere and speaks pretty good english. We then went off to the night market - I met up with the english artist and japanese woman from the calico museum - nice time but was shattered, The textiles were amazing all glittering in the night light - it was like being in a sweet shop - but then mohammed kept telling us - it was all just plastic, he will show me the real textiles from kutch and rajasthan - the quality stuff. Even so, I think i will get my next private view outfit from there!
Wednesday 6th Feb
Had foolishly agreed to going on the heritage walk - Foolish - as in have barely slept and needed to be picked up at 7.30 - my alarm went off just before 7 and i promptly fell back to sleep - meaning i was late, tired, unfed and under dressed (as in it is a lot colder than i thought) But i soon woke up and had a great day - Amazing walking around the old city: saw monkeys, squirrels and eagles. These huge structures i keep seeing i finally found out are bird feeders. Wow - they must love their birds. Apparently when all the trees were chopped down there was concern for the birds so they built these enormous, colourful and decorative structures to feed them. More like sculptures really - they even have special holes in the wall for the nesting.
The folk museum was pretty good to. Much more relaxed than the calico - I was the only person there but felt i could wander around in my own time. They do open up the whole place for you -as you walk out of one area, off go the lights and the doors are shut and you are guided to the next area. This museum has such a range of objects - textiles, sculptures, fabrics and metal. The detail and workmanship in what i saw was really amazing. Could have spent a lot longer looking around. Couldn't stop drawing - recording all the pattern and detail in what I saw.
Mohammed took me to a couple of amazing textile shops - the art book store where luckilly i did not bring enough money - would have bought everything. Had some lovely spiced chai there, which i have been waiting for. The entrance is concealed around the corner in a back street - but looking up you can just see a cluster of red and gold hangings and ornaments. An old family shop - they really know their stuff - will go back. A shop selling metal ornaments, gods and trinkets.
A trip to the Gandhi Ashram paper factory equally as inspiring. Just seeing how fast people made these enormous, beautiful sheets of paper - watching the whole process, from cotton and paper scraps, then over to the shop with the wonderful shop keeper - who reminded me of the chap from mr.ben! Shelves of beautiful paper of every hue and differing flowers or textures.
Thurs and Friday 7/8th Feb
Time to absorb
Have spent the last couple of days trying to absorb all that i have seen so far - really felt I needed to rest a bit and let everything digest. Plus still not really slept until last night when i tried out the new earplugs. They worked! Feel like i have dogs and half of the area in my room when i go to sleep - so put a bit of Yann Tierson on the laptop last night - really helped.
There is so much to see here, not quite sure where it is going to take me - but at the moment just the textiles alone have made me quite obsessed with pattern. Also feel like noah collection images of all the animals i keep seeing.... Ok - so am now blogged up so think i will go and get some sunshine - will be meeting Lokesh and various artists tomorrow, which I am really looking forward to.
The weekend
Met a young designer - Lokesh http://www.lokeshg.com who took us to a family who made applique. It's a real cottage industry here. Just sitting in various parts of the house they cut and stitch the whole family are involved - they took us to another family who were working on paper clay mosaic style - kind of kitsch but quite beautiful in its white simplicity. Lokesh's studio showed his devotion to quality finishing and fascinating stitching work and block printed pieces. Had my first meal out to - the green room - delicious. It is so much easier to eat here than in England - Everything is so wheat based there so the luxury of having the choice of rice flour chickpea flour has returned the joy of eating out and choice!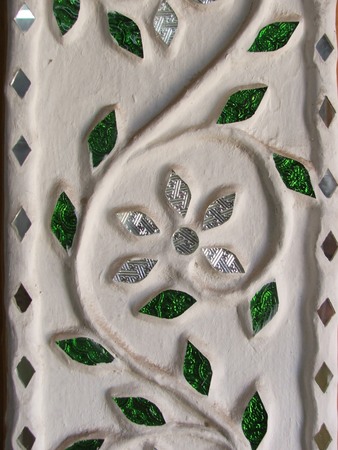 Now time to absorb once again and do some thinking. Having seen a few things I need to think about what I really want from this residency and where I want it to take me. I do know that I need to come again - I came with no expectations. Just to be led by what i see and if that means just recording and sourcing materials for the uk fine - I still might make something - too early to tell yet. Watch this space.......