Anne Schwegmann-Fielding
Week 7 Off to Chandigarh...
Posted by Anne Schwegmann-Fielding on 12th July 2008
17/03/08 - 22/03/08
Monday 17/03/08
Thinking and singing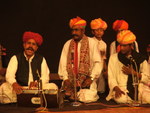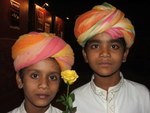 Spend the day making notes – thinking through all the things I have learned and experienced so far. It is strange that we often don't allow ourselves the time to just be - almost seems like a luxury, but is so crucial to the understanding and development of your work – and your person. This is something I really need to do more as it leaves your mind open to the possibilities…. The evening brought me back to the Darpana Academy – my new favourite venue to see some Rajasthani singers. They were a group of around 8 boys singing along with 5 adult musicians. The boys were amazing – their colourful turbans sat overwhelmingly on their heads, they looked like they might topple over with the sheer weight of them! The facial expressions varied from engrossed with determined shouting and expressive hand gestures to leaning on their hands – almost bored, silently waiting for their next part. The men are the extreme – only one of them smiles. One might think their life depended on it! The two young boys, who look like brothers (turns out they are) begin to dance – one with great shoulder moves, the other bellydancing hips. The evening develops into a paparazzi style photo shoot as we are about to leave – the boys loving the attention. A truly wonderful evening.
Tuesday 18/03/08
Sat on the beautiful Arts Reverie terrace with Jeremy and Barney (fine line managers) to discuss our ideas and discoveries thus far. Good to share thoughts and ideas as not really had chance to do this. Helps clarify my desire to produce a new body of work – and develop the way in which I use my materials.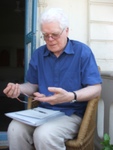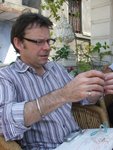 Visit the pineapple juice stand for another gorgeous glass of juice – I will miss this place – Astodia juices if you ever go to Ahmedabad, in my humble opinion is THEE best pineapple juice ever tasted!
Wednesday 19/03/08
Arts Reverie dinner
More writing and visit to a nearby haveli which is being converted into a café. Gorgeous building with typical wooden carvings found all over the old city. The terrace is mosaiced – would love to do some work here!! Pass by a school and we have a quick look around. Again a converted Haveli – the house was handed over and now is a wonderfully quirky (by my standards) school – classrooms around the inner courtyard, dark wood, crumbling stairs, basic resources – happy children, stern looking teachers. It may seem run down to them – but it has a beautiful simplicity and rawness that we don't often see.
An evening dinner was organised to discuss partnerships between the two cities of Manchester and Ahmedabad (the Manchester of the east). Both strong textile industries, a group of art world movers and shakers discussed the parallels and possible links to be made between the two changing cities. Reminds me it is a long time since I went to Manchester and also reminds me that my German grandfather studied textiles near Manchester. Food was served on the terrace in wonderful earthenware dishes and tasted as good as it looked.
I leave the discussion to do my final packing. Trying to contain my excitement as in just under a day I will be in Chandigarh and meet my hero – guru Nek Chand…
Thursday 20/03/08
And she's off to Delhi!
Early start and plane to Delhi – I know, not great on the old footprint. I really wanted to get the train but didn't think the old appendix or rather recent removal of it would be able to cope with a long and maybe uncomfortable journey.
Delhi was interesting. I have a postcard, somewhere, of a street scene in Delhi which I have had since my late teens. Finally I am here and it looks very different. It is Cleaner, wider roads, dark pink blossom, tree lined boulevards, less staring, no cows and some Sikhs! But really busy.
Delhi crafts museum – rickshaw driver said I would spend up to an hour here then we could go onto the modern art gallery and then some shopping. I was in there for around 4 hours. So when I say Delhi was interesting – I mean what I saw of it. By the time I came out of the museum, I had to get the train! The museum was fascinating. The walls of the museum and outbuildings were decorated with detailed elephants and mud and mirror figures dotted about. Inside, a lot of tribal work, large dark wooden carved animals, stunning intricate metalwork, embedded with textures – want to take them home. Upstairs were huge folder like stands encasing textiles from different regions showing the varying embroidery or woven techniques used by specific peoples.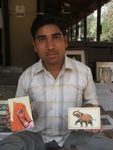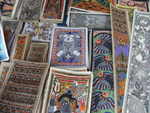 Outside were dozens of artisans working away and selling their wares – probably at hugely inflated prices. I am getting better at haggling, but think I need to take a course! Nevertheless, the work was as ever, amazing. Labour intensive, decorative, detailed, intricate – all the things I love about the art and crafts that I have seen here. I chat for too long with many of them – discussing possibilities of working with a couple of them on commissions in England. It would be good to work in collaboration with them. I learn a bit more about the symbolism behind all the animals – the elephant bringing good luck and remover of obstacles – Ganesh in particular. I seem to have been surrounded by elephant pictures and gifts since I arrived.
After entertaining the luggage men whilst trying to photograph a rat amongst the bags I collect my rucksack and finally take my first Indian train journey to Chandigarh!!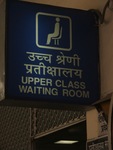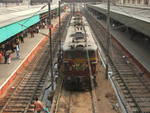 I get chatting to a dutch law graduate who is lovely, the conversation flows energetically the whole journey. She has been travelling all over - Local Chandigarian's listen in to our conversation and enthuse about the city giving us tips on places to go. As we step out of the train station we are greeted by huge Nek Chand sculptures I have arrived. We spend several minutes arguing with rip off rickshaw drivers and I end up in a seriously dodgy hotel above a club – hmmmm - unfortunately I had already booked and paid as I was drawn by the hotel's name "Gravity", that'll teach me. Still – got some sleep.
21/03/08
The Rock Garden of Chandigarh – a dream realised! Wow, wow and WOW!
I realise I have been consistently going on about the rock garden and some people reading this (does anyone read this?) may not know about it. If this is the case – you will wonder how you could have ever lived without it! Courtesy of Monty Don's world garden series a few more people know about it after his visit, so the word is spreading.
The rock garden is a unique sculpture/fantasy garden created by a former road inspector entirely from discarded city debris, industrial waste and natural fossil rocks collected from the nearby Himalayan foothills. He began over 30 years ago working initially in secret until one day some few thousand sculptures were discovered. The garden continues to grow and Nek Chand now in his early 80's is continuing to develop the next phase. I don't want to give you the whole history here, but it is fascinating the way it developed so do look at the Nek Chand foundation's website: www.nekchand.com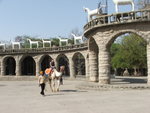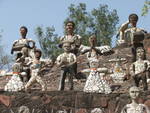 Back to my visit…..I cannot stop smiling as I walk around. I am finally here, after being taken to the rose garden first! (Apparently a common mistake I quickly learn to pronounce things with an Indian accent so I can be understood). But the garden – where should I start? I could barely contain my excitement, looking at every inch of the garden. The early beginnings, the hut he worked in secretly for all those years, walls of stone, fossils, electrical bits, water carriers. The garden is filled with curiosities, figures, plant life, buildings and people from all over India.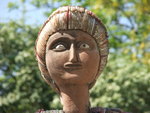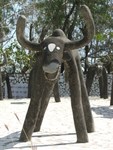 This was a day of firsts: first time at the rock garden, first camel ride, first cycle rickshaw, first motorbike ride…
Chandigarh is lovely; clean, tree lined streets with stunning pink blossom, turban wearing motorcyclists, clear cloudless blue skies and wonderfully modern and simplistic buildings. I was surprised how much I liked it, I didn't think I would be taken by le corbusier's buildings, thought I would find the whole place a little stark – but I don't, it is a truly beautiful city Both of them! I have seen pictures of the city in books which left me cold, but in reality they are quite hard and rigid buildings, but there is something about them that has warmth, the trees around them soften them.
After a delightful cycIe rickshaw ride, I wandered around the city centre, window shopping. quite unimpressed by this part of the city. Bump into a local sikh guy who tells me a bit about the history of Chandigarh. He takes me along to a conference which is just finishing, as suggested by Roohi, Nek Chand's assistant and meet the man himself. I show Roohi my small portfolio but leave showing this to Nek Chand until I meet him again as arranged on Monday. Only these photos are lost that evening – somewhere in the rock garden, never to be seen again!
I also meet Narinder at the conference, an elderly sikh man who just seems to love showing tourists around – he was mentioned to me by a couple of friends who travelled here a few weeks earlier. Not an official tour guide, he travels about on his bike and accepts no payment just revels in conversation with all who make the effort to travel to his city. We go on to a restaurant near the main tourist hotel (where I should have stayed) and meet a few other tourists.
22/03/08
Holi
Holi – also called the "Festival of Colours" is a popular spring festival. People spend the day throwing coloured powder over each other – meant to have medicinal significance they are traditionally made from Neem, Kumkum and Haldi.
Spent some time filming and taking photos from the safe distance of my hotel window…couples smothering each other with colours. Even the poor children are getting involved, – forgetting for a day. Like carnival in Brazil.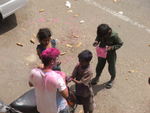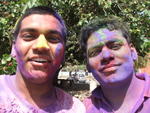 I meet a group of girls amused by my daring to venture out – they are quickly covered in colours by a group of boys who then take me under their wing and we go off to Sukhna lake. It seems almost everyone has colour on them – few people are colour free – but there is a kind of unity in the air, everyone is smiling. I feel happy and refreshed. Returning to the hotel, I am happy with my meagre colouring and tune in to some American tv. Really looking forward to my next rock garden visit. I sleep with the rhythm of the Punjabi beat vibrating through the floorboards and into my ears.