Anne Schwegmann-Fielding
Week Eight Chandigarh and Home
Posted by Anne Schwegmann-Fielding on 5th September 2008
Monday 24/03/08
Nek Chand - The man himself
I wake up early and phone Roohi to arrange my visit…I can barely wait. I meet Nek Chand and show him what pictures I have left and the spoons I have been working on in Ahmedabad. He really likes them so he chooses his favourite, which is also mine. I am happy it will remain at the rock garden – after all he has been a real inspiration for me. We chat about materials, working methods, commissioning and our December birthdays! He asks me if I would like to make something for the rock garden, I told him to try and stop me! I begin tomorrow.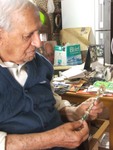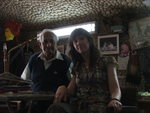 I meet with my new "Holi" friends and go to a bar where I am the only woman. It is strange to be drinking alcohol again. We have fun talking about the differences between our two countries – their English is so good, they work in calls centres in Chandigarh my Punjabi non-existent. I visit a genuine Corbusier flat – rather basic and slightly prison like inside but it is just a flat…
Tuesday 25/03/08 – Wednesday 26/03/08
Making, Talking and the Paparazzi
I am in heaven. Each morning I walk in here I catch myself with a huge smile on my face – this is where I belong. This is what I would like to achieve in my own sculpture park. The garden is full of animals and figures made from broken crockery, bangles and rocks. They greet me each morning and every day I see a new face and pick up small details like a bottle on a tray or an extra layer of teeth which I had missed before.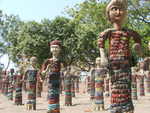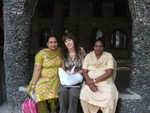 There are waterfalls and streams, windy pathways and steps, tiny doorways, high walls and covered areas. It keeps all your senses hungry for more. The animals and people are clustered together on raised concrete looking like armies waiting to descend upon you. Yet despite their often staring eyes they are friendly and welcoming. There are always hundreds of colourful people around.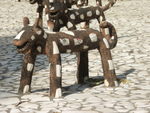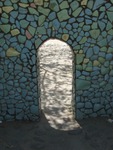 I am making a water carrier. The assistants make up the base for me, which I am initially surprised about as expect to make my own, but quickly realise they have a set procedure they work to. A certain shape from bent and tied bits of scrap metal then concreted over to form the crude shape of a figure. Even the mosaic is crude. Rectangular lengths of white tile are cut and placed quickly along a leg as a demonstration. Once they are happy I know what I am doing they leave me with an ample supply of crockery and are gone. I collect up the made in India cups and put them aside. I begin my work. It is good for me to have to work so fast – I get quite obsessive in the way I work – cutting to very specific shapes it is useful for me to let go of my perfectionist tendencies and to "speed mosaic".
Working under one of the covered spaces looking out on the huge white horses I am sheltered from the intense heat. But it is lovely to work outside. Near me are a few friends – sculptures looking a little sad in need of repair. When I was just looking around the rock garden I was continuously stopped and my photo taken. Now I am working here it is verging on the ridiculous. On average I was having my photo taken every 10 minutes – groups, couples individuals – whenever I looked up from my work there were groups huddled and staring – bit like being in a zoo, but quite comical. I was also constantly being called beautiful – that bit I could get used to! Many of the people thought I had built the park – tempting to take credit but informed them in great detail about Nek Chand and his vision.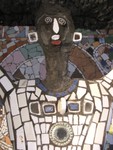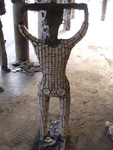 That is one thing that seemed to be lacking, little information and no tour guides This is something I would love to do – just for a season maybe? And no postcards or souvenirs – but maybe that just isn't what it is about. Plenty of people know about the garden, it being the second most visited place in India after the Taj Mahal. I meet so many interesting people from all over India and a few Europeans whilst working in my special studio.
In the early evening, I drink chai with Nek Chand and we chat. He shows me different areas of the park. The conference area – a new part being developed has the most sweet smelling white flowers which neither of us know the name of. The view from this area is stunning. You can see the cascading water with the water carriers standing at the top of the waterfall. It's hard to imagine creating such a world. He has a twinkle in his eye as we talk about his vision. We chat more about my commissions and exhibitions, he even suggests coming to work for me, something I really should have got him to put in writing!!
My last day arrives and I need to go. We hug and I feel overwhelmed with sadness to be leaving such a beautiful place. I promise to stay in touch, send photos and most definitely to visit again.
Thursday 27/03/08
Back to Ahmedabad
The Journey back Reluctantly and sadly I go to the train station and journey back to Delhi. This journey a huge contrast to the way there. I read a bit but mostly stare out of the window at the strange architecture, the circular piles of dung mounded up to look like bee hives, the passing trains with people packed into open carriages sitting on one another – poverty in their eyes.
In Delhi I consider going to the museum and seeing a bit more of the city, but my old pain has worsened, combined with the outrageously pushy rickshaw drivers trying to take me to their friends shops – none of them knowing or caring where the gallery is that I want to go to. I have had enough and book an official taxi and head straight to the airport where I can sit, eat and begin reading The Alchemist. Arrive back in Ahmedabad around midnight and greeted by Rosa – whom I chat with until after 2am. Exhausted!
Friday 28/03/08
Birdcage Friday
Over tired and the birdcage workshop has started without me realising it had been confirmed….really exhausted all day. The plan is for Tanvi and I to design a mobile for local smart and very popular hotel and eatery the House of MG. A very young and beautiful couple who specialise in birdcages made from wire, sit on the floor bending and shaping metal wire into our utensil designs. We will not see this completed which is a shame.
We go for a meal in the evening – a diner type place – really unimpressed by the food – but good to be out with friends.
Saturday 29/03/08
Shopping and Dharpana Academy
Spend my last day out with Rosa – eating lots of ice cream, cake and just buying up final presents at nice stores. The evening I had arranged a few people to get together, to visit Dharpana academy for one last time. This would be a dance performance about Ganesh. It is lovely to see everyone in this amazing venue but sad to be leaving them.
Goodbyes are said to all at Arts Reverie who have been so great during my stay – what a warm and lovely group of staff. I continue packing until the early hours of the morning.
Sunday 30/03/08
Back to England
On the plane –I Finish "Life of Pi" – the book I have been reading throughout my trip. Surprised it took me so long – just didn't spend much time reading. I always feel sad when a good book comes to an end I almost make the last chapter drag on so I can keep going. It feels a bit like saying goodbye to an old friend.
I also finish "The Alchemist", the book I began reading at Delhi airport – really beautiful, meaningful and totally appropriate after the journey I have been on. I will encourage everyone to read it if they haven't already – it gives you hope, faith and a belief in your dreams.
I had little choice other than to read on the plane as I had no headphones and according to the rather unhelpful hostess there were no on the plane! So I dive into my books and occasionally look longingly at the dvd screen showing various bollywood films full of song and dance and amazing outfits – I get the basic story despite no subtitiles and no sound!
I can also detect the funny parts as next to me was a giggling dolphin. I have never met anyone who laughs so strangely and so constantly so much so that the other passengers around me were giving me that sympathetic grin – amused by her laughing but glad the nutter is next to me! I eat my last Indian meal and wash it down with a delicious and warming red wine.
Staring out of the window – I see the most beautiful clouds I have ever seen. They are huge and more fluffy than any I have noticed before – real cotton wool buds. In my sketch book I record a few memories, doodles.
I pass through customs wondering what will happen if they find my appendix and cyst in the birdcage I have brought back – well it is mine I think – it came with me on the way out so I may as well bring it back!
David is waiting for me in the arrival lounge with a big smile and drives me home in my good ole white van. He has brought me blankets and munchies.
I drift in and out of sleep noticing the first sites of England: the tree lined streets with shrubs of varying greens and a mixture of textures, the silent roads – where is all the beeping. The polite and patient driving, sticking to one side of the road, neatly fitting in between the painted white lines.
The people look pale, plump and pinched. They move with a speed like mice and a stressful look on their faces, there are cats, lots of cats on the smaller streets, fluffy and smug, the dogs well fed and clean. My first taste of home cooked food is delicious. I rest and rest and rest.