Anne Schwegmann-Fielding
An English Artist in india........
Posted by Anne Schwegmann-Fielding on 16th February 2008
Week two - More meeting people and seeing beautiful things.
Junk shops, birdcages, bangles and utensils 11/02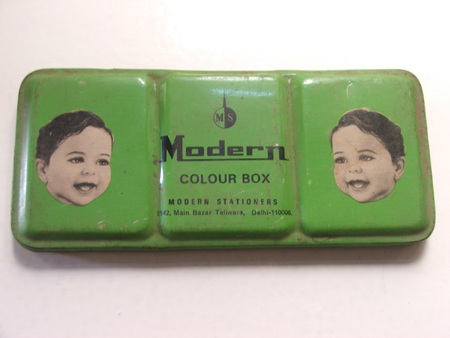 Started in an old furniture shop - warehouse really and saw some ancient paint pots, milk churns, tea kettles, enamel matchbox holders, wooden shoes and just amazing little objects. wasn't given much space though to look as had at least two men following me round wanting to mark everything i had looked at to price up and I mean UP! ended up just getting a beautiful childrens paint set - gorgeous 50's font and wonderful green - but will go back as i think the utensils may play a big part in any work i might make. Saw the first slums on returning - homes made from hessian, string and tarpaulin with a bamboo framework and out from them emerges colourful women, half dressed children and rocking men sitting around staring into nothingness.
The afternoon was really packed - and quite hilarious - think there was some kind of funny drug going around only issued on a monday...Met a group of weavers who entertained us, one suggesting she should return with me in my rucksack! Wandered round Manek Chowk area and saw all the wonderful utensil shops - sparkling aluminium next to dulling copper. Everything is right out in the open which I love. The electrical repairman has what appears to be a big cupboard in the wall from which he operates. People stitch and peel, chop and grind, repair and alter all in full view of anyone passing by. It's so industrious! But then people also sleep just about anywhere - in their shop, or rickshaw - on a cart along the busy streets...
We got rather obsessed with the bangle and bindi stall and the owner kept giving me gifts - i did buy quite a bit - very plastic and tacky - but in a good way!? and some wonderful birdcages - watching them make them along the street...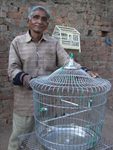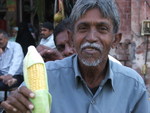 Then were the huge red carrots and the corn on the cob with windows in - chap kindly posing for a photo - much to the amusement of everyone around!
At Asal - the organic shop where the smells were beautiful, oil lamps hanging from the ceiling in the electricity free shop. wonderful things and my first health advice from ayurvedic cook!
Exhausted for the first time.
Health, NID and the Gufa 12/02
Discussed my bowel movements with what seemed to be half of Ahmedabad at an early morning trip to an ayurvedic doctor! Never had such a public consultation before - in the flat, with the door open Tanvi, the other artist and our driver Johnny with about 6 other patients all now knowing the history and extent of my pain and digestive functions! Mmm - going to live on ghee and non-basmati rice for a few days - will see if it helps.
Ok - back to the art...went along to the NID very formal, met a couple of tutors - spent quite a bit of time with Errol Pirez - and amazing weaver - look him up - and he has actually been to my home town of Colchester - which I found quite amazing. Turns out he knows fellow weaver, Nayland's Peter Collingwood. He had some really good suggestions of where to look for inspiration.
Then onto an amazing place - out in the wilderness somewhere called Platypus - ex students from NID have set up an amazing place - lovely design of curved metal roofs, shady outdoor work spaces for looms and other work and workshops separated by trees. all kinds of activities going on but really resourceful - reusing the plastic sheets of industrial offcuts as well as street waste to make all kinds of accessories.
Johny our driver was fantastic - speaks really good english and more of a guide really - on seeing my postcard he drove us to Gufa - cave by architect doshi and painter MF Hussain. This is a Gaudi meets Niki de Saint Phalle type structure. White ceramic Mosaic on the outside, cement curving pillars on the inside with primary coloured paintings covering the ceiling - hints of Miro. A really packed day and then off for a delicious dinner at Anupa's and conversations of art, food and discrimination.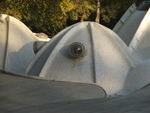 SEWA 13/02
A morning visit to the SEWA factory - self employed womens association - interesting organisation which is a union based on the idea that poor women need organisation not aid - bought a few gorgeous things from the shop including a copper bracelet - which resembles a richard serra sculpture!
An afternoon to relax, catch up and take stock. Then an evening visit to Arts Reverie by painter Shanti Panchal and a few family members. Really good to catch up with him - check out his website, beautiful work www.shantipanchal.com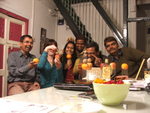 NIFT, Blockmakers and Kurmarao 14/02
Met up with Lokesh again this time a trip to Nift in the gujarati capital of Ghandhinagar, where we met and chatted with fashion and textile students. Went on via some truly amazing roundabouts (Britain can learn from here), to visit an amazing blockmaker - the highlight for me seeing hime drilling the holes using a rope wrapped around his leg, a bradawl and piece of wood to make a drill.Great workshop too and really beautiful intricate designs.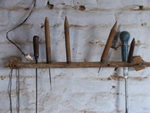 Then met an amazing weaver. He has several looms and uses thin paper sheets, plasic, newpaper to make divine hangings for screens and room dividers. Really talented - beautiful colours and the edgings are all unique. With the quality of weaving i have seen - wonder if i will turn into a weaver before my return!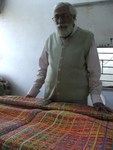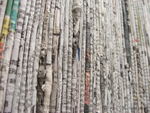 Brief visit to a beautiful mosque and then quick snack at swarti - happy valentines day to all!
Day of rest, writing and experimenting and my first Indian Preview 15/02
Have seen so much in just a short time and still have a lot more to see - and do.
Ideas have already started - looking at the space where a building once stood outside arts reverie - playing with the idea of line and space - outside and inside solid and empty - also interested in the utensils - the old and new, functional and decorative.
Ceramics private view in the evening curated by sculptor Trupti Patel. Lovely evening really interesting work from a range of era's and even bigger range of artists. From quite functional to sculptural - some lovely pieces - works by one whole family - whose name i forget - but lovely people - beginning with A! Much the same as the British private views - lots of well dressed slightly arty looking people talking lots and occassionally managing to see the artwork amongst the throng of people. Only difference is the chai and biscuits compared to our wine and nibbles!
Off to the villages - from 18/02
Am off to Bhuj next week for one week to meet with various people during a crafts festival. Have booked a mud and mirror workshop which I am really looking forward to - reminds me of the old essex pargeting technique, (without the mirror). will be a big and inspiring week so lots of photos and notes to come.....