Anne Schwegmann-Fielding
Week Three - Kutch, a week of beauty and of pain
Posted by Anne Schwegmann-Fielding on 10th March 2008
The lush green Banni Skirting the Rann of Kaachchh.
Where wells burst with water,
Green grasses bloom in heavenly gardens,
Robust, muscular are the cows and the buffaloes,
No dearth or milk and butter, Where the sun rises
With the churning of buttermilk
Poet Duleray Karani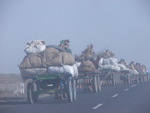 Monday 18/02/08
Journey to Bhuj/ Shaam e Sarhad
7am start and a 6 hour drive. Leaving Ahmedabad the streets are a little less busy, women on the outskirts carry huge pots of water on their heads – and families warm themselves by small fires on the roadside. Interspersed with this are huge hard edge grey houses, all walled with elaborate and rather menacing gates. With each sits a flashy white car. As the day begins dusty black buffalo increase in their numbers along the roadside, I drift off to sleep.
At the first stop a sign for "Jents" makes me smile – should document all the amusing mis- spellings I have seen. Then a young man drags his bent leg along the ground, pulling himself along by his hands, sadly a familiar site but still shocking to think this poor guy is destined to a life where he has to drag himself through the dirt and dust.
Unfortunately the driver speaks practically no English which proves to be very frustrating as the week continues….
We pass by fields of cotton, cotton pickers – huge salt mountains and castor oil plants. The temperature is rapidly increasing. The horns of the lorries becoming more tuneful – one is turned right over, its load of clay roof tiles scattered across the road.
I finally realise that they actually drive on the left here – all this time with the rickshaw driver sitting in the middle and traffic coming in all directions there doesn't seem to be a "side" in Ahmedabad. We pass a checkpoint where the policeman doesn't even raise his head as we pass, a little further are dozens of sweet chalet style buildings – called bashau? All built by the government following the devastating earthquake of 2001 which killed around 15,000 people in Bhuj alone. I continue to see the results of this disaster in various villages.
My first visit is to a palace, Prag Mahal, partially destroyed by the earthquake – deserted but looks like a setting for any good ghost story as still has signs of inhabitants; the rotting and pigeon poop covered heads of stags and hippos stare out at you, the chandeliers look like they have survived a shoot out and the ceiling is coming away in chunks. In one room a huge velvet red sofa awaits the return of the king. All very surreal. As is the museum next door – full of beautiful glass work and engraved/embossed metals.
I need to obtain a permit for visiting the various villages – as kutch borders with Pakistan. The permit office is a very male, authoritarian government building, strange experience but all over very quickly and then it is off to meet Abdul Mara of Kutchi mud art – or rather Raffiq his son as I later find out. He agrees for me to come along and work with them on Wednesday. Great workshop. About 5 family members all working on the floor, on their laps, on little low tables. There are about 13 people working in total – a real cottage industry.
We begin another journey along remote dusty roads – I get the feeling I have been here before – strange sense of déjà vu. Much to my surprise we arrive at Shaam e Sarhad www.hodka.in – when I think we are meeting Meera, a contact who may help me set up a real mud and mirror workshop. One of many misunderstandings… After initial disappointment, I settle for the evening. This resort is beautiful. In the village of Hodka – it is along a deserted track and is a cluster of bhungas – the traditional circular mud and dung huts with tents. Shaam e Sarhad means "sunset on the border" and the resort is owned, built and managed by the very welcoming Hodka commumity.
My room is a tent built half way with the mud construction – the ensuite showeroom is an adjoining tent with mud and mirror work all around the sink. This place is heavenly. The restaurant is outside but under cover – people are painting everywhere in anticipation of the arrival of the chief minister. There is mud and mirror work and the typical terracotta patterned paintwork of the area – slightly aboriginal in appearance. Dinner is served over clay pots filled with hot coal. All looks and tastes good but I will suffer later – all that wheat and nightshade! Following the meal Is entertainment – singing and music by local musicians whilst lying under the stars in cushion covered bed.
Tuesday 19/02/08
Tera via Nirona/Kala Raksha…
We pass by dozens of camels carrying heavy loads of fabrics wrapped in Hessian sacks – one or two men sitting in each cart – all on their way to the craft festival at Dhordo. We visit the small village of Tera via Nirona and visit the copper bell maker, as I sit watching him work a baby goat appears at the window – only 5 days old! I realise my bargaining skills are non existent as the grins indicate they have a good deal and then when the son suddenly appears at our car sneakily giving the driver a wad of notes I feel really uncomfortable – but guess this is how things work here – give the driver a cut if he has brought a dumb tourist to you? Hmmmm
Then onto see the last remaining family who work on the art of rogan painting – using castor oil and pigment it makes a permanent fabric dye. It is a wonderful process to watch. The palette is one colour on the hand – a stick is twisted into the pigment and it is drizzled into the design directly onto the fabric. The next stop is equally fascinating to watch – laquered wood work on a lathe operated by hands and feet. By using pieces of coloured tree laq intricate designs are worked onto the wood – giving it an enamelled quality which is instantly permanent and waterproof. Unfortunately had a big spasm giving me a lot of pain so we had to leave rather abruptly – much to the surprise and confusion of the people.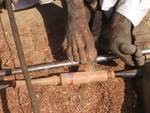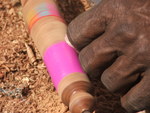 Then move on to Kala Raksha – there are police everywhere – they look like Stalin with the heavy moustaches and austere look. Kala Raksha www.kala-raksha.org at Sumrasar Sheikh is a trust promoting and preserving the arts of Kutch. Here I see all sorts of embroidery – rabari, Garasia jat,and Suf. Beautiful quality work.
Then onto Gandhi na gua – although not totally sure it was – could have been another misunderstanding! Go to my first proper Bhunga – totally decorated with mud and mirror work – the cooker, the walls, the doorway. The whole building is beautified with colour and texture. Where the mud meets the straw roof is a shelf holding copper and brass water carriers and other pots. It seems the woman is selling practically everything in the house – she is quite bossy which amuses me and when she thrusts a bangle onto me which I announce is heavy she merely retorts no this is heavy and thrusts her ankle at me with an anklet that must feel like she has a can of beans on her foot! She has beautifully embroidered clothes on, huge gold earings and bangles up to her elbows which tinkle as she moves. There are also several policewoman with me to add to the entertainment – all dressed in tan sari's they try to encourage me to part with my jewellery as gifts to them.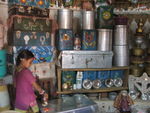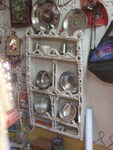 Still finding it difficult to explain my food allergies back at the resort – again driver doesn't understand and feeling more like I should have travelled by bus and got a guide in Bhuj who speaks a bit more English – am trying hard with my gujarati but realising it is not actually the language that is making it difficult to communicate. Chat and share jokes with Susie Miller and husband Elon back at the resort – who share the same problems with their driver. The staff are all frantically painting to prepare for the chief ministers visit. I get the chance to paint on the wall which I love – they let me paint a whole side but under the watchful eye of two of the men. Think they are bemused by the idea that I should want to do this but it makes my evening!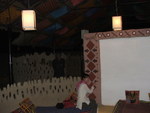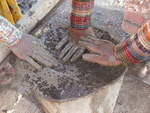 Wednesday 20/02/08
Bhuj Abdul Mara – Mud/Mirror workshop
Leave the resort after seeing the women mix mud and dung to re – prepare the flooring. They mix with their hands in buckets of dung their coloured bangels covered in the stuff. – No aprons or anything! Arrive at Hotel Prince only – my booking was not confimed and after half an hour of waiting I end up at Hotel Ilark – which turns out to be a blessing – much nicer hotel and fantastic food!
At the workshop, the Mara family www.kutchimudart.com are all really helpful – showing me techniques. Although not the real mud and mirror materials it is a similar process, just using white clay and is rather more commercial. Instructions are given in gestures which works fine – later when Brer, the grandson arrives I have instructions in English – which is a great help. On seeing my work Abdul whisks me off in his jeep to visit some of the sites he has worked on. The first, named "The Farmhouse" is a guesthouse for business people. It is decorated throughout with mud and mirror work along with carefully selected antiques – a bit of a luxury villa let out to guests and people in the firm. Outside is a fountain, camel bench and lookout tower. Turns out this is the guy responsible for the giant tap fountains I see dotted about. The next stop is a huge fountain in a back garden. This place is a mansion. The fountain is clusters of coloured stones built up quite crudely looking like some kind of volcanic structure. The walls around the garden are high and the tops covered with broken glass. Hamid, the owner is a politician and he invites us into the house for chai where I meet his wife Tara. She is the daughter of an Irish nurse and Indian doctor and she shows me family photos whilst giving me a tour of the house. I feel so welcomed. It is like that with everyone – people cannot do enough to help you! The house has ceilings decorated with mud and mirror and uses colours seen on many saris.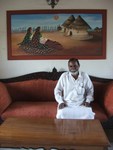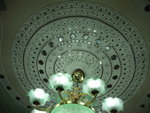 The remainder of my evening is spent at Hotel Ilark. Wonderful food followed by relaxation in the form of a good old chick flick on the telly,"You've got mail"… before another sleepless night.
Thursday 21/02/08
Workshop and Khamir
The morning is spent continuing with my two panels. I visit Meera at Khamir – and feel disappointed we didn't meet on the Monday as planned – it has been hard to get together since that first day. The set up at khamir is good. They have a new venue a shop and workshop space with looms and dyeing facilities,sorting rooms – it is still growing as they only moved to this site a few months ago. Useful chatting with Meera about possible ways of working together – meet with some of the workers there and engage in a lengthy and interesting dialogue about keeping tradition going. People provide beautiful photo opps for the tourists, they in turn buy a few things and off they go. The villagers are still poor. Is this right? Should we protect and retain the culture and tradition at the expense of the people who hold that tradition by the work they produce with their own hands. There were no answers just lots of questions and we ran out of time. It is a discussion I would like to continue and one which is close to my heart. The objects I build on – are often handmade objects or tools used to create such things, by making these objects decorative I play with the notion that the handicraft is lost – from our society more so – it is something that I have grown to love in Kutch. So many craft skills are here – so many things are made beautiful – initially making things for themselves, their dowry, their family –clothes, utensils, toys – even the Lippan kam – the mud and mirror was used to reflect light into these dark circular homes. Everything is decorative but remains functional. My work is the opposite – it was functional and is now decorative. I need to think more on this as there may be a link just in this aspect……….time to drift…………….
Get taken to Nature cure clinic by Abdul when he hears of my ongoing pain. The ayurvedic doctor there suggests I get an ultrasound scan quite soon and that I may have 3 things wrong – wasn't quite right with diagnosis but was with the number of things as I find out in a weeks time…
Following this Brer and Akim show me the alladin's cave where I can but mirrors from. This will be used with ideas I want to experiment with in Ahmedabad as well as taking back to the uk. They have tiny circular mirrors – hard to locate in the uk.
Back at Hotel Ilark I bump into Susie and Elon and catch up – they sacked their old guide and have a new wonderful one – think I might trade….
Friday 22/02/08
Kutch craft festival (not) and Khamir
Head off to dhordo for the craft festival bright and early. Wondering why all the cars and police are going in the opposite direction. We arrive and it is all over!! The main reason I came in this week was because of the craft festival and I missed it. The driver tells me (I think) I should have gone yesterday and goes on about the itinerary – my frustration is too much – why did he not tell me this if he knew it was finishing early. I feel sick in my stomach at the thought. Even the villages we visited hardly had anything there for me to see as they were all at the festival and now I am there it has all gone. Visit a few other artisans nearby– and I arrange to meet Pankaj from Khamir www.khamir.org – again a regret that we weren't in touch earlier in the week.
Pankaj and Meena are really helpful. We discuss their work, my work and possibilities for working together again with the mud and mirror work but on visiting the hindusthan craft village meet other makers and realise potential for collaboration is much greater. Spend much of the money I was saving for the craft festival, so feel the day has not been wasted as this was much more beneficial.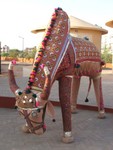 The day was a long one and with my driver frustrated once more – I too had had enough. My pain was aggrevated by the endless bumpy roads and speedy driving. Felt like my insides would explode so by the time we arrive in Tera it is pitch black and I am hanging onto my stomach. All I can see are endless winding narrow paths, a huge gateway and high walls, looking like a fort. All I know is that we are in the far north of Kutch. On arrival I practically fall out of the car and can barely walk with pain and exhaustion. I am lead to my room by a really kind guy who brings me pain killers, ayurvedic balm and chai. I break into tears exhausted with the pain as the door closes. I rest for a while then venture into the compound. I am at KERC Kutch ecological research centre in Tera. www.corbettfoundation.org
The guy who greeted me earlier, Dharmanad tells me all about the centre, asks about my work and my pain and puts me at ease. I have a delicious dinner with lots of vegetables followed by paan? a sweet I grow to love and head for bed. On finally falling asleep I am woken by two singers – sounds like a serious pa system. It starts around 2am and continues through the night. It is really good singing as well – and I wonder if it would be ok to crash the party only can't quite drag myself out of bed.
Saturday 23/02/08
Tera to Mandvi and beautiful beach
The morning brings a much lighter day. My body is on slow down and I feel incapable of doing anything remotely demanding. Darmanand shows me and my driver around the village. We see the old palace – another dwelling ruined by the earthquake, now a luxury home for bats. We see a four hour old baby cow and its mother – a woman appears next to them – she is the queen of Tera (More amusing when said out loud). So this is the queen's cow, I feel pleased. The village is 500 years old and used to be a busy port – now a heritage village it is slow getting back on its feet.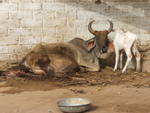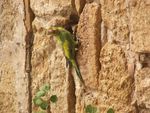 We pass a boys primary school and after expressing an interest we are invited in by the headmaster. I enquire about their art activities, and am shown a range of books – lots of collaged images of gods and Indian symbols, stamps carefully arranged in the shape of letters. Interesting as this is the age when in the west art is so free – children draw before they write – it is the ultimate in personal expression yet that doesn't seem to exist here. I am then taken around each classroom. Rows of smiling, staring boys sit on hard wooden benches clutching liitle slate blackboards on their laps. There are no tables, all the resources are made by hand. I am given a beautiful orange garland made from sweet wrappers. After I point out some drawings of yoga positions I am then given a demonstration by the students outside – there is no hall. What a wonderful school. We drink chai and I take their postal address, no email as yet. I want to keep in touch – they seem such a happy school, yet have so little. I am moved.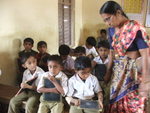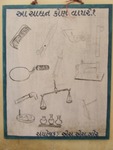 Back at the centre, I meet Bhjavesh, the director – who also spends time telling me about the centre, discussing my work and health. KERC is involved in all kinds of activities from medical programmes to eco tourism, they have a vet and seems v popular with ornithologists.
We discuss a variety of topics, including re using, recycling and natural adhesives. As a result of this, I am given a pot of neem gum – collected off the tree in front of me. I have yet to try it out.
We drive onto Mandvi at a much calmer pace. This "luxury" tented resort just by the beach is my bed for the night. The tents are quite grand, the staff are friendly – it is suggested I visit the palace – should have just gone straight to the beach! I decide to walk to the palace – Vijay villas. What a waste of time! A strange set up where it seems the ground floor is open to the public and prince or king live upstairs. The ground floor is not terribly grand with not much to look at and all looks a bit run down – I hunt for something of interest. I find what looks like a bullet hole and endless photos of moustacheod, turban wearing or capped men standing over one kind of dead big cat or another. Each stands proudly holding their gun – I begin to wonder if it is the same tiger in all the photos…I walk up to the roof – with its "intoxicating view" and head back to my tent.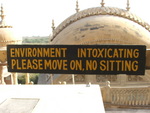 I walk along to the beach where a large Indian family are playing catch. I walk straight to the water, as being from the coast it is something I am unable to resist. I roll my trousers up as high as they will go and walk through the water until I am out of site. But this is not enough – I need to swim! I head back to the tent and change – I figure if I get out of sight the staring will be less. When I return to the beach it is deserted and the tide is going out. I get straight into the water and stay in there watching the sun set. It is now early evening so the water is not warm but not as cold as our british waters. I have the whole beach to myself, It is divine, I cannot stop smiling – I want to stay in the water forever but start to get cold. Dinner is at the restauarant on the beach, I eat meat for the first time in nearly two months. On returning to the tent, my bedside light has been switched on and there is a bulging hot water bottle in the bed – how wonderful! The pain still keeps me awake but I feel happier after my swim. I text my parents – they have been married 45 years today – Happy anniversary!
Sunday 24/02/08
Judy Frater, Kala Raksha Design School, Tundah and home……………..
I meet Judy Frater – bit of a legend in the area at the design school. There are visiting artists running workshops also there and two other women connected with textile museums. We watch Lakmirbhai as he spins by hand black sheeps wool. We all watch for what seems like hours as he spins and spins – his necklace also is made in the same process. We then have a line up of the three generations of suns – all artisans and we promptly turn into paparazzi.
We visit Tundah and see some really marvellous mud and mirror work – much thicker than previous things I have seen, better quality, more sculptural with the little krshna heads on top of relevant points. The women are welcoming and perform for us showing off their various embroideries and outfits. I try on a choli a heavily embroidered rabari top. With stars over the boobs – It is gorgeous but a little tight around the chest. Much to my surprise I am helped into it by one of the women after a small yelp of shock is released from my mouth we all erupt in laughter! Girls the same the world over…I buy it and I love it. It is perhaps my most treasured purchase yet.
We visit the pot makers and are given a lengthy demonstration of making – again all very low tech – but so fast and with such ease and good humour. I would love a water pot but they are huge so I select one as a gift for Arts Reverie.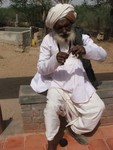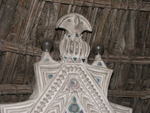 I have to ensure to the driver I would rather stay here than visit the metal worker he wants me to see – probably to get another cut of money, but this is far more useful. I talk with Judy about possible collaborations – it would probably be in Tundah. Really want to work on an actual building. We head back to Ahmedabad – a very, very long and uncomfortable journey home. Kutch has been amazing – I am ready to return and digest all I have seen and learned I am also ready for some rest and to be in one place for a while. I am exhausted and know I need to sort this pain out once and for all!