Gill Wilson
Residency at Sanskriti Pratishthan
Posted by Gill Wilson on 6th March 2007
20th February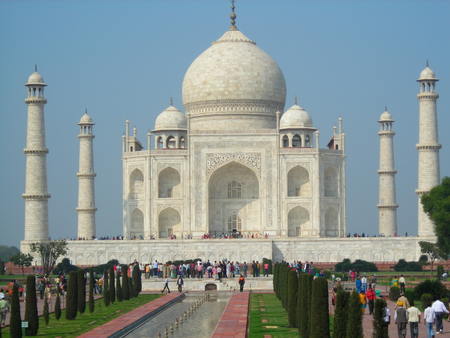 Agra and The Taj Mahal
Day Visit to Akbar's Mausoleum, Agra Fort and the Taj Mahal The most extravagant monument ever built for love.
A days coach trip from Delhi - very frustrating - too much in one day (see images)
Half Way Point
It's now about half way through my time in India. The trips out of Delhi have been exhausting - there are so many aspects to watch out for that it is difficult to relax and enjoy things - the persistent touts, the rickshaw-wallahs and the tourist shops. There is now a limited amount of time left on the residency and deciding what is the most important things to do is very difficult. Looking back on early images of my room at Sanskriti reminds me how long ago that seems now and how much has changed. I have done some studio work but my visits to other places have also been very important and valuable. Two of the current group of artists are planning to go on a six day trip to see some of the finest Temples in India and I plan to travel with them with them. I have part of this week left to do some more experimental pieces before I go.
Paper Company
Today I visited two people who work with paper - they run a company in Delhi which operates as a wholesaler of papers and paper products. This meeting was really interesting and stimulating - as well as making and printing paper they were also developing new products for the market all based on recycled paper. Waste from the papers were being cut into strips and spun around a thread - these were all colour coded. The paper threads were being woven into fabric and used for book covers, rugs, accessories etc. The work was innovative - sometimes using college students to work on specific projects to help develop new ways of using the threads or pulps. They have developed a thriving business in the development of new techniques and processes with paper using traditional knowledge and Indian workshops including papermaking and weaving. They suggested that we could visit a paper workshop in Sanganar in March to see the work being produced.
Paper Artist 25th February
Several days have gone by and the focus on recording seems to have faded. I have made several trips - to see exhibitions, private views, a ceramic village and a paper artist, who was the most interesting. Manisha Parekh works in Delhi and we met her in a flat that she uses as a studio - this meeting was really inspiring. She works with paper in a similar way to myself but with handmade papers. She spent two years at the Royal College in London so we were able to communicate easily and chat about work, life, possibilities etc. She has just had an exhibition in London. I suggested she visit us before we go back home and it would be great to keep in touch with her after that.
Ceramic Village
We visited a ceramic village about 100 miles from Delhi.
--------------------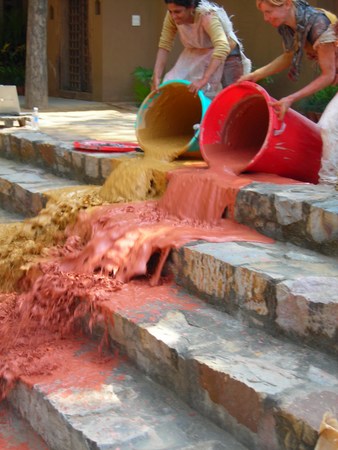 Clay Dance - two dance artists from the USA, Rachel and Patty, put on an experimental dance piece. (see more images)
Temple Trip
Travelled to Gwallior with four artists from Sanskriti to see the Temples. The journey was interesting - the weather being warm and sunny made the areas look better than the trip to Amritzer. Near Gwallior the landscape suddenly changed from flat landscape as far as the eye can see to sand hills. We visited the fort at Gwalior - one and three quarter miles long from north to south. The fort contains eight tanks, six palaces and six temples. It was a very hot sunny day and the fort was quiet: the stone was all soft tones of reddish ochre and the sky was blue. All elements I think of as being aspects of a magical experience.
Man Mandir - One of the six palaces, 4 are Hindi the other two Muslim. The palace walls were inlaid with enamel tiles, forming bands of mosaic and conventional figures of men, ducks, elephants, tigers and plantain trees. Sas-Bahu Temple - Mother in Law and Daughter in Law temple
Teli Ka Mandir Temple
Stayed at the Ushakiran Palace Gwallior
………lost track at this point (see images) …..this trip has taught me so much more about India, about the people the landscape…we also visited a paper workshop at Orchha. (see images)
5th March 2007
Now lost track of the last trip and have been back for three days, I am starting to feel the pressure, want to travel and squeeze more things into the trip but am aware that time is creeping on - its under three weeks to chat week. Jeremy is e-mailing us about an exhibition at the British Council in Delhi !! The non output driven project somehow looks different. Hanne and I, despite the increasing pressure, plan a trip to Ahmedabad, Anupa at Arts Reverie has planned an itinerary which looks really interesting which includes a visit to a paper workshop.
Studio work is difficult to pick up again - it always takes time - this week I will focus on some experimental work: I decide that the time and the experience gained by meeting so many different artists here has created new sense of opening up to ideas, of thinking laterally and of playing with new ideas.
6th March 2007
We go on a trip to the temples in Old Delhi - the markets and the spice market.
Posted by Gill Wilson on 19th February 2007
11th February Rain, Rain, Rain
It has rained for two days now - everywhere is flooded, everything changed: it's dark, cold and damp everywhere. We are hopeful that it will only last for 3 days (that's what we have been told) before the sun comes out again - the dry 'pond' areas are now flooded with water (drained earlier because of outbreaks of Dengi fever). I have been paper casting old woodblocks that I bought yesterday in Haus Kaus Village (small area in South Delhi) in the antique shops. The older textile woodblocks are more abstract in form and could lead to further possibilities.
We are setting off early tomorrow to Chandigarh to see Nek Chands Rock garden and to Amritsar to see the Golden Temple. I am really excited about traveling out of Delhi and seeing the countryside on the way. We are traveling by taxi.
More Rain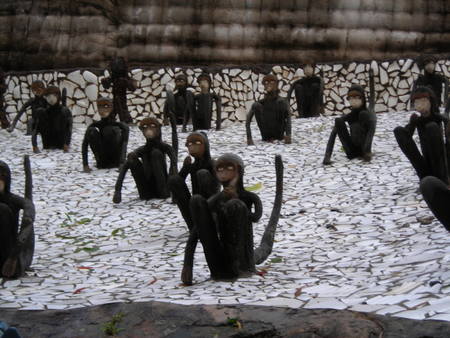 Nek Chands Rock Garden in Chandigarh - 12th February
Nek Chand worked under cover of darkness for eighteen years to create his secret place - a clearing in the jungle, stealing away at the end of his working day as a roads inspector. It was there he created the groups of sculpted men and women, imaginary creatures, bears and monkeys. He scavenged discarded urban debris and transported hand picked stones from nearby hills on his bicycle in order to construct the characters that inhabited his realised dream of a kingdom of gods and goddesses. The place is much more surreal than I imagined it would be. (see images)
Amritzar 14th February
Traveled up in torrential rain - lorries stuck at the side of the road in deep water, mud everywhere because the roads are all unfinished the mud soon gets churned up. Amritsar is very busy: the mud gives it a feeling of a city that was once quite rich but now what's left of it's interesting architecture seems beyond repair. There are far more rickshaws and bicycles than Delhi. As westerners we seek out more recognisable places to eat - this proves difficult, as several seem to have closed. We find a place called Crystal Palace that has Chinese, Indian and Italian food. Eating is always an extra anxiety when away from Sanskriti and the potential of diarrhea and sickness never far away!
We visited the Golden Temple which is the holiest shrine of the Sikh religion. It was very spiritual: washing feet and covering your head means that you walk around on marble walkways which helps create a sense of calm. We spent time in the two-storey temple, which stands in the middle of the sacred pool. The architecture is a mix of Hindu and Muslim styles. The golden dome is gilded with pure gold. Priests keep up continuous chant in Punjabi from the Sikh's holy book. We take time here to enjoy the meditative sense of the place, its quite magical.
We also visit Jallianwala Bagh, where 2000 Indians were killed or wounded by the British in 1919. This massacre was a major landmark in India's struggle for Independence.
In the evening we went to see the closing of the Indian and Pakistan border. It is a ceremony of pure theatre conducted with lots of posturing. The 'stage' is divided by two sets of gates, one for each country with the national flag fluttering. A squad from each side parades up and down in front of its audience, stamping its feet, yelling and scowling at the other side. The gates are flung open. The commanding officers march up to each other and perform a short handshake and salute. Bugles blow and the flags are lowered slowly so no flag is higher than the other implying a national superiority. The flag is folded and marched back to the guardroom. The gates are closed and the audience who have been chanting throughout surge onto the road to be photographed.
Sanskriti 16th February
It's quite strange to be back at Sanskriti - it seems like home in some ways but also being back brings a sense of 'what next'? It's important for me to structure time and I wonder if this is a way of hoping time passes quickly. Planning to travel again could seem like willing the time away. This is now the half way point and it increases the pressure slightly - what do I want to achieve before I go home? What do I still want to see in India?
Its good to see the work I produced before we went away and reflect on what I think works and what I want to do next. It's also good to catch up with what others are doing. The two American artists, Paddy and Rachel, have been gathering large amounts of coloured clays and dried powdered clay for their performance - different areas of the ground are covered then the moisture seeps through and the surface of the clay cracks, ready for their feet to trace the movement of dance. Experiencing different work encourages me to think differently and open up to new approaches and ideas. It has also made me reflect on what is important within a studio group and wonder if the studio group at home could encourage more discussion and collaborative work.
A group of neurosurgeons hires Sanskriti for a performance and dinner. A group of three dancers take the stage and part way through the electricity fails and the dancing has to stop. Sanskriti is 'dressed' for the occasion and looks wonderful. The use of flowers to adorn the different area is really magical (see images).
Posted by Gill Wilson on 13th February 2007
More Magic 7th February
Wonderful day today - went to the 21st Surajkund Crafts Mela on the outskirts of Delhi. It was a mad riot of colour and hundreds of stalls were selling craft products from Andhra Pradesh. I bought some fabrics that are really beautiful, hand embroidered, ikat, tie dye, wood block printed. The images speak for themselves, the people were lovely always smiling and helpful, bands helped to add to the atmosphere. I also attempted to photograph the journey back as it really described what Delhi is like -some are out of focus but that also shows the busy, lively nature of the place.
(See new images)
Posted by Gill Wilson on 7th February 2007
Panzania
We went to see the movie 'Panzania' - the Palestinian writer at Sanskriti recommended we saw it. I found it really shocking. The story revolved around the mass killings of the Muslim population of Gujarat in 2002. The mass killings started when 59 people were killed in a fire onboard a train in Gujarat. Many passengers were Hindu rightwing militants returning from an anti Muslim rally. Some of these militants had been harassing Muslim vendors and passengers at the station in the town of Godhra 15 minutes earlier. A mob of 1000 Muslims gathered to throw stones at the train and one of the coaches went up in flames, 58 helpless passengers 20 men, 26 women, 12 children were burnt alive. Hindu rightwing militants and the government of Gujarat used the pretext of avenging those killed at Godhra to launch a parliamentary assault on the entire Muslim population of the state - over 2000 people were killed, tens of thousands maimed, hundreds raped or sexually tortured, and as many as 100,000 made homeless. The attacks were the result of systematic, detailed, military style planning. The gangs led by the Hindu right carried computer printouts listing Muslim homes and businesses which were burned and demolished while Hindu owned buildings next door were left untouched. All of this was carried out with the complicity, assistance, and in many cases participation of state officials and police.
The film showed this atrocity based around one main family who lost their son. It was very explicit and clearly communicated the involvement of the government and police. I was shocked to see the audience experiencing this and wondered what affect this would have on public feeling between the Hindu and Muslim communities. Later at Sanskriti we discussed this and it was raised that the film would not be shown in Gujarat as it was too sensitive. This brought it home to me just how recent this happened and how volatile the situation could become. The treatment of women and children seemed so utterly barbaric.
Tuesday 5th February
I have been to see two exhibitions today, both quite inspirational. One in particular brought many things together for me. Anil Revri is an Indian artist working in New York and his exhibition was in the Vadehra Art Gallery in an area of Delhi we had not visited before. It was full of areas of tents - whole villages of them, then in the back streets you come across the gallery, very smart and professional - it's difficult to understand how they all survive next to each other. The artists previous work was a set of sixteen drawings that explored the similarities existing in Buddhism, Christianity, Hinduism, Islam, Judaism and Sikhism, six of the religions practiced today in India.
For this artist, the process of painting is as important as the finished works of art. Therefore it is not surprising to learn that Anil makes his own paper for the geometric abstractions. The base sheets are essentially pulp paintings incorporating cloud-like formations and background colour. Once these have set, the compositions are developed around the existing patterns in the paper to maximise the depth of field. Anil started producing the fractal paintings in 2006 and these were my favourite ones (mixed media on linen canvas).
'The islands are all painted in the same colour in a given painting, and the avenues weaving between them are either left blank - thereby allowing the colour and texture of the linen to rise to the surface of the picture- or are painted in a different hue. When there are shifts in tone the paintings flicker with great intensity and gem like effects are achieved.'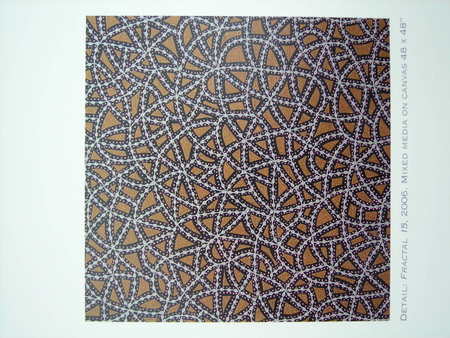 'All over paintings are images in which every area of the composition receives equal attention - in other words all heirarchies are abolished.'
Parallels are also drawn to aboriginal paintings which have dense, surface-stressing patterns. It's the beauty of the paintings that is most amazing - they change in the light and from each direction and intensity with which they are viewed. To me they are also reminiscent of the Indian miniature paintings and the Mithila paintings mentioned earlier.
'Anil Revri's abstract works, offering us views onto realms above and beyond our own, allow us to achieve a state of contemplation. Anil's work is also about process. Countless hours are required to complete these works, and more than one beholder will retrace in his or her own mind the many steps that went into the execution of these compositions.'
'Anil Revri's work invites introspection. In its search for what ties us together across cultures, it is exactly what we need in this age of seemingly greater and greater ignorance, paranoid behaviour and intolerance. Abstraction is after all a universal language.'
Posted by Gill Wilson on 6th February 2007
A new place and a new situation -everything is different, people, place, smells, food, nothing is the same. I have a fear that the work I do at the studio at home is could be calcified: its about me, it's what I stand for and what people associate with me. This new situation throws me – here, no one knows you or what you do, you are just what you are, today, here and now. The fear passes and you get used to it, the group know you as you are here and now with no previous assumptions.
Time is spent thinking and collecting - new things that are novel - I start thinking, writing, drawing - the ideas come: it's about faith and I coincidentally read -
"I have learned that anything is possible. I know that vision or concept will come. Through total risk. Freedom, discipline. I will do it." Eva Hesse
Time becomes the major element in the creative process. I do something, I look at it later – tonight, tomorrow - and it looks different - it changes. It suggests something else, other possibilities; it's a quiet response. It only happens when I am able to be on own - so I feel I must be ruthless about time and space. I am learning about myself - and I think it's about 'facing the fear and doing it anyway', going through it. I also learn from others, I listen, I learn about myself through them. I have observed this happening to others as well Gwin (Australian renound potter) is also experiencing this effect: "I don't have to work in ceramic - I could do something else - but what?"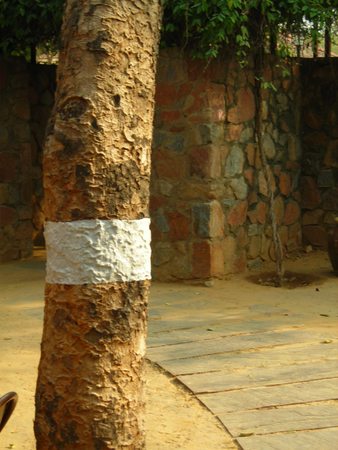 Interventions
I start casting small areas of the trees, the bark is so lovely and each tree is so different. After placing the pulp on the trees I catch sight of them from a distance, they look intriguing in situ, the colours blend or contrast with the environment - they are like quiet interventions - its exciting, I think I'll make some new ones and work across different spaces in the courtyard or on the trees.
(see new images - 'Work in progress at Sanskriti')
Posted by Gill Wilson on 3rd February 2007
I spent some time looking at other artists on the HAT website which has given me more focus and sense of connection. It's strange to be in a place like Sanskriti, so far away from all that is familiar, because the community and it's resident personalities become your reality. There is a certain pressure to be creative and engage in making because of the stimulus of other artists around you. However, this is a world of different artists and their diverse voices rather than our individual direct response to India. The challenge is to be aware of and manage these multiple influences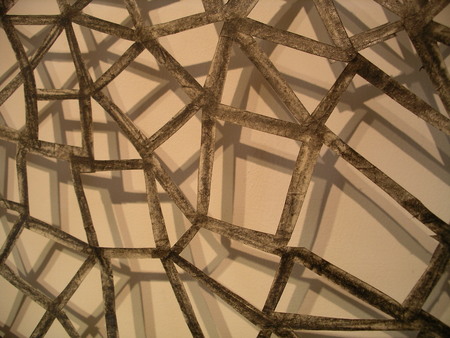 Image: Zarina Harib
I finally got to visit a paper exhibition - paper sculpture by the artist Zarina Harib. She is from Pakistan and I found her work both inspiring and strangely similar to the pieces I have just made. (see images). Zarina works in New York and is showing cast paper sculptures, including geometric shapes - squares and rectangles. The pieces are concerned with paper and architectural form, which has long been a pre-occupation in my own work. Zarina makes her cast pieces from pouring paper slurry as if it were molten metal into deep relief moulds - when the sculpture is to be a geometric one; its mould typically had smaller geometric patterns notched into it. The paper matrix could be pressed further by hand and then set to dry. After it has been removed from its mold, it is sized with mica or metal powder and further surfaced with gold leaf. There are certainly parallels with the work of Zarinas and my own pieces and as some of the pieces were older I am intrigued to know what she is doing now, I may try and contact her.
The artist from Mumbai now at the Harley Foundation also makes paper from natural materials, which she calls 'self made surfaces'. I feel that it could be interesting to talk to her over the web and discuss practice while she is there. She will also have my studio as a resource if she needs equipment.
I intend to address my own personal barriers - start making and arrange expeditions to get out and experience.
Posted by Gill Wilson on 31st January 2007
Friday 26th January
I've kind of been out of it for two days with a head cold - and other non specific ailments. I started to think that I'd never get better again. I slept for really long periods which I never do at home. - apart from the fact that a lizard fell onto my bed from the roof with a bump and woke me up !! It's now lurking under my bed. However, this evening I am feeling better and able to start thinking about some more ideas.
Since my last blog entry we have been to the National Museum of Modern Art, a wedding reception and to the Republic Day Parade, The Museum of Moden Art was mainly an exhibition of Benodebehari Mukherjees' work - an Indian painter who was inspired by Japanese art.
Jaspreet – our co-ordinator at Sanskriti invited Hanne and myself to a wedding reception of a friends daughter. This was a late reception a couple of days after the event. Indian weddings are quite mystifying to westerners. We dressed for the occaision only to be re-dressed by Jaspreet at her home before going along to the reception. Dupatta , the dress, scarf and salwars (the baggy trousers) being the dress code, Jaspreet has many of these and seemed delighted to be able to dress us 'properly'. The wedding was quite an affair - we entered through a long draped tunnel which opened into a huge area draped with pink and white fabric. The couple were standing on a stage in a smaller marquee ready to receive guests. We commented on the fact that the bride did not seem excited or happy to be at the event, although later we did discuss the fact that she may have been at events for many days.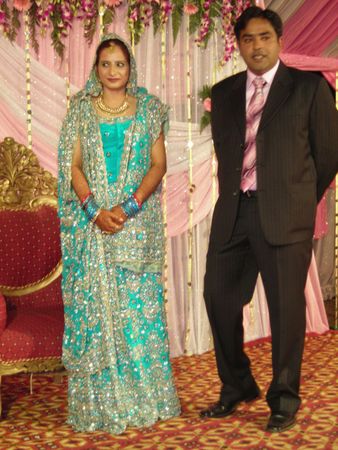 It was also an arranged marriage - not unusual apparently even today. Most marriages are arranged by parents, and in general most men and women do not have to concern themselves with finding a partner, a burden they are quite happy to be relieved of. This arrangement also creates alliances between families - royal, political and commercial. As a rule Indian marriages link families, clans and groups. Parents go to great lengths to find compatible partners for their offspring. They look for an 'attractive and decent character'. Love is regarded as an unreliable basis on which to begin a marriage and is an emotion which is expected to develop over time. Parents do their matchmaking through personal contacts, marriage agencies and newspaper advertisements. Friends with eligible daughters/sons will contact the families. The event we were at was just a small part of the wedding but it must have been very expensive to stage The whole marriage ceremony and dowry must be hugely expensive, displaying the wealth of the men involved (many families take out huge debts and families are ruined as a result of the dowry). The giving and receiving of a dowry is prohibited, but still continues because of its part in social and religious tradition, in family pride and consciousness of social position.
When choosing a partner a light complexion is a most desirable quality in a colour conscious society and many girls are advertised as being a 'whitish' colour.
Middle classes seek their own partners but it is still common to hear of arranged marriages. Jaspreet said her son was happy to have her arrange a suitable marriage partner to take the burden off his shoulders.
Visit to Gurgaon
The local shopping centre of Gurgaon has been built over the last five years, It appears to be the 'future' of shopping in India. Middle classes shop here as a response to Western advertising. The building is a bad example of shopping malls back home, built alongside call centres and commercial buildings which are faceless and expensive. Small stall holders in the markets in Delhi seem to do a much better job and offer much more choice. I am not sure what will happen over the next few years though the younger Indians obviously see the Mall shopping experience as a contemporary choice but it is at total odds with more established traditional retailing. The M&S store prices (goods same prices as at home) seemed ridiculously expensive compared to normal stores and there seemed no point in buying anything.
Posted by Gill Wilson on 16th January 2007
We saw a wonderful exhibition of the work of artists in the Mithila region of Bihar. They have developed a distinct style of Mithila painting and are developing the subjects to include local, national and international politics and most recently, social and feminist criticism. The paintings are vibrant and really inspiring. The work has been recognised by The Ethnic Arts Foundation and exhibited internationally – though this was its first showing in India. The paintings had originally been discovered when an earthquake had damaged the villages of the Mitha region. The exterior walls had collapsed exposing interior murals previously invisible to outsiders. - these were photographed and are now in the British Library in London. These wall paintings were recorded 30 years before painting on paper began. The mud wall surfaces allowed for much larger and more free floating images than possible on sheets of paper now used by the painters. ,p>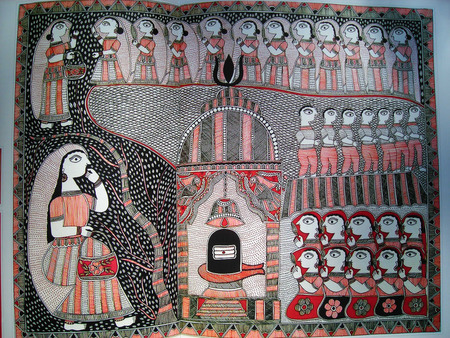 It strikes me looking at the images that the wall paintings are so beautiful because they are painted on the texture of the wall surfaces. This element reminds me of papers that I make from plants which are imbued with the character of the original material.
Today I have also started drawing the trees outside the studio, the shadows are wonderful, the group of trees acts as an installation - the leaves are also very sculptural. Maybe its something about an artist that means when you are not able to work with specialist materials around you, you go back to drawing - if you cant get paper and pen its very frustrating.
I start with a pencil recording the trees and the shadows then photographing them - then collecting the leaves. The trees are beautiful in the morning light when it's misty and soft. They are also lovely against the blue sky - it forms a small sense of magic in this chaotic world.
Posted by Gill Wilson on 14th January 2007
My thoughts during my first few days in India dwell on the contrast between life at Sanskriti and life outside. Sanskriti is very tranquil and beautiful - we have good food and have our own apartments and studios. Outside the boundaries of Sanskriti, in Delhi, life is dominated by the utter abject poverty witnessed everyday as we travel around. This observation is quite humbling. People live at the side of busy roads - the sick lie in makeshift beds without medical attention. Children, sometimes as young as 2-3, are begging at the car when we pull up at junctions. I have never witnessed such scale of poverty before and our lifestyle at Sansriti seems to be an indulgence. Sometimes the thought of what to do creatively whille we are here, and what we need to do to carry it out, seems profoundly trivial and insignificant.
The founder, OP Jain, is greatly respected and extremely knowledgeable about Indian craft of all types and has spent years working to protect traditional Indian crafts and its history.
I will investigate the area and the context before bringing any ideas together - to start anything before doing this does not seem logical or possible. The markets are rich in textiles from all parts of India and lack of any knowledge about this is quite frustrating.
Several days have now gone by and we have experienced many aspects of Delhi. The markets arefull of life and atmosphere, selling everything imaginable. The shopping centres are built to look like western shopping malls for the middle classes – but the architecture is awful and they are surrounded by desperately poor people begging.
The Historical Monuments are struggling to be effectively maintained and efforts to conserve and restore them are patchy. Some historical/cultural remains are not protected at all and have been badly vandalized.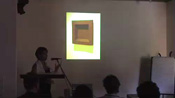 Click on image to open QuickTime movie
"ARTIST'S TALK"

Hanne Rysgaard talks to conference during cHAT week at Sanskriti, Delhi, India. March 2007