Gill Wilson
Residency at Sanskriti Pratishthan
A Movie and an Exhibition
Posted by Gill Wilson on 7th February 2007
Panzania
We went to see the movie 'Panzania' - the Palestinian writer at Sanskriti recommended we saw it. I found it really shocking. The story revolved around the mass killings of the Muslim population of Gujarat in 2002. The mass killings started when 59 people were killed in a fire onboard a train in Gujarat. Many passengers were Hindu rightwing militants returning from an anti Muslim rally. Some of these militants had been harassing Muslim vendors and passengers at the station in the town of Godhra 15 minutes earlier. A mob of 1000 Muslims gathered to throw stones at the train and one of the coaches went up in flames, 58 helpless passengers 20 men, 26 women, 12 children were burnt alive. Hindu rightwing militants and the government of Gujarat used the pretext of avenging those killed at Godhra to launch a parliamentary assault on the entire Muslim population of the state - over 2000 people were killed, tens of thousands maimed, hundreds raped or sexually tortured, and as many as 100,000 made homeless. The attacks were the result of systematic, detailed, military style planning. The gangs led by the Hindu right carried computer printouts listing Muslim homes and businesses which were burned and demolished while Hindu owned buildings next door were left untouched. All of this was carried out with the complicity, assistance, and in many cases participation of state officials and police.
The film showed this atrocity based around one main family who lost their son. It was very explicit and clearly communicated the involvement of the government and police. I was shocked to see the audience experiencing this and wondered what affect this would have on public feeling between the Hindu and Muslim communities. Later at Sanskriti we discussed this and it was raised that the film would not be shown in Gujarat as it was too sensitive. This brought it home to me just how recent this happened and how volatile the situation could become. The treatment of women and children seemed so utterly barbaric.
Tuesday 5th February
I have been to see two exhibitions today, both quite inspirational. One in particular brought many things together for me. Anil Revri is an Indian artist working in New York and his exhibition was in the Vadehra Art Gallery in an area of Delhi we had not visited before. It was full of areas of tents - whole villages of them, then in the back streets you come across the gallery, very smart and professional - it's difficult to understand how they all survive next to each other. The artists previous work was a set of sixteen drawings that explored the similarities existing in Buddhism, Christianity, Hinduism, Islam, Judaism and Sikhism, six of the religions practiced today in India.
For this artist, the process of painting is as important as the finished works of art. Therefore it is not surprising to learn that Anil makes his own paper for the geometric abstractions. The base sheets are essentially pulp paintings incorporating cloud-like formations and background colour. Once these have set, the compositions are developed around the existing patterns in the paper to maximise the depth of field. Anil started producing the fractal paintings in 2006 and these were my favourite ones (mixed media on linen canvas).
'The islands are all painted in the same colour in a given painting, and the avenues weaving between them are either left blank - thereby allowing the colour and texture of the linen to rise to the surface of the picture- or are painted in a different hue. When there are shifts in tone the paintings flicker with great intensity and gem like effects are achieved.'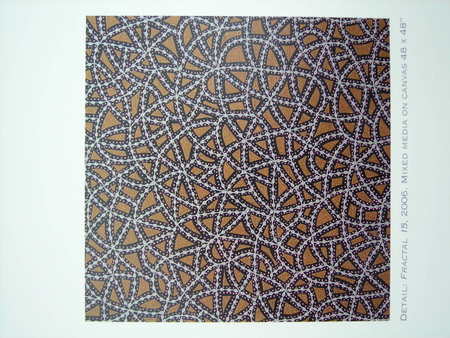 'All over paintings are images in which every area of the composition receives equal attention - in other words all heirarchies are abolished.'
Parallels are also drawn to aboriginal paintings which have dense, surface-stressing patterns. It's the beauty of the paintings that is most amazing - they change in the light and from each direction and intensity with which they are viewed. To me they are also reminiscent of the Indian miniature paintings and the Mithila paintings mentioned earlier.
'Anil Revri's abstract works, offering us views onto realms above and beyond our own, allow us to achieve a state of contemplation. Anil's work is also about process. Countless hours are required to complete these works, and more than one beholder will retrace in his or her own mind the many steps that went into the execution of these compositions.'
'Anil Revri's work invites introspection. In its search for what ties us together across cultures, it is exactly what we need in this age of seemingly greater and greater ignorance, paranoid behaviour and intolerance. Abstraction is after all a universal language.'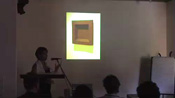 Click on image to open QuickTime movie
"ARTIST'S TALK"

Hanne Rysgaard talks to conference during cHAT week at Sanskriti, Delhi, India. March 2007