Gill Wilson
Residency at Sanskriti Pratishthan
I aim to create pure, environmentally sustainable art works using papermaking techniques which have a tradition spanning many centuries. Known as Washi, it is a process of which results in a natural material of great purity. I studied papermaking in Japan at the beginning of my career and have been inspired by itís creative, cultural and spiritual associations ever since. My work borrows many themes from the Washi process and its eastern traditions, including a respect for ecology and a striving for purity and simplicity. The paper is made exclusively from natural plant fibre, utilising a range of materials including flax, yucca and straw. My installations are intended for contemporary interiors and have been successfully installed in a range of venues. The work, like the material and the process, is based upon a strong design philosophy of purity and quality.
Exhibitions
2005 Paper; 20-21 Visual Arts Centre 2005 Makers Focus - Contemporary Applied Arts 2004 Graft; Studio Show Harley Gallery Welbeck 2003 100% Design 2004 'Paper Paper Paper' exhibition at Fermynwoods. Four selected paper artists. 2003 Chelsea Craft Fair 2003 'Material Spaces' touring exhibition, Tullie House, Carlisle 2002 100% Design 2002 Contemporary Applied Arts: New Makers showcase 2002 Grange Barns Gallery 2001 Chiswick; British Crafts 2001 Chelsea Craft Fair 2001 "Onetree" touring exhibition. 2000 Chiswick; British Crafts 1998 Chelsea Craft Fair 1998 Middlesborough Craft Centre; three month residency, 1997 Rufford Craft Centre 1995 Rufford Craft Centre
Awards and Commissions
2000 Middlesborough Craft Centre (Expanding the Senses). A three month residency and workshop programme 1997 Art House; Ikea Print 1990/- Ongoing Contract Art Commissions for public buildings. 1980 Leverhulme Scholarship for Industrial Design Four months travel in Japan studying papermaking 1979 Hampshire Award
Publications
2001 "Onetree" by Garry Olson and Peter Toaig with a forward by HRH the Prince of Wales. Merrell publishers 2001 2003 "Textile Perspectives in Mixed Media" by Jac Scott. The Crowood Press 2003
Membership Member of IAPMA - International paper group. UK Crafts Council Index of Selected Makers Contemporary Applied Arts, London
Professional activity
2001/- Visiting Lecturer - Nottingham Trent University 2004/- Director - gallerytop, Rowsley Derbyshire 2000/04 Gallery Manager - the Harley Gallery 1998/00 East Midlands Arts - Craft and Design Officer 1992/98 Associate Lecturer - Foundation Studies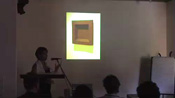 Click on image to open QuickTime movie
"ARTIST'S TALK"

Hanne Rysgaard talks to conference during cHAT week at Sanskriti, Delhi, India. March 2007