Gill Wilson
Residency at Sanskriti Pratishthan
ARTS COUNCIL ENGLAND – INTERNATIONAL RESEARCH FELLOWSHIPS FOR THE CRAFTS. HAT (HERE AND THERE) RESIDENCY PROPOSAL.
Proposal for a three-month residency based at Sanskriti, near Delhi, India, from January to April 2007.
Background: Research and Practice I have been a papermaker for more than 25 years.
My initial interest began at Winchester School of Art when I was subsequently awarded the Leverhulme Award. This involved three months studying papermaking in Japan, visiting workshops and studios to study traditional papermaking. The inspiration I gained through the philosophical purity of the process has resonated through my work ever since.
The process of papermaking has always been central to my work, with its characteristic of taking from nature a pure substance (plant fibre) from which ideas are translated and developed. Essentially the work is concerned with responses to the sensuous nature of the material - the textures and colours as well as the manipulative qualities of pure fibre. This also includes the re-cycling agenda, making political issues about the nature of waste and the value of materials an inevitable context in the new millennium.
I chose to work with pulp because of its diverse possibilities. It is a unique substance, which can be a fine liquid medium or a solid malleable material which has sculptural possibilities. It can be manipulated in a variety of ways through a variety of techniques to produce rich and subtle surface textures and content. Materials can be added to pure plant fibre to extend its cultural references.
The work has developed and been inspired by traditional textile design – weaving and dyeing of materials and then translating them onto canvas to produce abstract statements which concentrate on the subtlety of colour and texture. The pieces are all made to work within interior space and to act as punctuations in a busy chaotic world. As pure organic statements introduced into man-made spaces, they act as counterbalances to the world of technology.
My three-month visit to Japan had a dramatic affect on my practice as an artist. The global context of craft was further underpinned by a two-week research trip to Canada in 2003. This visit had a curatorial focus, but was characterised by the tensions of the ethnic agenda of the Inuit heritage within in an essentially western cultural context.
I am sensitive to the global context of craft through my involvement with IAPMA (the International Association of Hand papermakers and Paper Artists) which is an international organization with more than 400 members from over 40 countries. I have agreed to undertake a significant role during 2007 to facilitate an international exhibition of papermakers at the James Hockey gallery.
Research: context and content
The residency would follow a six month focus on the specifics of Indian techniques of production: the way in which papermaking stems from, relates to and currently interfaces with the textile tradition of dyeing, weaving, printing, etc. This would be informed by parallel practice-led research into cultural heritage of the area in which I would be operating. There is a very rich Indian tradition in the UK, located in accessible geographical and academic/cultural centres which would provide basis of information and research, primarily accessed via ACE and its associate agencies. The outcome would be to be sufficiently informed about the social, political and cultural context to optimise and maximise subsequent research led practice.
Research methodology
I would seek to establish introductions and plan visits to meet textile practitioners in and around Delhi. I would form an understanding of this rich cultural heritage in order to make the most of the residency at Sanskriti. This research would take the form of historical/academic study, and then active research leading to practice based investigation with my own practice. It would be imperative to establish a full understanding of cultural contexts prior to the residency in order to form effective and sustainable collaborations with a range of Indian makers.
Practice during the residency
I would hope to have access in the studio to running water, a source of heat for boiling fibres rinsing and dyeing. The equipment would be quite simple and easy to provide.
Outcomes
The residency would result in the experimentation with new ideas and exploring new concepts, contexts and references - palettes of colour, textures, processes and procedures. New and different plant materials would yield new surfaces and textures. I would make copious drawings/ photography/collections which would form a new body of work. The subsequent work could form an exhibition with associated workshop sessions to disseminate ideas and practice.
As this is the first residency between the Harley Foundation and Sanskriti I would hope to communicate outcomes with the other studios and support any other artists to visit Sanskriti. I am certain that the opportunity would be invaluable and at a point in my practice that I need to explore and reflect upon broader understandings of diverse cultures and perceptions.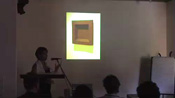 Click on image to open QuickTime movie
"ARTIST'S TALK"

Hanne Rysgaard talks to conference during cHAT week at Sanskriti, Delhi, India. March 2007