Gill Wilson
Residency at Sanskriti Pratishthan
So much to do, so little time.......
Posted by Gill Wilson on 6th March 2007
20th February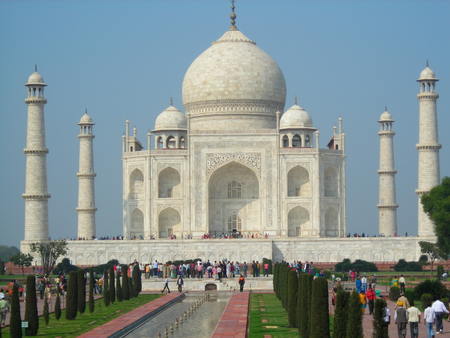 Agra and The Taj Mahal
Day Visit to Akbar's Mausoleum, Agra Fort and the Taj Mahal The most extravagant monument ever built for love.
A days coach trip from Delhi - very frustrating - too much in one day (see images)
Half Way Point
It's now about half way through my time in India. The trips out of Delhi have been exhausting - there are so many aspects to watch out for that it is difficult to relax and enjoy things - the persistent touts, the rickshaw-wallahs and the tourist shops. There is now a limited amount of time left on the residency and deciding what is the most important things to do is very difficult. Looking back on early images of my room at Sanskriti reminds me how long ago that seems now and how much has changed. I have done some studio work but my visits to other places have also been very important and valuable. Two of the current group of artists are planning to go on a six day trip to see some of the finest Temples in India and I plan to travel with them with them. I have part of this week left to do some more experimental pieces before I go.
Paper Company
Today I visited two people who work with paper - they run a company in Delhi which operates as a wholesaler of papers and paper products. This meeting was really interesting and stimulating - as well as making and printing paper they were also developing new products for the market all based on recycled paper. Waste from the papers were being cut into strips and spun around a thread - these were all colour coded. The paper threads were being woven into fabric and used for book covers, rugs, accessories etc. The work was innovative - sometimes using college students to work on specific projects to help develop new ways of using the threads or pulps. They have developed a thriving business in the development of new techniques and processes with paper using traditional knowledge and Indian workshops including papermaking and weaving. They suggested that we could visit a paper workshop in Sanganar in March to see the work being produced.
Paper Artist 25th February
Several days have gone by and the focus on recording seems to have faded. I have made several trips - to see exhibitions, private views, a ceramic village and a paper artist, who was the most interesting. Manisha Parekh works in Delhi and we met her in a flat that she uses as a studio - this meeting was really inspiring. She works with paper in a similar way to myself but with handmade papers. She spent two years at the Royal College in London so we were able to communicate easily and chat about work, life, possibilities etc. She has just had an exhibition in London. I suggested she visit us before we go back home and it would be great to keep in touch with her after that.
Ceramic Village
We visited a ceramic village about 100 miles from Delhi.
--------------------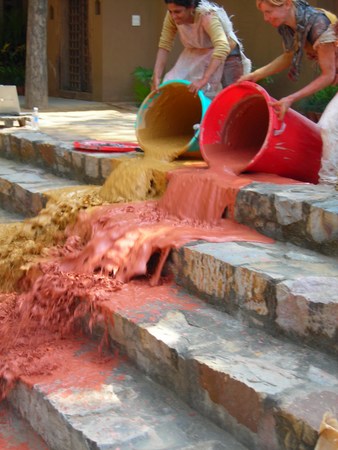 Clay Dance - two dance artists from the USA, Rachel and Patty, put on an experimental dance piece. (see more images)
Temple Trip
Travelled to Gwallior with four artists from Sanskriti to see the Temples. The journey was interesting - the weather being warm and sunny made the areas look better than the trip to Amritzer. Near Gwallior the landscape suddenly changed from flat landscape as far as the eye can see to sand hills. We visited the fort at Gwalior - one and three quarter miles long from north to south. The fort contains eight tanks, six palaces and six temples. It was a very hot sunny day and the fort was quiet: the stone was all soft tones of reddish ochre and the sky was blue. All elements I think of as being aspects of a magical experience.
Man Mandir - One of the six palaces, 4 are Hindi the other two Muslim. The palace walls were inlaid with enamel tiles, forming bands of mosaic and conventional figures of men, ducks, elephants, tigers and plantain trees. Sas-Bahu Temple - Mother in Law and Daughter in Law temple
Teli Ka Mandir Temple
Stayed at the Ushakiran Palace Gwallior
………lost track at this point (see images) …..this trip has taught me so much more about India, about the people the landscape…we also visited a paper workshop at Orchha. (see images)
5th March 2007
Now lost track of the last trip and have been back for three days, I am starting to feel the pressure, want to travel and squeeze more things into the trip but am aware that time is creeping on - its under three weeks to chat week. Jeremy is e-mailing us about an exhibition at the British Council in Delhi !! The non output driven project somehow looks different. Hanne and I, despite the increasing pressure, plan a trip to Ahmedabad, Anupa at Arts Reverie has planned an itinerary which looks really interesting which includes a visit to a paper workshop.
Studio work is difficult to pick up again - it always takes time - this week I will focus on some experimental work: I decide that the time and the experience gained by meeting so many different artists here has created new sense of opening up to ideas, of thinking laterally and of playing with new ideas.
6th March 2007
We go on a trip to the temples in Old Delhi - the markets and the spice market.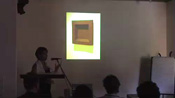 Click on image to open QuickTime movie
"ARTIST'S TALK"

Hanne Rysgaard talks to conference during cHAT week at Sanskriti, Delhi, India. March 2007