Gill Wilson
Residency at Sanskriti Pratishthan
First thoughts
Posted by Gill Wilson on 14th January 2007
My thoughts during my first few days in India dwell on the contrast between life at Sanskriti and life outside. Sanskriti is very tranquil and beautiful - we have good food and have our own apartments and studios. Outside the boundaries of Sanskriti, in Delhi, life is dominated by the utter abject poverty witnessed everyday as we travel around. This observation is quite humbling. People live at the side of busy roads - the sick lie in makeshift beds without medical attention. Children, sometimes as young as 2-3, are begging at the car when we pull up at junctions. I have never witnessed such scale of poverty before and our lifestyle at Sansriti seems to be an indulgence. Sometimes the thought of what to do creatively whille we are here, and what we need to do to carry it out, seems profoundly trivial and insignificant.
The founder, OP Jain, is greatly respected and extremely knowledgeable about Indian craft of all types and has spent years working to protect traditional Indian crafts and its history.
I will investigate the area and the context before bringing any ideas together - to start anything before doing this does not seem logical or possible. The markets are rich in textiles from all parts of India and lack of any knowledge about this is quite frustrating.
Several days have now gone by and we have experienced many aspects of Delhi. The markets arefull of life and atmosphere, selling everything imaginable. The shopping centres are built to look like western shopping malls for the middle classes – but the architecture is awful and they are surrounded by desperately poor people begging.
The Historical Monuments are struggling to be effectively maintained and efforts to conserve and restore them are patchy. Some historical/cultural remains are not protected at all and have been badly vandalized.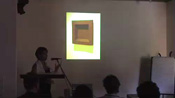 Click on image to open QuickTime movie
"ARTIST'S TALK"

Hanne Rysgaard talks to conference during cHAT week at Sanskriti, Delhi, India. March 2007