CHATWIN : MARTIN
Residency at Beaconhouse National University
Posted by Johnny Magee on 2nd February 2007
Friday, 15th December 2006, and the last week of our residency:
Leaving Pamela in bed to recover from pneumonia (pneumonia, for God's sake!) Peter strode out into the early morning light to tie up, alone, our major (of several) loose end. Finally, this was to be the bee pollination project meeting of minds - and we had managed to engage many more minds than we had previously thought possible. These belonged not only to the 'aforeblogmentioned' Dr. Nasreen Muzaffar, Bee Consultant at Punjab University and the Salman farming family, but also to Prof. Salima Hashmi, Dean of the School of Visual Arts at Beaconhouse National University; Haroon Rahin of the British Council; and three representatives of the WWF - Species Focal Officer, Usma Khan, Programme Development Officer, Amna Shahab, and The Director General, Ali Hassan Habib, who generously hosted the meeting in the boardroom of the WWF Pakistan Head Office.

Pollination, using the 'nier' bee nests developed by Dr. Muzaffar, was the main topic for discussion, and by bringing together representatives of so many varying bodies it is hoped that interconnections will have been made and enough interest generated for a bee pollination project to be initiated. The first signs are positive. The meeting was also reported by a journalist from one of Pakistan's national newspapers:




- click to see article

From our 5,000 mile distance back home in the UK we remain in touch with all the protagonists involved in this meeting. By request our scientist friend, Chris O'Toole, has sent off factual information regarding the importance of indigenous bees and wild flowers to our 'every third mouthful' of food supply, and the subsequent importance of Nasreen's nier nests to this imperative. Wheels are turning slowly, yet with forward motion. We feel compelled to ask in all this, 'Who needs artists?'
Saturday, 16 December, and our last weekend at the Guest House:

We, the house guests, Tabitha, Liz, Bev, Peter and Pamela (flat out throughout), decided to hold a party in thanks to all those who had helped to make our respective residencies and work placements such a real pleasure to treasure. As the HAT team had descended on us in Pakistan earlier that week, and as the previous parties we had been invited to in Lahore had tended to have themes, we all decided that everyone should wear a hat - a hat party - not overly imaginative as themes go, but in fact a real success as an ice-breaker. Hats of every way shape and form emerged from the darkness, and we're assuming all partygoers returned home with the hat with which they arrived. If not, please refer to... whom? We've all gone...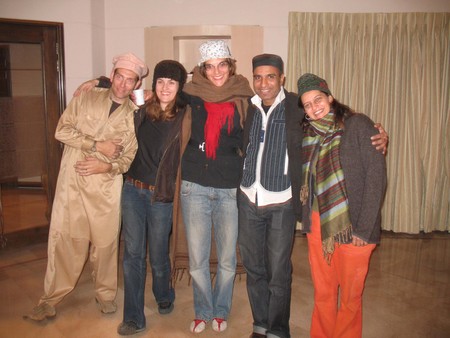 Hats off to Malcolm, Sophie, Gwen, Rashid and Huma - Thank you all

Posted by Peter Chatwin and Pamela Martin on 4th December 2006
Thursday night is Shrine Night. Every week at the Shah Jamal Shrine dhol drumming and dhamaal (dancing) are ritually performed to huge crushing crowds of hundreds of men and a segregated pen of a handful of women. As the crowd expanded Peter and Ehsan, a 3rd Year Fine Art student, who generously took us there, also took refuge in the women's section as a safety measure. We were fortunate enough to see Pakistan's star Sufi dhol drummer, Pappu Saeen, and his accompanist perform mesmeric rhythms around which violent head shaking and twirling dhamaal dancers rotated. As the night wore on and the pace and atmosphere grew more intense, the dhol drummer himself began to rotate, still drumming as he spun, at which time spontaneous chanting erupted from the crowd in response. Peter's tinnitus is developing nicely.
A trip to the lorry painters and decorators just outside the Old City of Lahore the next day took us into another busy area. Every part of these lorries, from the whole of the outside to inside the loading area, to the cab interior, to the wheel hubs, to even underneath the bonnet is highly and colourfully decorated with status, competitiveness and labour of love as motivating forces. We had only a fleeting glimpse of a painter - brush behind ear, paint-stained overalls - before he disappeared into the crowd. We found, instead, amongst the multitude of parked lorries, dark sunken workshops where complicated engine parts and inventive, improvised running repairs keep these exuberant masterpieces on the march.
In stark contrast to both these events was a visit to Mr. And Mrs. Salman's peaceful farm on the outskirts of Lahore. Here we saw how both canal and artesian systems work in harmony to provide water to a large farm producing mixed vegetable crops, citrus trees and alfalfa, all of which are pollinated by indigenous bees. The farm will provide an ideal site for Dr. Muzaffar's bee nest experiments. We must start making moves to introduce farmer to scientist.


Posted by Peter Chatwin and Pamela Martin on 21st November 2006
A mixed bag
There has been no particular structure emerging from our latest exploits. What there have been are visits to billboard painters, Liberty Market, an exhibition private view, a book launch, the third day of the Pakistan v. West Indies Test Cricket Match at the Gaddafi Stadium, a dentist, a doctor, and a stunning drumming concert. In amongst these activities we have given three presentations to students and staff at BNU, and continue the dialogue with the students in our work space at the Tarogil campus.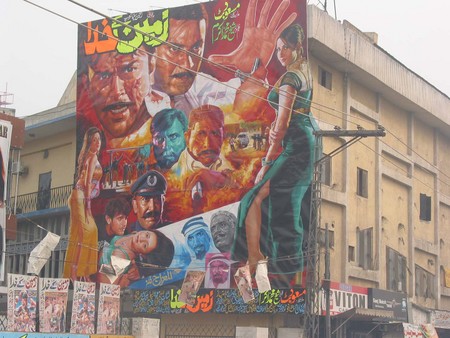 The visit to the last remaining billboard painter and workshop took us through Cinema Street, comprising a variety of classic1960s buildings in varying states of repair, many of which are in use as the street name implies. Through a labyrinth of streets we reached the tiny, cramped workshop in which the enormous billboards are still produced. It is difficult to see a future for this art form in such a diminishing market, and the stack of redundant, rusty steel billboards in the corner only served to emphasise its impending demise.
At the cricket match the humid atmospheric conditions allowed the ball to swing, and runs were difficult to come by. However, the sultry sunshine broke through in the afternoon etc. etc. and if we sound like cricket enthusiasts/bores you should meet some of the Pakistan supporters with whom we share their enthusiasm for the sport. (For the record, Mohammed Yousuf was bowled out just four runs short of two hundred, and Brian Lara played some beautiful strokes before the West Indies went down in defeat).
The private view and book launch speak for themselves, and as for the doctor and the dentist - excellent treatment, and in the case of the latter, service with a genuine smile. 
Posted by Johnny Magee on 7th November 2006
Through an intriguingly convoluted web of bureaucracy and gracious formality within the walls of the University of the Punjab, we eventually found our way to exactly the person for whom we had been searching since our arrival. Dr Nasreen Muzaffar, Director of the Honeybee Research Centre at the university shares the same passion for all pollinator bees that we have observed and shared with our entomologist friends throughout the duration of our 'Every third mouthful...' research project and exhibition.
It appears that the role of these vital creatures is as misunderstood and undervalued here as it is in the UK and other study areas we have visited: that 'Every third mouthful of food we eat is dependent upon the unmanaged pollination services of bees': that due to habitat degradation and loss of biodiversity in the world our food supply is under threat. But also, as with our other studies, that there is a simple solution - wild flowers and bee nests.
Last Thursday we were invited to a wonderful family dinner by Sara Salman, who is a lecturer at BNU. Sara's parents own a farm growing, amongst other things, citrus fruit and alfalfa. During our conversation Mr. and Mrs. Salman revealed that the yield from their citrus trees was not as high as they would like, and have agreed to take part in an 'in the field' trial using indigenous material to create bee nests. Dr. Muzaffar has provided us with exactly the right bee nest structure for this area of the world. Perhaps we should effect a meeting of minds and means.
Posted by Peter Chatwin and Pamela Martin on 31st October 2006
The Agony and the Ecstasy
Eid, the Muslim equivalent of Christmas, was celebrated last week, when everything closes down. We were advised that this would be a good time to travel north: to go up into the foothills of the Himalayas: to take a flight from Islamabad to Gilgit and to jeep it from there to Hunza where we could clamber over nearby glaciers.
Unfortunately, the weather did not permit, and, not unusually for this time of the year as winter approaches, our flight was cancelled. With time running out to make alternative overland arrangements we remained in Islamabad. No hardship as it turned out, for we discovered the best hotel deal in the best hotel, ever - truly an Eid special. How else would we have been able to visit, or, more accurately, experience, the Faisal Mosque?
Faisal Mosque is a new edifice of white marble, vast expanses of which seemd to glisten and shimmer like rippling water caught in sunlight. Our visit coincided with a religious ceremony which we were privileged to observe within the inner sanctum, Peter downstairs, Pamela upstairs in the 'Women Only' sector with, in fact, the better view. This area was was yet another vast, soaring space anchored by an enormous celestial blue carpet banded with orange, and framing about two hundred men each dressed in the traditional shalwar kameez, and, en masse, forming a block of subtly variegated shades of beige occasionally puntuated by navy blue, and, significantly, one burnt-orange shirt. Stunning colours, and the repetition of the incantations had an hypnotic effect. Peter was late to emerge from the service, as he had been surrounded by about twenty men intent on converting him to the Muslim faith. We are awaiting the signs.
Upon our return to Lahore we find the mosquito season is upon us. One way or another we'll either be bitten or smitten.
Posted by Peter Chatwin and Pamela Martin on 20th October 2006
20 October - Bricks
Illness has struck us both this week to the extent that it has forced us to slow our pace.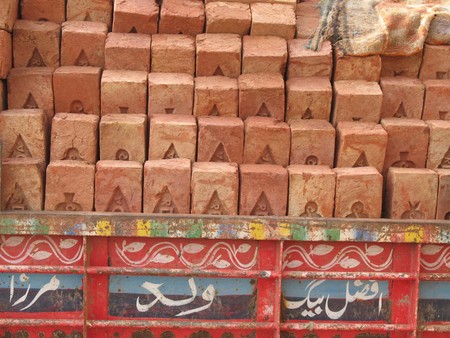 Lorry Load on Raiwind Road
However, we have made a start provided by our journeys to Tarogil. Figuratively speaking, we have been struck by bricks. Bricks are everywhere and symbolise the rush to build. Lahore seems to be expanding before our eyes: every spare space a stack of bricks; a wall half built to claim a space; a myriad of buildings half complete which appear to be precariously held up by tree branches. Walls and gates are seen as symbols of prosperity and status. Lorries are laden with bricks in an inexorable march into the city to feed the fever of building.
With the large pack of pencils we brought with us, we have started to reacquaint ourselves with drawing skills which we have recently neglected. As a starting point we are depicting the march of the lorries, which will span our space as a frieze.
A trip to a model farm and traditional craft centre in the northern region of Sindh Province 120 km south of Lahore gave us our first real glimpse of rural Pakistan. Alongside fields of wheat, rice and sugar cane, the road was frequently dotted with brick factories, with black smoke eminating from tall stacks reminiscent of our industrial revolution.
Ramadan fasting will end after this weekend which we have been told will ease the traffic congestion as everybody rushes home for 6 pm to eat and break the daily fast. Eid, which follows, is a three day festive holiday, so Tarogil will be closed. We are looking at the possibility of travelling north to explore the hills around Islamabad. Fresh air beckons.
Posted by Peter Chatwin and Pamela Martin on 13th October 2006
We've been in Lahore for a week now, and the whirling pace has not stopped. Just getting used to a different living and working system is an entity unto itself. Travelling to and from the Tarogil campus, where with Huma Mulji's help we have located a space in which to work, allows us to observe the spectacularly painted buses, lorries, tractors, rickshaws, oil tankers etc., and also to experience some breathtaking traffic maneouvres to boot. This morning we gave an introductory presentation to a group of staff and students to give them some idea as to why we're here, and that there IS a purpose to our seemingly aimless wanderings. The Dean of the School of Visual Arts, Prof. Salima Hashmi,and her husband have been magnificent hosts to us twice this week, and tonight we've been invited to dinner by Masooma, who will be going to MMU to do her residency in January 2007. There's so much to take in - it's like having several lifetimes' experience all rolled into one.
Posted by Peter Chatwin and Pamela Martin on 6th October 2006
6 October 2006 - Two days in
This is our first ever trip to the Asian continent, and we have been warmly welcomed by the staff at Beaconhouse, especially Huma, who has kindly guided us through our initial teething stages.
Having set off at a pace, nearly as fast and energetic as the traffic, we have visited two sites with a view to establishing a base in which to work. We are gradually making contact with the staff, who have already suggested some avenues to explore in relation to our environmental interests.
Weekends will be a new experience for us, and we have lovely accomodation in which to relax and reflect. But old habits die hard, and we'll probably end up working in some way or another.
We're off to buy sketch books and paper now...
Posted by Johnny Magee on 1st October 2006
Hello!


At long last our exhibition, 'Every third mouthful…' is up and running at Yorkshire Sculpture Park, and we can now concentrate fully on preparation for our visit to Pakistan.

We are delighted to have the opportunity to be involved in the HAT residency at Beaconhouse National University, School of Visual Arts, Lahore, Pakistan from October to December 2006, and are looking forward in anticipation to meeting everyone in the School of Visual Arts. See you very soon…

With very best wishes,

Pamela & Peter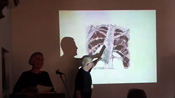 Click on image to open QuickTime movie
"ARTIST'S TALK"

Peter Chatwin and Pamela Martin talk to conference during cHAT week at Sanskriti, Delhi, India. March 2007