CHATWIN : MARTIN
Residency at Beaconhouse National University
Making final Preparations
Posted by Johnny Magee on 1st October 2006
Hello!


At long last our exhibition, 'Every third mouthful…' is up and running at Yorkshire Sculpture Park, and we can now concentrate fully on preparation for our visit to Pakistan.

We are delighted to have the opportunity to be involved in the HAT residency at Beaconhouse National University, School of Visual Arts, Lahore, Pakistan from October to December 2006, and are looking forward in anticipation to meeting everyone in the School of Visual Arts. See you very soon…

With very best wishes,

Pamela & Peter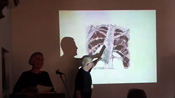 Click on image to open QuickTime movie
"ARTIST'S TALK"

Peter Chatwin and Pamela Martin talk to conference during cHAT week at Sanskriti, Delhi, India. March 2007