CHATWIN : MARTIN
Residency at Beaconhouse National University
This is our first ever trip to the Asian continent
Posted by Peter Chatwin and Pamela Martin on 6th October 2006
6 October 2006 - Two days in
This is our first ever trip to the Asian continent, and we have been warmly welcomed by the staff at Beaconhouse, especially Huma, who has kindly guided us through our initial teething stages.
Having set off at a pace, nearly as fast and energetic as the traffic, we have visited two sites with a view to establishing a base in which to work. We are gradually making contact with the staff, who have already suggested some avenues to explore in relation to our environmental interests.
Weekends will be a new experience for us, and we have lovely accomodation in which to relax and reflect. But old habits die hard, and we'll probably end up working in some way or another.
We're off to buy sketch books and paper now...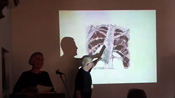 Click on image to open QuickTime movie
"ARTIST'S TALK"

Peter Chatwin and Pamela Martin talk to conference during cHAT week at Sanskriti, Delhi, India. March 2007