CHATWIN : MARTIN
Residency at Beaconhouse National University
The Agony and the Ecstasy
Posted by Peter Chatwin and Pamela Martin on 31st October 2006
The Agony and the Ecstasy
Eid, the Muslim equivalent of Christmas, was celebrated last week, when everything closes down. We were advised that this would be a good time to travel north: to go up into the foothills of the Himalayas: to take a flight from Islamabad to Gilgit and to jeep it from there to Hunza where we could clamber over nearby glaciers.
Unfortunately, the weather did not permit, and, not unusually for this time of the year as winter approaches, our flight was cancelled. With time running out to make alternative overland arrangements we remained in Islamabad. No hardship as it turned out, for we discovered the best hotel deal in the best hotel, ever - truly an Eid special. How else would we have been able to visit, or, more accurately, experience, the Faisal Mosque?
Faisal Mosque is a new edifice of white marble, vast expanses of which seemd to glisten and shimmer like rippling water caught in sunlight. Our visit coincided with a religious ceremony which we were privileged to observe within the inner sanctum, Peter downstairs, Pamela upstairs in the 'Women Only' sector with, in fact, the better view. This area was was yet another vast, soaring space anchored by an enormous celestial blue carpet banded with orange, and framing about two hundred men each dressed in the traditional shalwar kameez, and, en masse, forming a block of subtly variegated shades of beige occasionally puntuated by navy blue, and, significantly, one burnt-orange shirt. Stunning colours, and the repetition of the incantations had an hypnotic effect. Peter was late to emerge from the service, as he had been surrounded by about twenty men intent on converting him to the Muslim faith. We are awaiting the signs.
Upon our return to Lahore we find the mosquito season is upon us. One way or another we'll either be bitten or smitten.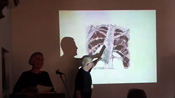 Click on image to open QuickTime movie
"ARTIST'S TALK"

Peter Chatwin and Pamela Martin talk to conference during cHAT week at Sanskriti, Delhi, India. March 2007