CHATWIN : MARTIN
Residency at Beaconhouse National University
A mixed bag
Posted by Peter Chatwin and Pamela Martin on 21st November 2006
A mixed bag
There has been no particular structure emerging from our latest exploits. What there have been are visits to billboard painters, Liberty Market, an exhibition private view, a book launch, the third day of the Pakistan v. West Indies Test Cricket Match at the Gaddafi Stadium, a dentist, a doctor, and a stunning drumming concert. In amongst these activities we have given three presentations to students and staff at BNU, and continue the dialogue with the students in our work space at the Tarogil campus.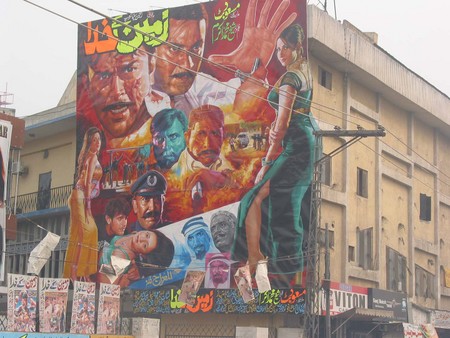 The visit to the last remaining billboard painter and workshop took us through Cinema Street, comprising a variety of classic1960s buildings in varying states of repair, many of which are in use as the street name implies. Through a labyrinth of streets we reached the tiny, cramped workshop in which the enormous billboards are still produced. It is difficult to see a future for this art form in such a diminishing market, and the stack of redundant, rusty steel billboards in the corner only served to emphasise its impending demise.
At the cricket match the humid atmospheric conditions allowed the ball to swing, and runs were difficult to come by. However, the sultry sunshine broke through in the afternoon etc. etc. and if we sound like cricket enthusiasts/bores you should meet some of the Pakistan supporters with whom we share their enthusiasm for the sport. (For the record, Mohammed Yousuf was bowled out just four runs short of two hundred, and Brian Lara played some beautiful strokes before the West Indies went down in defeat).
The private view and book launch speak for themselves, and as for the doctor and the dentist - excellent treatment, and in the case of the latter, service with a genuine smile.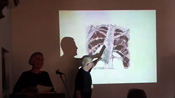 Click on image to open QuickTime movie
"ARTIST'S TALK"

Peter Chatwin and Pamela Martin talk to conference during cHAT week at Sanskriti, Delhi, India. March 2007