Dayal Vanker
Residency at University of Cumbria
HAT Resident, Dayalal Vankar is based at Cumbria Institute of the Arts September-October 2007. Dayal's residency will be linked with Meera Goradia but each will have their own specific objectives. Meera's residency will run for 4 weeks and Dayalal's for
Dayalal Vankar

1.Demonstration of practice skills and working methods with UK artists and students (Time: 15 days)

Objectives - to contribute to CIA textile/3D design materials practice courses to create opportunity for the development of creative practice through collaboration and dialogue with UK artists.
Programme
workshop within CIA textiles dept.- facilitated by Meera interaction/association with textiles students – supported by CIA member of staff
placement within textile studio/centre (Cumbria) - collaboration/mentor with artist – supported by artist

2.Schools project (Time: 2 days)

Objective to pilot a programme introducing Indian crafts into schools raising awareness , introducing skills and cultural learning
Programme

workshop within 2 schools facilitated by Meera/Jude

3. Research and Travel (Time :10 days)
Objectives - to increase knowledge and understanding of contemporary craft practice in the UK and development of understanding of UK marketplace
Programme

visits to see textile/craft galleries/shops/events meet with buyers, promoters, curators, facilitated by CIA
discussion with textile artists on product development, marketing, presentation etc facilitated by CIA
Programme of visits to see other HAT residency venues and to meet gallery staff and curators, meet other HAT artists, facilitated by AFL

-----------------------------

The Kutch style of weaving has developed its characteristics through the intermingling of cultures in the north western region of India. It draws heavily from its connections with Sindh (now in Pakistan) and parts of Rajasthan.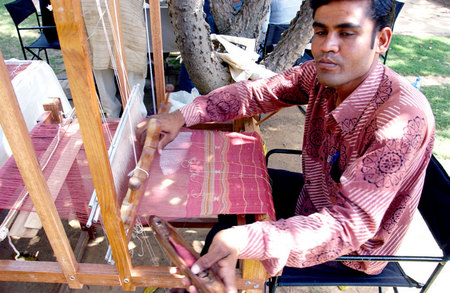 Dayal using his pit and frame loom.

The weaving is done mainly on pit and frame looms and the speciality is the sequence and balance of the intricate motifs in the extra weft and supplementary weft. The arrangements of colour is also spectactular. Traditionally and still currently they have specialised in wool (though cotton was also in use). In addition the weaving includes mulberry silk, tussar, moga, and aerie as well as fine quality merino wool. Another interesting feature is the embellishment of the fabrics with other crafts such as tie-dye, block print and embroidery.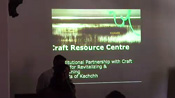 Click on image to open QuickTime movie
Crafts of Kutch
Meera Goradia talks about the work of Dayal, and other crafts from the Kutch area of Gujarat - cHAT week at Sanskriti, Delhi, India. March 2007
------------------------------------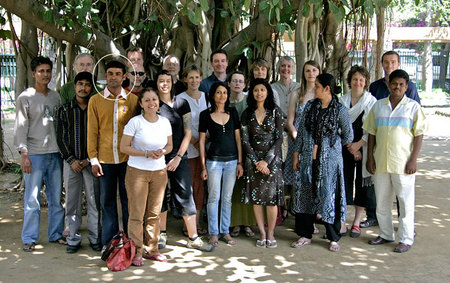 Click image to enlarge
Dayal is circled in this Group picture showing all the HAT artists, taken in Sanskriti, Delhi, March 2007