Sejal Kshirsagar
Residency at Harley Foundation
About the process:

An artist gets inspiration for expression of a creation from the values of life prevalent in the respective periods. This value of life that is the basis of inspiration for expression of a creation is reflected in the texture of expression. And fidelity of these values is the initial element of such expressions.

The cherished values of life are abstract by nature. They are not perceptible but they do manifest, Awareness of such manifestation is threads of such artistís expressions. The position threads have in the texture of fabric is the same for the awareness. Like threads in the fabric, such awareness is apparent more or less on itís blends of twists. Its grade depends on itís intertwine. Due to this crisscross weave of such awareness; the textile of expression is fabricated through medium. Such Awareness is the second important factor.

"The warp and weft of the threads, which culminates into a fabric that mechanism that loom is the medium for such expression and this is the third constituent."

* Original Marathi text by shri.D.G.Godse,
A master painter and writer of Mahahrashtra 1950


Every work is an experience to myself first. Such series of experience help me to visualize the intricacy of texture and a pattern of my own life.
Act of painting works to make me realize above process. I believe that is my medium till date.
It is very important to convert such experiences into words.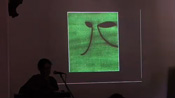 Click on image to open QuickTime movie
"ARTIST'S TALK"

Sejal Kshirsagar talks to conference during cHAT week at Sanskriti, Delhi, India. March 2007