Sejal Kshirsagar
Residency at Harley Foundation
SELF MADE SURFACES

I am an artist working since last nine years after completion of Master Degree in painting from Sir J. J. School of Art, Mumbai.|



Born in 1974 Mumbai

From my academic years my works have shifted from figurative drawing to Landscapes and from last eight year they have arrived to non-representative level.

Colours and Textures plays very important role in my works. I used to work in various types of mediums especially water based pigments.

I've always been curious about various Tools, mediums and their effects on Surfaces. That made me thought of making my own papers. In the process of making papers I started making complete work it self from the natural pulps.
Interestingly I started using pulp of various vegetables and natural waste fibers in papermaking. Which resulted in to interesting series of personal works made out of different pulps.

Simultaneously I started using camera as a Tool to document different surfaces and Textures. These photographs have added another dimension to my works and wonderfully explain visual thinking behind my paper and pigment works.

I choose to call them 'Self Made Surfaces'

ACADEMIC QUALIFICATION:

1998 Masters of Fine Art. (Painting) From Sir J. J. School of Art, Mumbai.
2002 Post Graduate Diploma in Indian Aesthetics & Philosophy, Mumbai University.

SCHOLARSHIPS & AWARDS:

2000 Invited for International Artist Camp, Shrilanka By ICCR 'Indian Council for Cultural Relations'
1998 Kanoria Center for Arts, Ahmedabad.
1994-96 Human Resource Development- (Government of India) for Visual Art.
1997 Camlin Award
1994 Sir J. J. School of Arts
1990, 91 Maharashtra State Art Award

SOLO SHOWS:

2002 Solo Art Gallery, Mumbai
2000 Gallery West-Space, Melbourne, Australia.
2000 Gallerie Cathrine Clerc, Laussane, Switzerland.
1997 Gallery 7, Mumbai
1996 Y. B. Chavan Art Gallery, Mumbai

SELECTED GROUP SHOWS:

2006 'The Art Edge' India Habitat Centre, New Delhi.
2005 Group Show, Yokohama, Japan
2005 Elle Décor Gallery Art & Soul, Delhi
2004 Object's d Art Gallery Art & Soul, Mumbai
2004 'La Sa Vi' Kamal Nayan Bajaj Art Gallery, Mumbai
1999, 01, 04 'Ideas & Images'- National Gallery of Modern Art, Mumbai
2001 'My Diary Pages', Fine Art Company, Mumbai
2001 'Never too Young', Jamaat Art Gallery, Mumbai
2000 'Juxtapose', Son-et-Lumiere, Art Gallery, Mumbai
2000 'Contrast' National Gallery of Modern Art, Colombo, Shrilanka
1999 'Art Jamborie' Lakeerein gallery, Mumbai
1999 'Festival of Contemporary Art- Journey into Unknown', 2 person show with Mona Rai, Gallery 7, mumbai
1996, 97 'Miniature Format Show', Sans Tache, Mumbai
1996 'A page from my Diary', Sans Tache, Mumbai
2002 Slide Presentation with Sheetal Gattani, National Center for Performing Arts, Mumbai
1995 Worked as a Lecturer at Sophia College of Art & Design, Mumbai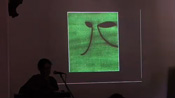 Click on image to open QuickTime movie
"ARTIST'S TALK"

Sejal Kshirsagar talks to conference during cHAT week at Sanskriti, Delhi, India. March 2007