Steve Dixon
Born 1957, Peterlee, Co. Durham, U.K.
Studied Fine Art at the University of Newcastle-upon-Tyne, and Ceramics at the Royal College of Art, graduating in 1986.
Early exhibitions in London with Contemporary Applied Arts and the Crafts Council established a reputation for figurative ceramics with a biting political and social satire. Curator Anatol Orient introduced Dixon's work to the U.S.A. in the early nineteen nineties, resulting in solo exhibitions at Pro-Art, St. Louis (1993) Garth Clark Gallery, New York (1995) and Nancy Margolis Gallery, New York (1998).
'21 countries'  plate.
Recent projects include 21 Countries (2004)at the Imperial War Museum North, Manchester, the touring retrospective exhibition The Sleep of Reason (2005) which opened at Manchester Art Gallery, and Beyond the Seas (2006) an Arts Council/AHRC research residency in Adelaide, Australia.
His work features in numerous international collections, including the Museum of Arts and Design, New York; San Francisco Museum of Fine Arts; the British Council; the Crafts Council; the Victoria and Albert Museum; and the Royal Museum of Scotland, Edinburgh.
Dixon combines his studio ceramic output with regular forays into public and community arts; in 2000 he received an Arts Council Year of the Artist award for Asylum, a collaborative project with Amnesty International UK and Kosovan refugees.
Since 1998 Dixon has been engaged in practice-led research at Manchester Metropolitan University, investigating political narrative and the contemporary printed image.
CHAT WEEK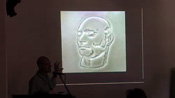 Click on image to open QuickTime movie
"ARTIST'S TALK"
Steve Dixon talks to conference during cHAT week at Sanskriti, Delhi, India. March 2007
------------------------------

ONE YEAR ON

Watch Steve Dixon's presentation "one year on" given at cHAT week in Sanskriti, New Delhi: Click on image to watch movie (Duration 36 Mins)
DOCUMENTATION
A small web site showing the enamelled plates Steve created during his time at the Jam Factory.
See Steve's plates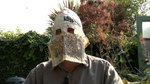 Steve Gets 'Hooded Up'
A visit to Steve's studio in Manchester to make a short film, click here to see some stills

Documentation ©2006 Johnny Magee