Ramesh Hengadi
Residency at Harley Foundation
The artist will be based at the Harley Foundation, Welbeck. The artist will have unrestricted access to a studio located within the Harley Foundation complex of studios and will live in a flat close by. The residency will run for 6 weeks September-November 2007. The residency programme will break down into four complimentary areas.
1. Commission
(Time: 3 weeks ... 15 working days)
To produce a series of warli paintings that reflect on life at Harley Foundation, Welbeck, a ducal estate based in rural Nottinghamshire.
Facilitated by Harley Gallery, supported by visiting artist (Hindi speaker). Commissioned works will be based on:
Observation of everyday working and social activity
The history and "folk tales" of people associated with the estate
The physical environment of the estate
Personal response to the experience of visiting the UK as part of HAT
Completed works will be left with Harley at the end of the residency.

2. Interaction with peer group artists. Objective: to create opportunity for the development of creative practice through collaboration and dialogue with UK artists.
2 day weekend workshop at Harley with artists from the HAT project
3 x 1 day workshops with Art Exchange in Nottingham
6 day collaboration with Johnny Magee, exploring documentation process through film and painting, based at Harley
3. Schools Project
Objective: to work with school groups from the local Creative Partnerships Board, introducing warli painting skills and raising awareness, appreciation and cultural learning. To contribute to Harley Gallery audience development.
2 x 1 day workshops in school. Harley Gallery Education Officer will lead the programme. Ramesh will demonstrate and engage students to participate in the process
4. Research and Travel
Objective: to capitalise on being in the UK to increase knowledge and understanding of contemporary craft practice in the UK. To extend the relationship with HAT project and project partners.
Programme : (facilitated by A.F.L.) Time: 2 x 2 day visits to HAT partners in UK
CIA to coincide with Dayal's residency in Carlisle
Manchester to meet with HAT project managers and Miriad
HUB, Lincoln and V+A, London
-----------------------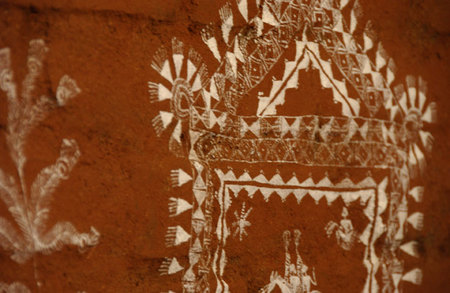 Warli Painting, December 2006

Women of the Warli tribe use this art form to decorate the walls of their home. The walls are coated with cowdung and then terracotta. Reed like sticks are dipped into rice paste to draw on the wall. Today the men practice this art form and draw with poster colours on paper smeared with a very thin coating of cow dung or red clay. They draw semi abstract line figures spread over the surface in an easy narrative flow. They have evolved from restricted ritual drawings on the walls into a pictorial repository of folk tales, humour and myth