Tom Coles
Residency at National Institute of Design (NID)
I was introduced to the HAT project in 2004 when my company 24 were employed by the HAT organisers to manufacture the exhibition stand and then set the exhibition up in various venues across the UK. The exhibition showcased each of the artists/designers involved on the scheme and cleverly explored how working in a foreign environment has influenced their practice. I found the exhibition and the ethos of the HAT project inspiring and began to imagine the benefits that working abroad could have on my own practice and how it could aid in my natural development as a designer.

I am looking forward to the opportunity of working at The National Institute of Design (NID) in Ahmedebad; the institution is respected internationally and India has a wealth of traditional crafts at its disposal that will form the basis to my research.


Inherently I am interested in design for production whether it is small batch or mass production. As my design practice has evolved and my experience widened, I have become increasingly interested in the cross-over between Craft and Design. I am relishing the opportunity of spending some time in India to further explore this theme; my line of enquiry is two-fold:
Design intervention:
What effect can a contemporary design approach have on traditional crafts?
I would like to research the effect that design intervention could have on making traditional crafts more marketable in both its native country and abroad. I feel that my links to markets within the UK and my experience of working as a freelance designer where I have had to work with manufacturing/material constraints and design for established markets will be beneficial. I would be keen to asses the impact that developing links to market could have on preserving traditional crafts and stimulating growth within the sector.


Craft intervention:
What effect would the advancement of traditional crafts have on design for production?
I would like to investigate how elements of traditional crafts and the ethos behind craft practice could influence product design. Is it possible to design products for batch or mass production where the maker has an opportunity to express some creativity, thus making each unit slightly unique? Traditional skills suited to multiple production such as Basket Weaving, Mat Making and Carpet Weaving would form the starting point for this line of enquiry.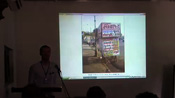 Click on image to open QuickTime movie
"ARTIST'S TALK"

Tom Coles talks to conference during cHAT week at Sanskriti, Delhi, India. March 2007