Nick Barberton
Three weeks to go
Posted by Nick Barbeton on 4th March 2007
Hi,
It is Sunday night, I have three weeks to go. I have an exhibition opening on the 21st of March and I get on the plane for Delhi early on the 23rd.
I am very happy with my stool design. I keep on looking over my shoulder for the realisation of what I should have done. I have completed three of the six and they are holding up to expectations.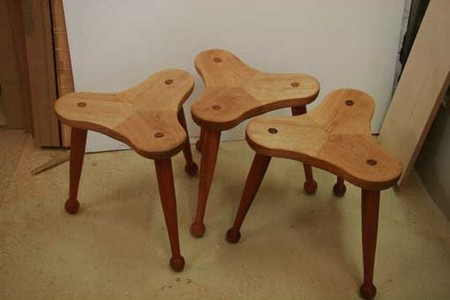 They are made from Silky Oak (not an oak at all) and the legs are from Red Gum. They surprised me. I was being like a student and sketching away at the possibilities within the constraints of the brief. Out it came. Unlike anything that I have drawn before. They are coming together well. I should get the other three glued up tomorrow and finish them on Tuesday.
We have had a
film festival here in Adelaide
. This has been great. I am by myself. I don't wish to impose upon other people too much, so I can pop off to see some really great movies that wouldn't otherwise come my way. Last Sunday I saw '
Meokgo and the Stick fighter
', a Beautiful story filmed in Lesotho. Followed by '
Daratt
' a story set in Chad. About a young man who goes off to kill the murderer of his father and ends up with him being adopted by him.
Monday and I am off to see '
Opera Jawa
' Two Hours of the spectacular reinterpretation of the traditional Ramayana story. That evening I was back again to see '
Zidane
' . Possibly the best footballer in the world with 11 cameras focussed on him for a match. A brave experiment that in my opinion did not work. When he looks left and makes a comment, One expects to see who it is directed at. One doesn't. An isolated view of one member of a team.
Friday afternoon was Australia day. '
Crocodile Dreaming
' about two half brothers having to shelve their mutual distrust to complete their tribal responsibilities. This was followed by '
Call me Mum
' , a very dark collection of soliloquy's about a young man being taken back by his foster mother to see his natural mother.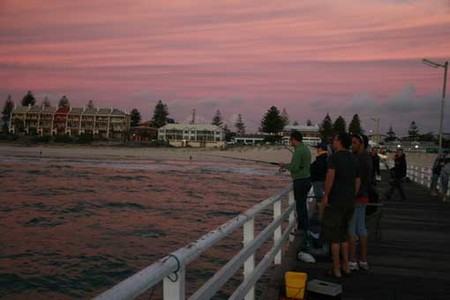 Yesterday evening I went crab fishing at Grange pier with Lou, Erin, Toby and their partners. Fantastic to get away from Adelaide and the Jam Factory for the evening.
Today I went up to Port Adelaide to the Sunday market at the Fisherman's Wharf. I bought two pairs of callipers for the Workshop.