Sharad Kumar
Posted by Sharad Kumar on 16th March 2007
For two days i have been in Manchester. I went to visit the Alsager Campus of MMU, and then stayed with Barry. Today I came up to the city centre to visit the main art school on the all saints campus. I gave a talk to the BA HONS Embroidery students.

Posted by Johnny Magee on 16th March 2007
The following entry has been Written by Barry Hepton
Head of Learning, The Hub National Centre for Craft and Design


The cultural differences between Delhi and Sleaford are huge. One, a world city of more than fourteen million, the other a small market town of twenty thousand, has to be poles apart. Sharad Kumar, a sculptor participating in the HAT project managed the migration with remarkable ease.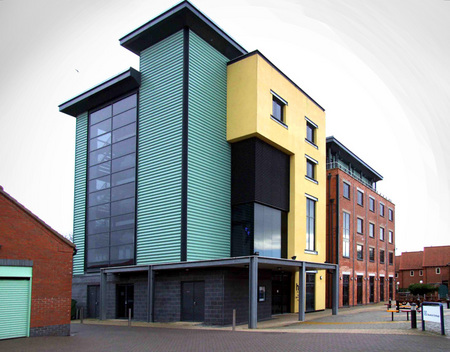 image: The HUB, Sleaford, Lincolnshire.

Sharad came to live and work in Sleaford at the invitation of the Hub National Centre for Craft and Design, a thriving cultural centre with an excellent reputation for its exhibition programme, growing relationships with university and other partners and the firm intention to build an influential dialogue about craft and design.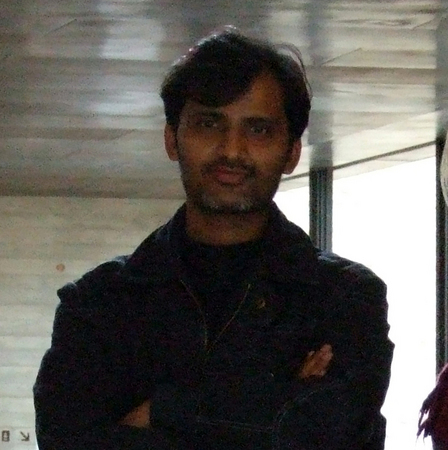 Sharad Kumar

He arrived on the coldest day of the year, not so grim given that we have had the warmest winter on record but still as they say in England, 'a bit parky', and tens of degrees colder than Delhi. Over the next few days Sharad also experienced, a Tesco supermarket, English beer and particularly disconcerting, the quietness of a rural town.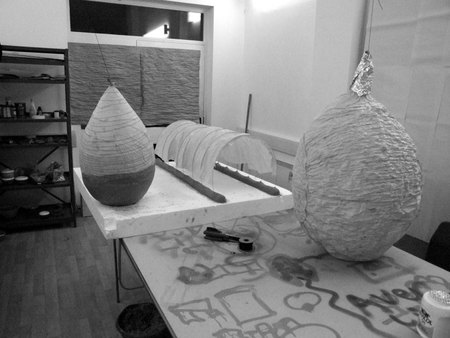 image: Sharad's studio at The HUB.

It took a remarkably short time for him to set up shop. Sharad is a natural, compulsive communicator (though apparently quiet on the outside) and was driven to demonstrate his skills and techniques to Hub staff within hours of arrival.
The centre organised a visit to the local high school, one of a number of centres Sharad worked at over the next month. They included a handful of primary schools, a centre for adults with learning difficulties, a teachers training college and two universities.
Over the weeks Sharad's ordered and carefully considered demonstration changed form not just to meet the needs of different audiences but in the way he built relationships with the workshop audiences – the format and process stayed the same but the content and delivery changed with experience. Each grew from the other as Sharad, in the way of a skilled tutor, began to add anecdotes and asides, and respond to the flow of questions a well practised teacher can draw from his class. There is something beguiling about listening to and learning alongside a man who is passionate about his craft and is seeking to share as much as possible about the underlying philosophy, thinking and practical craft.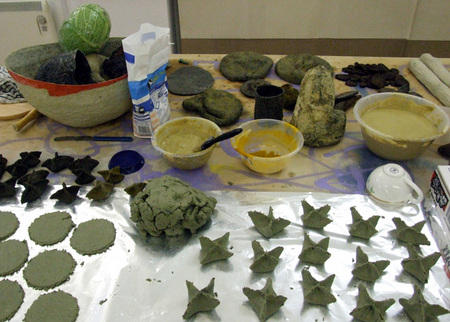 image: Sharad's Workbench

Back in the workshop Sharad launched into a programme of experiment and personal learning. Away from the pressures of home life he focused on small, incremental but nevertheless highly important steps in the way papier-mâché is prepared and used. They included the use of leaves as a former on which to mould the pulp and the frying in oil of the results (which eventually included larger organic forms) – a technique that scared Hub staff – wet papier-mâché and hot oil are not good friends.

image: Sharad examines his work, here, using cabbage leaves as a mould.

It's true to say that while Sharad was very pleased about the technical progress he was concerned about the making of works for exhibition. The transformation of ideas into realities can be a mysterious art, waiting for the significant moment. Sharad's drive to reconcile the innovative, new techniques with artistic output will yield striking results at its right time and place.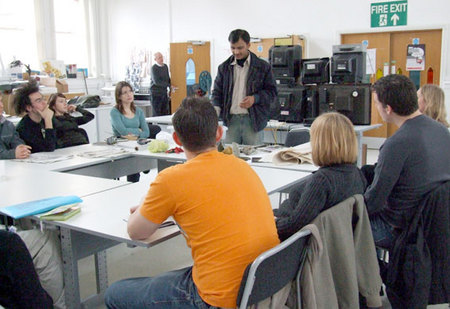 image: Sharad running a workshop at local school

It has been interesting to place his day to day practice of making alongside the longer term progress of ideas, ideologies and philosophies. Sharad comes from a traditional although surprisingly outwards looking cultural background. His grandmother, who passed to him significant skills, used Hindu mythology as a primary source. Sharad, although skilled in representation, has moved towards abstraction as a way of simplifying and separating the act of making from extraneous forces – the importance of the process over the importance of the finished aesthetic, representation of history and other cultural pressures. His recent works have a quiet, poetic presence – they belong in the hand – tactile and without guile.
It will also be interesting to see how long Sharad maintains this course. There are lots of parallels with other makers and movements, the way in the last couple of decades that many Japanese textile artists move away from formal traditions for example, to create new genres.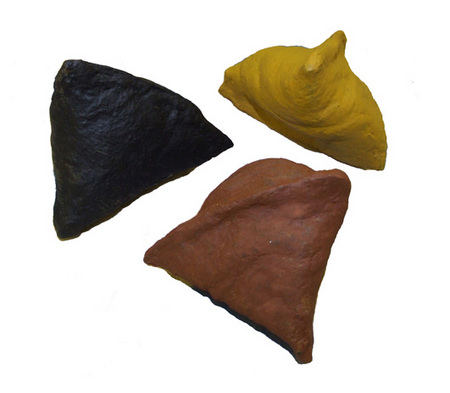 image: Samosa shapes, made from papier-mâché fried in oil.
The experience of all the parties involved in the project that brought Sharad to the Hub has been hugely positive. The children, young people and adults who took part in the dozen or so workshops thoroughly enjoyed themselves and carried away new possibilities about making. The partnership worked very well indeed for Sharad. The residency was challenging for all sorts of reasons but he maintained the sustained passion necessary to see every experience as valuable and in turn, found huge rewards.
One of Sharad's legacies is as simple as any could be. He shared a technique of mixing pulp with fenugreek. The result is an extraordinarily malleable material, capable of being worked into practically any form and resistant to cracking. There is a good chance that this form of papier-mâché will become part of the repertoire for many schools, colleges and universities.
Thanks to the HAT project, the people and institutions that made Sharad so welcome and above all, the sculptor himself for being inspirational.