Kamini Chauhan
Residency at Britto Arts Trust
Posted by Kamini Chauhan on 23rd March 2007
I arrived in Bangladesh, not sure what to expect, what to do even, with slight feelings of apprehension and perceptions of the country. By the end of the whole experience, I came to love Dhaka.
I questioned my practice, my context within my field and ethnic culture, whether I really was a designer, the ultimate 'who am I question' (which I felt I had dealt with many years ago, and most importantly how to work/make, in my way in Dhaka.
Many thanks to 'Britto' my host organisation, who gave a hundred percent to give me the opportunity to make. I was greeted at Britto with a studio. Britto is an organisation affiliated with the fine arts. I was given a studio where I could carry out work. And to begin with I was so inspired by all the different artisans around me, I wanted to work in all mediums, I felt I was a fine artist for a few days.
As time went on I was met with a feeling of slight loss as to where I actually was and how I would function in making work. I had a studio and I had some material but as glassblowing, being inherent to my making for eight years, made me question picking up another material. I had forgotten how to manipulate a material other than glass, and felt a slight fear to touch another material.
The result was that I had for the first time in eight years not being in an enviroment where I could not blow glass. This gave me the opportunity for the first time to really appreciate my medium: GLASS. I was able to appreciate I was skilled to work with this magical material.
Britto Art Trust came to the rescue, with A.M. Metal and Glass Industry. A small glass studio where I could make. However this was Dhaka, machinery and equipment was of a primitive era and I had not taken my glass tools. These two factors were an absolute BLESSING!!
Firstly a project in itself was finding a way to work with glass without my tools. The markets became my haven to buy objects that I manipulated into making tools. I had to strip down the meaning of what each tool did for me and design my own tools with functions that worked for me.
Secondly the project was motivated by the primitive state of glass making in the factory, a lack of machinery, technique and most importantly a lack of heat encouraged me to re evaluate how to approach the material hot glass. My thinking I feel was parallel at times with the way in which the Romans probably tried in understanding the material, in its most primitive state.
The residency for me was not about the physical object in the end. I have consumed a vast amount of knowledge. Hopefully threw this time I have educated some individuals in Bangladesh of the potential for glass as a craft medium.
I would like to Thank Britto Arts Trust and A Fine Line, the Arts Council and Miriad for this phenomenal opportunity.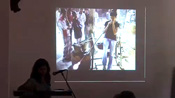 Click on image to open QuickTime movie
"ARTIST'S TALK"

Kamini Chauhan talks to conference during cHAT week at Sanskriti, Delhi, India. March 2007