Tabitha Moses
Residency at Beaconhouse National University
The residency at Beaconhouse is well timed, arriving after a busy summer making work for three different exhibitions in the UK. I relish the (exciting) prospect of catching my breath and reflecting upon my current practice in the unfamiliar surroundings of Beaconhouse University, Lahore.
I plan to realise a long-standing ambition and undertake voluntary work with womens' groups or street children during my time in Pakistan. This might, or might not, lead to new avenues of exploration. Much of my past work has been stimulated by the personal histories of ordinary people yet I have tended to keep a distance from such subject matter, using historical or apocryphal narratives. The residency in Lahore offers a timely chance to explore my relationship, as an artist and as a fellow human, with the people whose stories touch me and stimulate my creative practice.
In the relatively short time available I will begin to investigate how the process of my gathering and responding to others' lives can be a reciprocal and enriching experience for all concerned.
Inevitably, a part of my time in Pakistan will be spent responding to the visual noise around me – fabrics, packaging, posters, detritus – the life of the street. I anticipate a collection and enjoyment of the everyday materials of Pakistan.
A valuable aspect of the residency is the sharing of experiences and a critical dialogue with the artists encountered through Beaconhouse and VASL. I look forward to our conversations very much.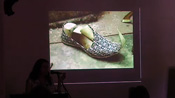 Click on image to open QuickTime movie
"ARTIST'S TALK"

Tabitha Moses talks to conference during cHAT week at Sanskriti, Delhi, India. March 2007