Sumedh Rajendran
Residency at Manchester Metropolitan University
Born 1972, Trivandrum, India
Graduated in fine arts from College of Fine Arts, Trivandrum, and completed masters in fine arts from Delhi College of Art, New Delhi.
Recipient of Junior Research Fellowship from the Ministry of Human Resources, Government of India in 1993; and National Scholarship from Ministry of Human Resources, Government Of India in 1998.
Early solo exhibitions in New Delhi, Lahore and Mumbai apart from group shows throughout India.
Participated in various residencies across South Asia including Khoj, New Delhi, which works under Triangular Art Trust, London, and 'Teertha' International Artist Residency, Colombo, Sri Lanka in mid-2006.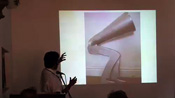 Click on image to open QuickTime movie
"ARTIST'S TALK"

Sumedh Rajendran talks to conference during cHAT week at Sanskriti, Delhi, India. March 2007