Christine Cholewa
Residency at University College for the Creative Arts (UCCA)

Bio
Christine Cholewa, raised on a Canadian Ukraine peasant farm, with a mum and fishing mad dad, two Australian Shepard dogs and a skinny brother, picked potato bugs for a penny each. On a diet of raw vegetables, saukraut, perogies and kielbasa, she grew up to be a vagabond maker, a determined minimalist who laments her lack of collections and gardens at a friendís place.
Coming to Adelaide to partake in two years of indentured labour, she discovered that although she would be far away from all things familiar to her, she decided that this was the place for her anyway.
Christine now has a studio in the JamFactory, where she sits, thinks and makes, pondering the general state of the world, in no particular order. She works at the markets, where she gets one free juice a day, mostly drinking pulverized ginger and pineapple.
Recently Christine has also embarked on an unusual love affair with a borrowed piano accordian. She is becoming a fan of the polka.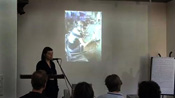 Click on image to open QuickTime movie
"ARTIST'S TALK"

Christine Cholewa talks to conference during cHAT week at Sanskriti, Delhi, India. March 2007