Mahbubur Rahman
Residency at University of West of England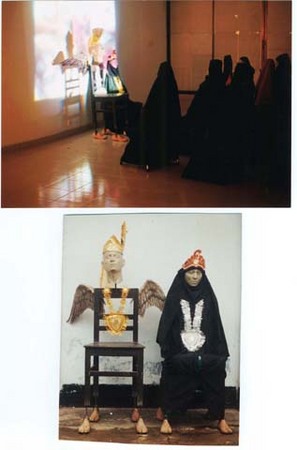 Toys are watching toys
Title: Toys are watching toys
Media: Cowhide, wooden structure,
garlands and shoe-forma.
Time: 2002

It is a collaborative work with my fellow artist and wife Lipi. I did the video work and the male chair-like figure. But I took another figure with veil (borkha) from Lipi and then we put them together in front of the screen. We projected video work that is overlapping t figures. I took some video clips of our religious festival in which the Muslim people slaughter animals. In my locality the Hindus and Muslims have been living together peacefully since a ling time but now unfortunately the time is changed and peace is no more.
< previous | up | next >