Tabitha Moses
Residency at Beaconhouse National University
Clean fresh air and cups of tea
Posted by Tabitha Moses on 13th December 2006
...(next day. Blog interrupted by the energising visit of the HAT Project team).
I arrived in the mountain village of Madyan after dark and was led to Caravan Guesthouse (click here to visit their website) where I was welcomed with home-cooked food and a real fire. After a night's sleep under hand made quilts I woke to a sunny chilly day and a fantastic view of the village and the snow-capped mountains beyond.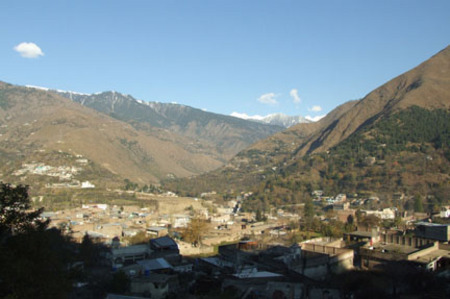 View from the guesthouse.
The following three days were spent visiting neighbouring farming villages, guided by Hazrat Ali the tourist policeman. There is no road access to many of these villages and people walk the precarious paths along the valley, up and down the mountainside. On the way we encountered men carrying huge bundles of straw or firewood, other men chopping firewood, women carrying water (collected from the river) in metal containers on their heads, men herding goats, donkeys laden with goods for market. Many people asked us into their homes for a cup of tea or lunch. We accepted several offers and were fed local apples, persimmons, walnuts, honey and hot sweet tea. One old man, on our turning down his offer of lunch, walked back home to fetch a bag of fruit to sustain us on our journey.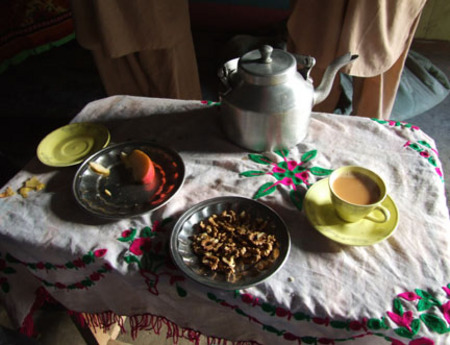 It was like walking through a National Geographic photo spread where we drank clear mountain water from the river and ate fruit plucked from trees at the wayside. In many ways it seemed idyllic - these valleys in which the air is clean and fresh, crops are organically grown and hand processed, electricity generators and flour mills are powered by the river, where walking is the main form of transport, food is home made and strangers are treated as guests. However, it is a labour intensive, physically demanding existence and while many children attend the local school, just as many spend their days working on the farms. And, although electricity is generated by the river, I wonder at the impact of the widespread use of local wood for fires and stoves. I'd like to have had conversations with people about their lives and feelings, but language differences and time constraints kept our talk small (my smattering of Urdu was no use here. The local language is Kohistani, a few words of which where included in my Pakistan guide book. Thankyou Lonely Planet).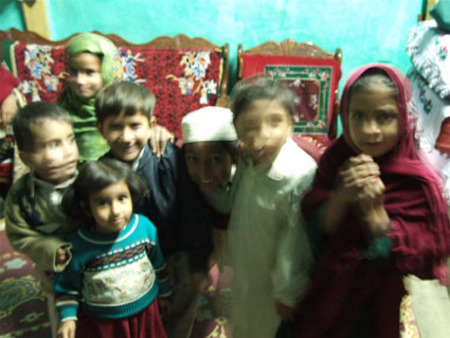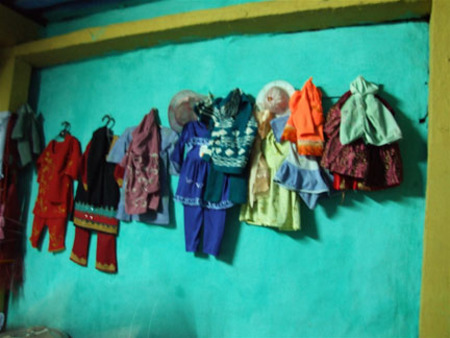 On several occasions I was privileged to be invited into the heart of the house, the kitchen and family rooms where females are out of sight of the visiting men. This is where I would meet the women and children. We'd sit and look and smile, obviously enchanted with each other and longing to connect. These visits also afforded glimpses at domestic treasures - shelves full of aluminium cookware, household linens decorated with hand embroidery, brightly painted walls and doors, black and white photographs of brothers and uncles, plastic flower garlands, wood burning cooking stoves, brightly coloured clothes, crocheted blankets and hand made quilts.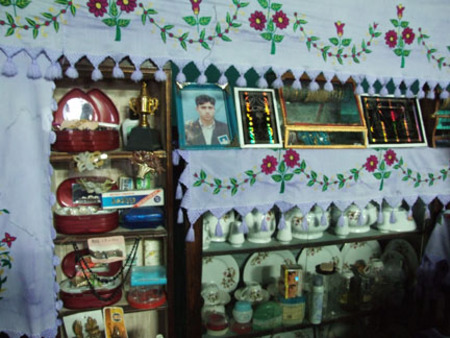 I have been struck by the fact that people have such intimate relationships with the objects they use - making, mending, adapting or decorating the everyday things around them, often by hand (this is much more common in Pakistan than in Britain. I like what HAT project manager, Jeremy Theophilus, has to say on this subject - he talks of 'the presence of the hand as an essential cultural force' in South Asia - click here to read his writing). It was especially, and unexpectedly, heartening to see embroidery playing a central role in peoples' lives - its use for decoration or adornment (of home, clothes and animals), as a mode of cultural expression and as a vehicle for continuity and connection with the long line of women who went before. The embroidery is tangible evidence of long evenings spent in quiet occupation, with no television or email to distract. As a fellow embroiderer, repairer and lover of the hand made I feel like something of an anomaly among my peers in Britain, so it was a joy to share this appreciation with the women I encountered.
I departed Madyan with a renewed sense of the importance of the hand crafted and a yen to return and spend the winter.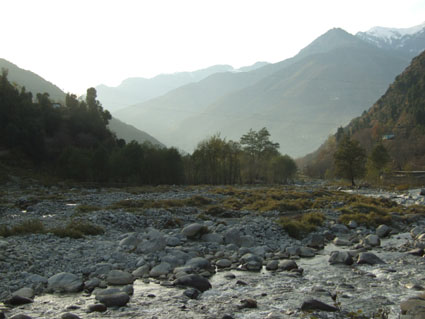 (Click here to see more pictures of Swat Valley)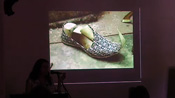 Click on image to open QuickTime movie
"ARTIST'S TALK"

Tabitha Moses talks to conference during cHAT week at Sanskriti, Delhi, India. March 2007