Mahbubur Rahman
Residency at University of West of England
Collaborative workshop with Mithila Artists
Posted by Mahbabur Rahman on 10th October 2006
Collaborative workshop with Mithila Artists
Mithila painting is a Folk art form of Maitheli people of the east part of Nepal call Janakpur. Sita was born and grownup in Janakpur, they have many stories, music and narrative painting about Sita and Rama.
The life of Maitheli people is a bit tough in different seasons. In summer the weather is too hot, dry, dusty and some time rainy and in winter it is cold and windy. Their life style is hard but people are joyful with their life. They love to wear most vibrant bright colored dresses. The fabrics they wear are always with bright orange, cadmium yellow, lemon yellow, Light green, magenta, blue etc. In the bright sun landscape get lively with colorful people. The culture of Maithely villagers is very dynamic, specially their art and music. The people are being living with art. For them art is living with life, mind and body.
The Maithely people do art on the house what they find the shelter of their body and also they do art on their body where they keep their sole safely. House is not only a shelter to them, it is a body that can safe their life. Mostly girls are doing Gothna (tattoo) on their hands and neck as if they were wearing jewelries around their neck and hands. It is interesting to know that, Muslim women from 'Nowt' community are going to door to door in the villages and shouting and singing to inform villagers that they have come to do Gothna. Gothna is a very simple process of art to them. They take seven needles and tie them up together. They collect ink from oil based light call 'pradip' and then mix with breast milk. On the needles they put ink and then draw on the body. It is painful and bloody. Gothna artists are used to sing during that time to make the woman happy and cheerful. After that, they make paste with turmeric and grass and put light layer of this paste on the injured area. They draw Gothna with very simple form and design like tiger bird snake etc. that are their own patterns. Sometime they write name and address on their hand. 1 At home for painting Maithely people work on both the internal and external wall and floor of their house. They use earth color and self made brash to do painting. It is nice to discover that Mithila paintings are always by the village women who are the housewives only.
They also do relief work on the wall and pillar with clay. At first they prepare the clay with straw and rice hash. The style, form and design of the relief work are also very simple, almost like Gothna, alpana and wall painting. They even make their furniture with bamboo structure covered by clay.
It is surprising to know that, each village has individual style. They don't want to copy each other. In their work they deliver their own meaning and emotion. They talk about their daily life through their work. It is very interesting that, every symbol has a meaning and it is drawn on purpose.
From end of September until mid November is the best weather and full of big festivals like Durgapuja, dipawaly etc. During this time they prepare their house. They do relief and painting on their house. Even for the wedding ceremony they decorate their house, make uncooked clay furniture and sculpture. The subject matter of the wedding painting is about weeding ceremony as well, where they introduce their life style within relevant issues. It is different than the Festival painting.
The center calls JWDC where we worked. It is running by the local Mithila women artists. The center is very nicely done. The architectural design is fabulous. It is brilliantly incorporated with traditional architecture. It is an example of Janakpur's modern architecture.
4 contemporary artists worked with 5 Mithila artists Sita , Manjula , Sudhira, Reboti and Fulwa. Sunil Sigdel and Jupiter. Pardhan from Nepal and Mahbubur Rahman and Tayeba Begum Lipi from Bangladesh, 4 of us collaborated our work with the Mithila artists. For this workshop we got support of a wonderful studio and 5 women artists from JWDC. We are thankful to JWDC, Bimal Poudal and Digenra Jee. We are also Grateful Sangeeta Thapa from Sidhartha Gallery in Kathmandu.
We had a very good time with all the people at JWDC. In the real sense we believe that we achieved a great experience from Maithely culture. We hope the Mithila artists had a good time with us too.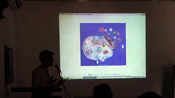 Click on image to open QuickTime movie
"ARTIST'S TALK"

Mahbub Rahman talks to conference during cHAT week at Sanskriti, Delhi, India. March 2007
----------------------------------

360º QuickTime VR
of Mahbub's workspaces in UWE.
INSTRUCTIONS
Click image to open. and once loaded, click and drag with your mouse.
ZOOM IN - Shift key.
ZOOM OUT - Ctrl. key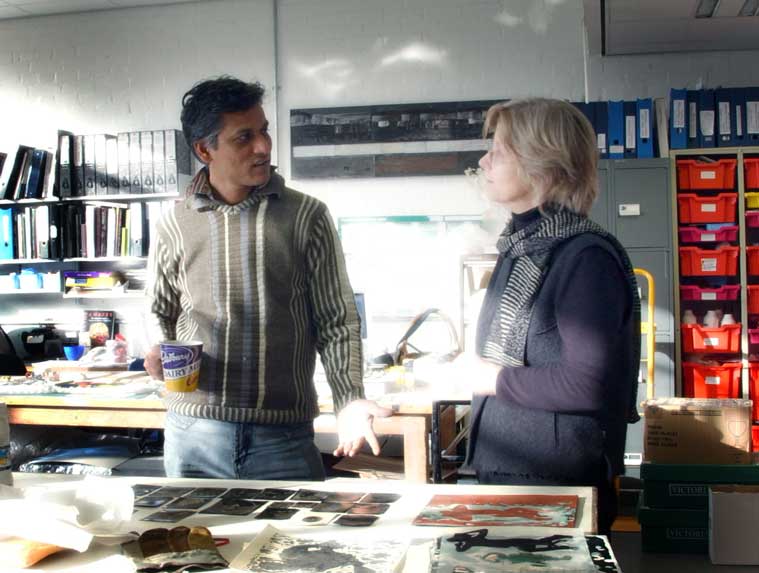 Mahbub in the Ceramics Research Centre talking to Elizabeth Turrell, Click image to open Panorama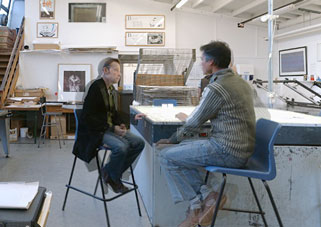 Mahbub in the Screen Print area, talking to Barney. Click image to open Panorama